Welcome to March, our annual Women in Tile issue of TileLetter, where we look a little closer at the women who account for nearly 11% of construction jobs.
A story in Bigrentz.com (https://bit.ly/3KS2n3G) shared stats from a McKinsey & Co. report showing that gender-diverse companies are 25% more likely to achieve above-average profitability than less diverse companies. This is good news for women who want to enter the construction field, especially since the dire shortage of labor opens the door for more women to be hired. 
There is lots of room for women tradeswomen. In fact, the Bigrentz.com story noted that of women in construction, 86.7% are in office positions but only 2.5% of tradespeople are women.
In our Women in Tile feature, we talk with two of these tradeswomen, as well as a prominent woman with her finger in many pies in the industry. Learn about their experiences, how they are making the industry better, and what they love about this industry. 
The theme continues in our Rising Stars story, when we visit with Mollie Elkman, author of The House That She Built, a children's book that champions women involved in construction, based on a real-life house built in Utah. Reaching girls early with inspiration about career paths in construction they can pursue could be a game changer in the industry.
Lisa Bustamante of Custom Mosaic Creations is an amazing mosaic artisan – and one of NTCA's newest members. Meet her in the Member Spotlight and learn about her journey to become the stunning tile artisan she is today.
What's the value of being a Certified Tile Installer? We ask Jan Hohn of St. Paul, Minn.'s Hohn & Hohn, Inc., who earned her credential early on and was the first woman member of NTCA to do so. What difference has it made to her business over the years?
Bart Bettiga's One-to-One interview this month is with Erin Albrecht, who last fall became Owner of J&R Tile in San Antonio after years of serving as Vice President, and Director of Operations and Pre-Construction. Learn what her vision is for J&R Tile's new chapter, and her plans to grow the company.
Knees. For many installers and contractors, this is a weak point and an area of bodily discomfort. In Workplace Wellness, we talk to a doctor of Occupational Therapy at the University of Southern California about how to safeguard your knees, keeping them pain free and supple, so they don't dictate the end of your tile-setting career before you are ready.
Do you know that NTCA has created a Consumer Education Committee, composed of members of this and other associations, manufacturers and industry members at large? Committee members are putting their heads together to learn consumer attitudes towards hiring tile contractors and tile-related issues in their homes, and then generating information to help educate them and assist them in making good choices – which makes everyone's jobs easier. In our Technical story, we get a first look at a document that addresses leaky showers, possible causes and what needs to be done to address them properly.
And the cover story explores the monumental SoFi Stadium project in Los Angeles, and the massive tile undertaking this represented for LATICRETE and the three tile contracting firms working in concert on the job.
Enjoy your issue, as the winter creeps towards spring, and with it, the promise of warmth and sunshine.
God bless,
Lesley
[email protected]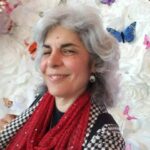 Editorial Director and Senior Writer for TileLetter and TileLetter ARTISAN
Lesley Goddin has been writing and journaling since her first diary at age 11. Her journey has taken her through a career in publishing and publicity, landing her the editor position of TileLetter and its special publications in 2006. Her goal is to educate, inspire, recognize and encourage those in the tile industry -- especially the tile and stone contractor. Other interests include the soft, purring marvels known as cats, labyrinth walking, drumming and percussion, and a range of spiritual, musical and artistic pursuits.