QUESTION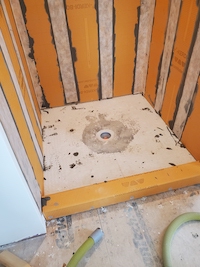 The plumber installed the foam pan and flange before we arrived on this job. The drain flange has too much mortar and the slope is off. From front left corner there is only 1/4″ slope to drain in 2′. With a flat stone mosaic, we will need all the slope we can get.
Would it be possible to float over this pan? Do we need to pull the flange and then float it to a new flange? Just wondering what would be best practice.
ANSWER
In short, the onus is on the plumber to have installed it correctly to begin with. My suggestion is to inform them of the issues and advise them you cannot accept their installation. – NTCA Technical Team
RESPONSE
Thanks for the feedback. We have been in touch with CTEF's Scott Carothers, NTCA's Robb Roderick and our manufacturer rep, and the final call is to tear the whole thing out and start from scratch. The manufacturer was not comfortable giving a warranty with so many variables in play.
Thanks again to all of you. It makes our job much easier.