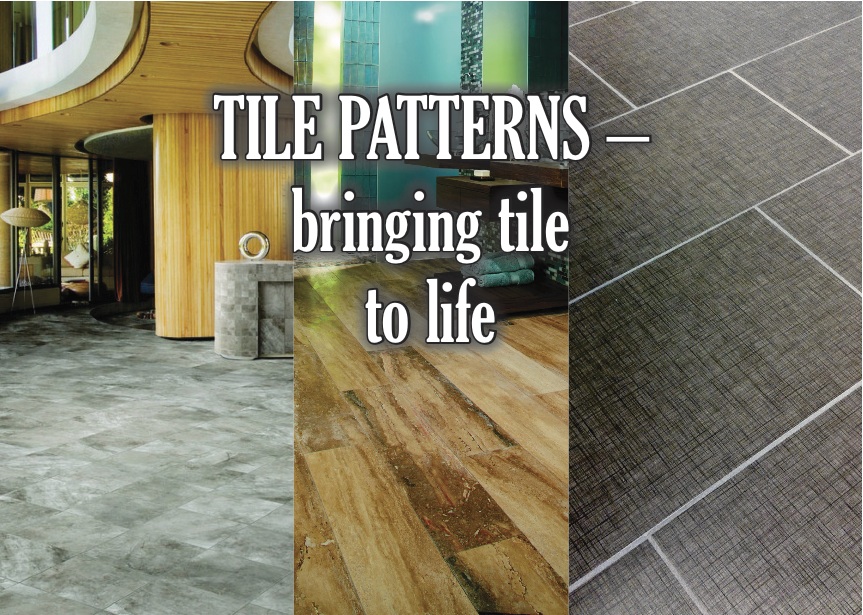 By Corinthia Runge, manager, Daltile Design Studio
Ceramic tile continues to reign as one of the most favored design staples in the floor-covering industry because of its performance, design versatility, color options and beauty. The range of design possibilities with ceramic tile is truly endless, which affords tile manufacturers the opportunity to meet the varying needs of residential and commercial audiences through extensive portfolios of stylish floor and wall tile options – but there's more to a tile installation than the tile itself.
How tile is laid can change the look and feel of any space – and there are so many exciting tile patterns to choose from and ways to use them to a space's best advantage. No matter how you want to alter the appearance or scale of an installation, there's a tile pattern designed to work for you. Using any classic tile pattern can help transform a standard tile job into an extraordinary one. Considering the wide variety of tile and trim tiles available, the possibilities are limitless.
Trending tiles and patterns
Many of today's most popular tile patterns are inspired by the emerging trends driving modern design. These trends take some time to get seeded, but once a trend is identified, it tends to evolve and last for years. The most popular shapes right now are rectangular large formats and planks, which are often being used on both the floor and on the wall. This results in many more pattern options, which designers are utilizing more frequently to create unique designs. For larger format sizes, the most popular patterns are Running Bond, Straight Joint and Third Stagger.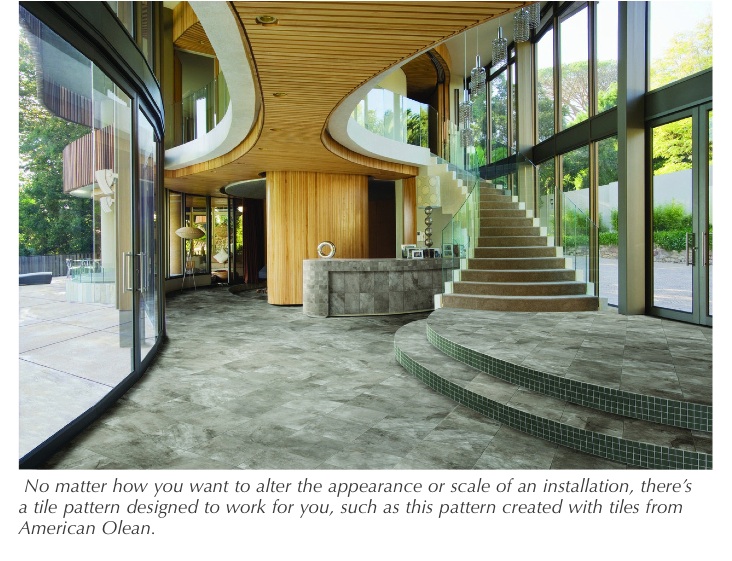 Running Bond is a basic yet beautiful layout, also called a brick or offset pattern. In this pattern, the tiles are offset by half the width of the tile, offering a timeless look for almost any style. With each joint centered over the tile below, this pattern resembles classic brickwork. Larger formats (any side measuring over 18") require an offset of no more than 33% when installed in this pattern.
Straight Joint is one of the simplest tile patterns that showcases the beauty of every tile. The straight joint pattern offers a more contemporary, linear look. Whether tile is installed vertically or horizontally, the pattern's clean lines make any space feel taller or wider.
Third Stagger is a variation of the Running Bond layout that features a stair-step pattern with each joint offset 1/3 from the row of tiles below it.
These larger format sizes (12"x24", 18"x36" and 24"x48") offer a more transitional, clean look and have less grout. Running Bond and Third Stagger provide a traditional spin on the modern cut tile, while the Straight Joint offers a more modern look.
Patterns for planks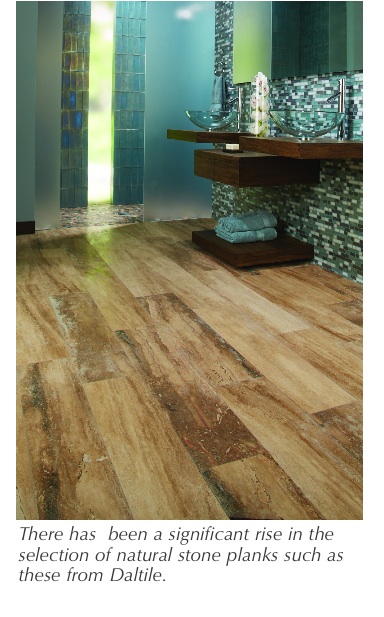 For plank sizes, the most popular patterns are Chevron, Herringbone and Random Stagger. The rise in popularity of these layouts is due in part to wood-look tile, one of the hottest trends in the marketplace. What was first introduced as a traditional take on hardwood floors has evolved to include more colors and textures to choose from than ever before. There has also been a significant rise in the selection of natural stone planks due to the beautiful vein-cut natural stone options being offered today.
Chevron is an inverted V-shaped pattern. In this design, all planks are the same length and the pieces are installed at an angle to match up perfectly with one another. This creates a perfectly straight line on both sides of the planks. Herringbone is very similar to Chevron, but instead of having the ends line up with one another, they overlap, creating an entirely different and unique look.
Mosaics are also "must-haves" right now, especially in kitchen backsplashes, shower walls and floor accents. The texture and color movement possible with these mosaics add a depth, sparkle and luminescence to any space.
In terms of mosaic patterns, if you can imagine it, you can create it. From vivid colors and on-trend shapes to unique patterns and bold borders, one simple design can turn any space into an incredible work of art. There are hundreds of patterns and borders available that can be modified to complement any design scheme. Many mosaics are available in custom (made to order) and standard patterns that can be used in any application.
On the level for proper installation
The primary challenges with large-format tile patterns are foundation and installation. For large-format tiles, the foundation must be perfectly level, which at times requires extensive preparation work for the surface. It may also require a crack-prevention membrane. Also, during installation it may require extra setting material and extra manpower, since the large tiles may be difficult to maneuver.
When in doubt, always refer to the industry standards. Industry standards include the 2013 TCNA (Tile Council of North America) Handbook for Ceramic, Glass, and Stone Tile Installation, which includes Natural Stone Tile Selection and Installation and Assembly Methods for the Installation of Stone Tile. In addition, consult the current Version 2013.1 edition of ANSI A108, A118, and A136.1 (Visit the NTCA store at www.tile-assn.com, click on Books & Periodicals).
For more information and diagrams on tile patterns, visit tile manufacturer websites such as www.daltile.com/information/tile-patterns, http://americanolean.com/patterns.cfm, or www.daltile.com/programs-services/custom-tile-services/mosaic-borders-patterns/1-x-1.