Poor mortar coverage may not cause a tile failure, but it's an important factor in tile installation success
News flash: poor mortar coverage doesn't "cause" a tile failure!  If you've ever replaced an old tile installation that seemed perfect, you'll agree. It took a hammer and chisel to reveal that 20-year old "poor" mortar coverage. The reality is that it always takes a force or condition of some kind to exert stress somewhere in the tile assembly to loosen or crack a tile.
So what are these other forces? What are the best methods to overcome them? How do they relate to coverage? In regards to coverage, what does experience tell us works best to achieve it?
Causes of tile failure
The primary forces that cause tile failures are:
Structural movement including shrinkage and creep (sagging over a period of time)
Substrate deformation such as deflection, vibration or curvature from load
Environmental conditions including thermal growth and freeze/thaw stress
Impact – single or repeated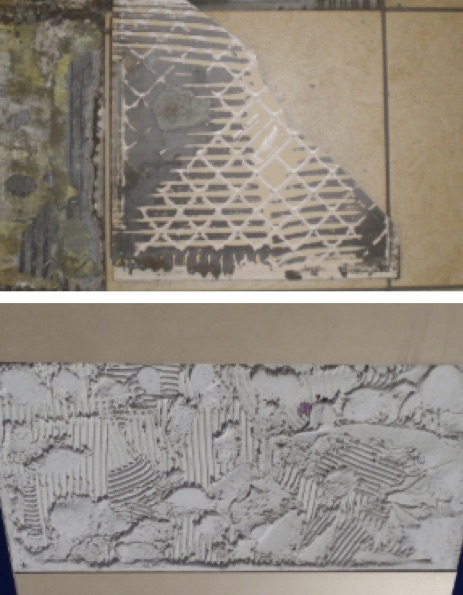 When subjected to these forces, the tile assembly will either accommodate or resist displacement, or fail. Tile and stone are fairly rigid and have a tight limitation for movement, making installation design a major factor for success. Will the structure/substrate provide stability for the assembly? Was the assembly chosen with the building usage in mind? 
In a forensic examination of a failure, low mortar coverage is an obvious deficiency that implicates the installer, but the tile required a force to affect it. Would it have made a difference if better coverage as per ANSI A108 (≥80% interior; ≥95% wet and exterior) requirements were met? Maybe so, but all of the project conditions should be considered. Tiles with 100% mortar coverage have been found to loosen or crack under excessive structure/substrate movement conditions, but it's much more difficult to prove that a concrete slab or wood framing moved to an excessive degree. 
Two factors that greatly increase the probability of failure and reveal low mortar coverage are:
A non-absorptive/contaminated substrate
Inadequate frequency and size of movement joints (especially at all perimeters)

 
This is because the forces listed above cause action (movement), and science shows that "for every action, there is an equal and opposite reaction." If the mortar wasn't bonded because of contaminants or lack of porosity, or the tiles have no space to move into, they fail much more easily regardless of mortar coverage.
Effects of ridge collapse based on technique and hammering on tile with mortar cured for 28 days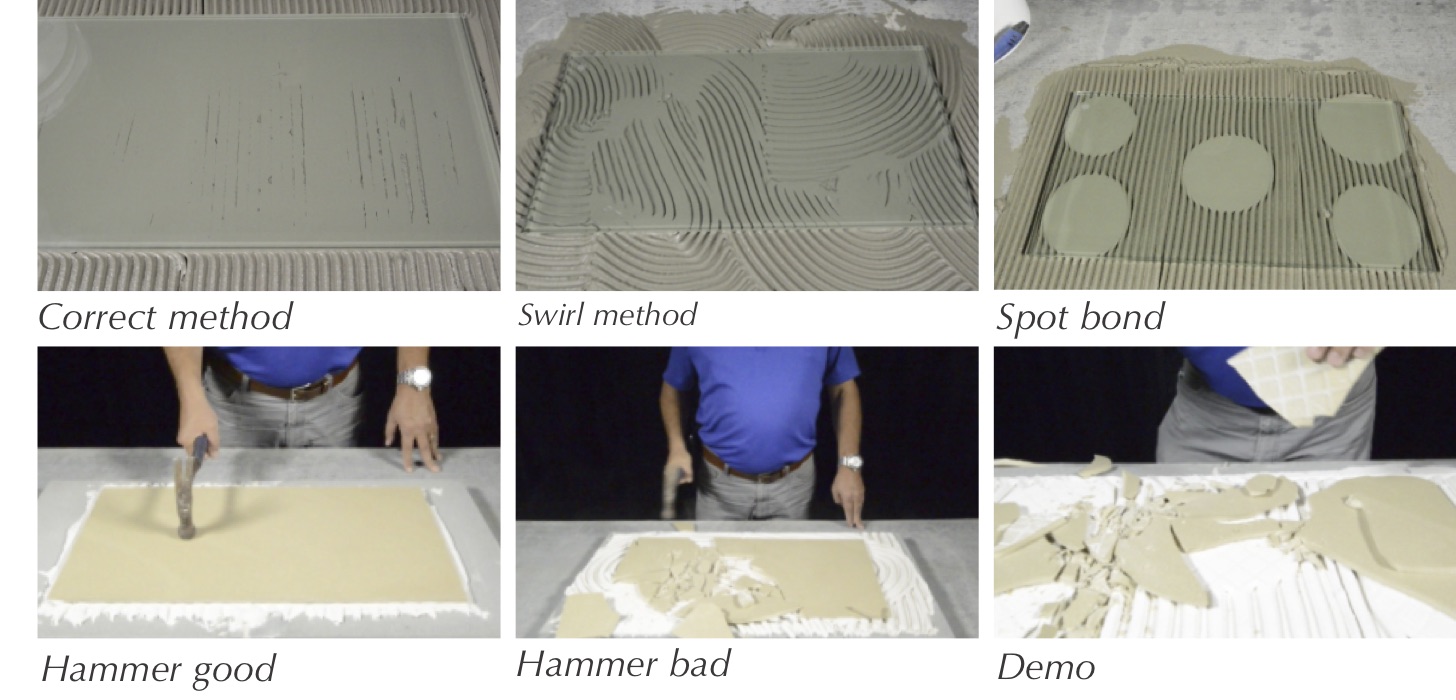 Insufficient mortar coverage makes projects susceptible to failure
So is there any proof that industry-required mortar coverage makes a difference? In a word – yes! Thousands of projects have told the story that tiles with low mortar coverage are more susceptible to failure. The worst cases are spot-bonded tiles that fail when loads or thermal expansion cause movement. It doesn't take much force when the tiles are supported by just a few globs of mortar.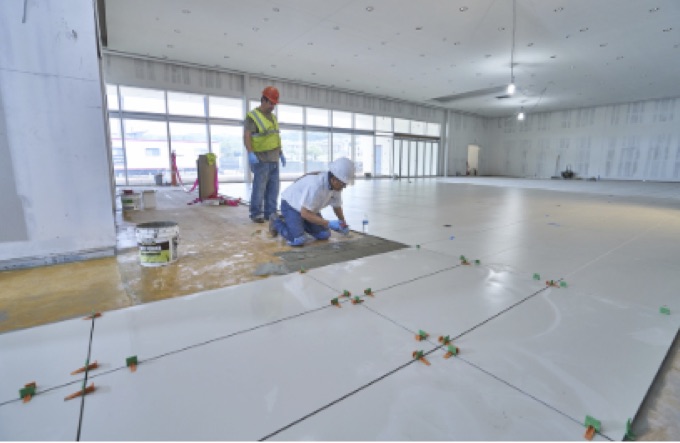 Improperly bedded tiles that just rest on mortar ridges are next in line for failure under force. At approximateyly 50% coverage and minimal contact with the cement paste and polymer, tiles can't resist as many of the normal stresses compared to when the required continuous 3/32" minimum thickness is achieved. When installed in wet conditions, water trapped under a tile can freeze, or when exposed to heat and humidity, tiles expand and failure occurs. Too often, there's the perfect storm – low coverage, a lack of movement joints, contamination and heavy loads.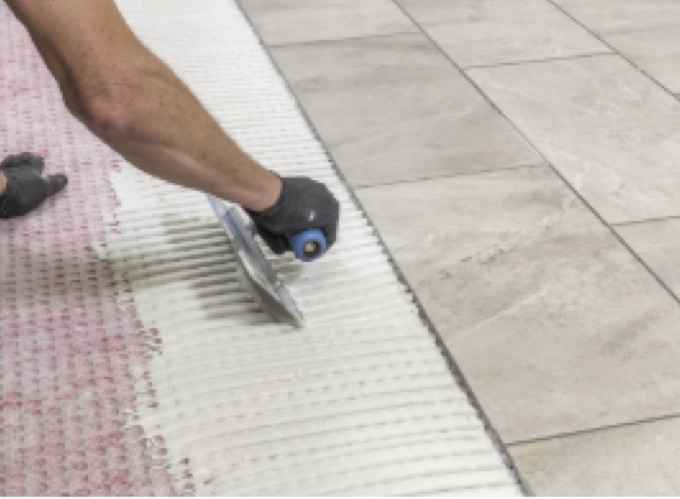 So what can we expect from a tile with proper mortar coverage when project application requirements are met? The reality is that there are millions of tiles performing well, lasting for decades, even centuries, with proper coverage! When they're removed for a new style, it takes a lot of force.
In a study of over 80 residential projects in the Southwest where a random tile cracked and/or loosened over post-tensioned concrete slabs, more than 85% of the tiles had low mortar coverage and over 50% showed substrate contamination. Every adjoining tile with full coverage and without contamination was intact. The exceptions were stone tiles with acceptable coverage, but that had cracked since they can't resist movement stresses as well as porcelain tiles. On one memorable project, tiles with greater mortar coverage failed because the floors and walls cracked right down the middle of the home. The conclusion was that the more tile and substrate surface areas bonded at 200-400 psi strengths – and with polymer for deformability – provided more resistance to failure.
Impact will also damage tiles, but as shown in the 2016 NTCA Trowel & Error video (see also Spanish version), a tile bond can withstand heavy forces with high mortar coverage compared to those without. 
High mortar coverage for large-format tile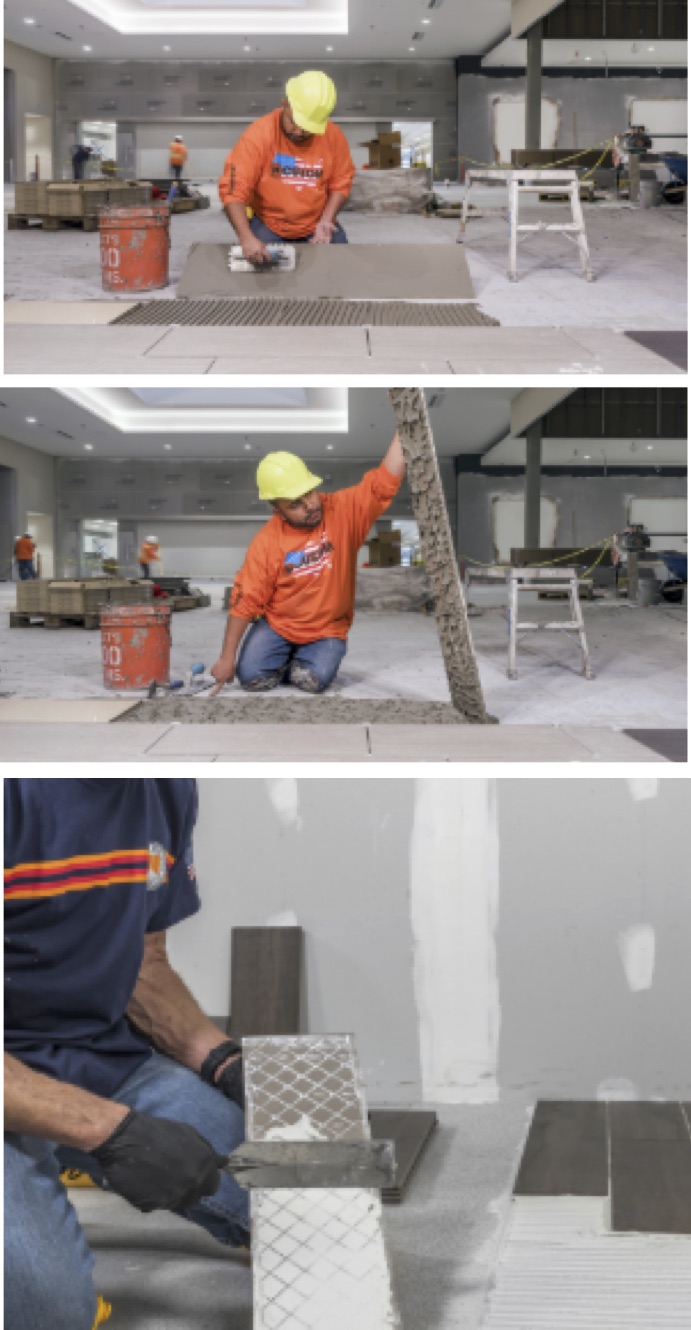 Is it realistic to believe you can achieve high mortar coverage even with very large formats? There are key items that make a difference: tile warpage, mortar type, trowel size and configuration, and troweling/bedding methods. Note the following for your next project:
Wipe off any residue on the underside of your tile or stone before bedding and be sure to set into mortar while it's fresh.
Tiles that dome in the center or have some warpage, particularly rectangular formats, may require back-buttering. Lift a tile after setting to confirm your bedding method.
There are mortars specifically designed to support large-and-heavy tiles. This designation will soon be included in ANSI Standards. With these mortars, there's no need to spot bond to level or support large formats since they mostly are highly thixotropic, and typically contain larger aggregates. Some are lightweight, thus resisting slump and lippage. 
Although there are no standards for contact/flowable mortars, these mortar types wet out surfaces easier than standard mortars to assist with coverage. They're best used on surfaces that have been leveled.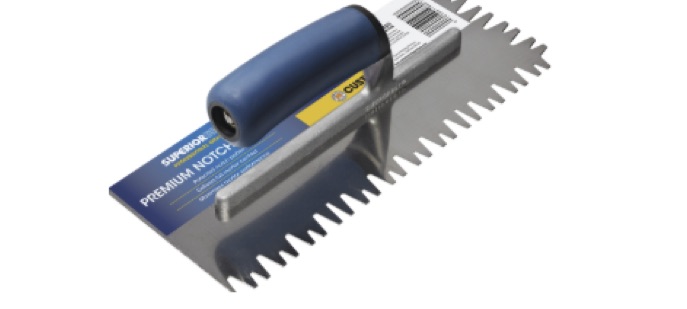 Trowel types: Larger tile typically require more mortar. 1/2"x 1/2"square-notched trowels are commonly used, but they require more lateral movement to collapse mortar ridges than some of the specialty trowels.
Directional troweling is a must! Right to left, left to right, or top to bottom allows for air to escape. It's best to trowel the ridges perpendicular to the short edge of a rectangular tile. No swirls!
Use enough mortar so when you move the tile to collapse the ridges there are no voids.
Realistically, complete mortar coverage on every tile you set won't happen but the closer you get, the more success you'll have. Happy tiling!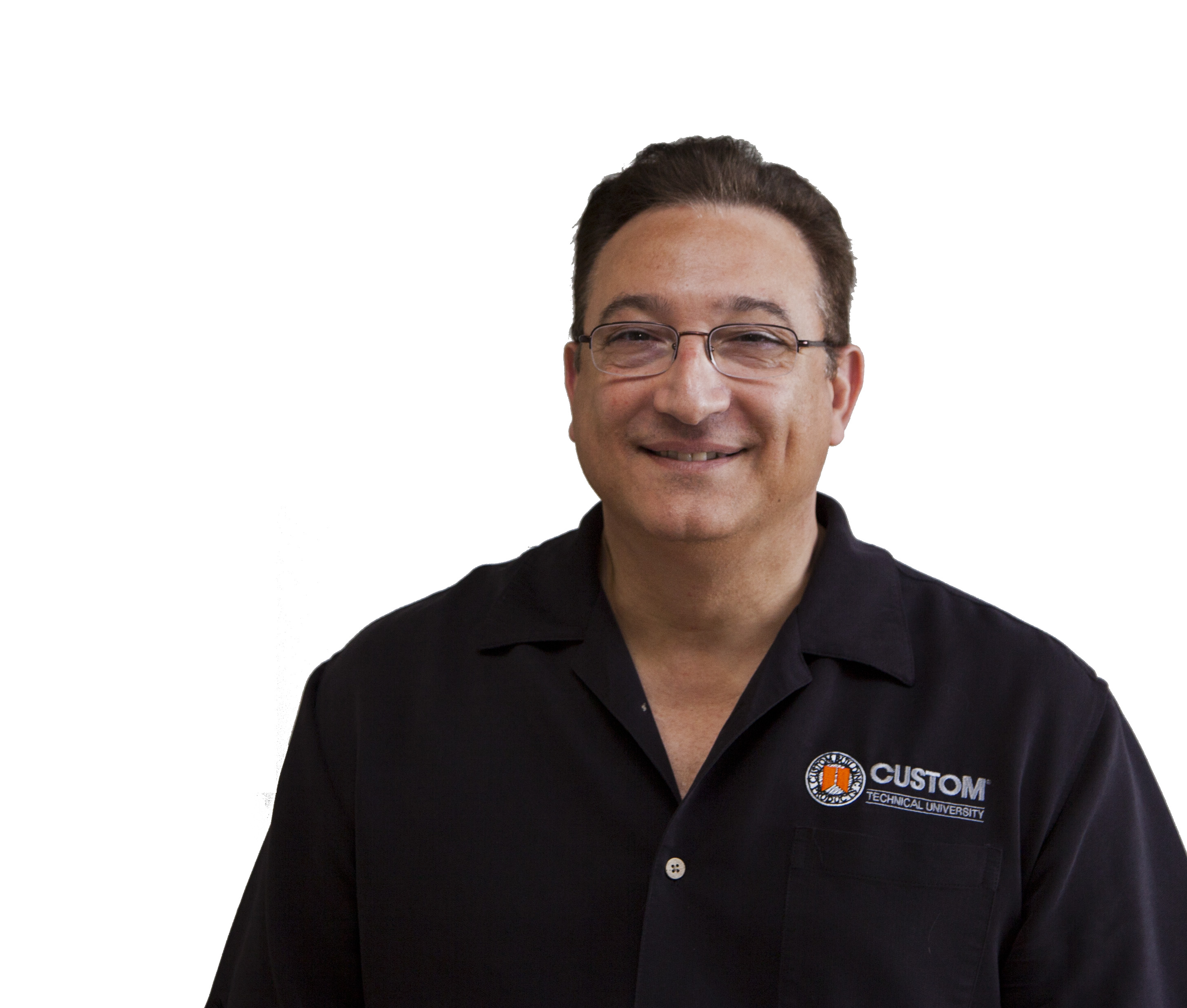 Mike Micalizzi is the Sr. Director of Technical Services for Custom Building Products. He is based at CUSTOM's research and training facility, Custom Technical University, located in Santa Fe Springs, CA. In this role, Mike assists industry professionals with recommendations on commercial projects presenting a variety of installation challenges. He also presents the "Top 5 Tips" educational video series for tile contractors and design professionals.
Prior to becoming involved in product technology, Mike owned a tile and stone installation company in New Haven, Conn. He currently serves on technical committees for the Tile Council of North America (TCNA), Materials & Methods Standards Association (MMSA), National Tile Contractors Association (NTCA), Marble Institute of America (MIA), American National Standards Institute (ANSI) and ASTM International.