CUSTOM has a solid history of high-profile projects to crow about
The construction materials' marketplace offers more selection than ever before, from large manufacturers with a broad product line, to producers marketing niche products to fill an unmet or unique need. At the same time, more suppliers are looking for opportunities to stand out as they seek growth with construction pros. While competition is helpful to identifying the best products at fair prices, it can cause confusion when trying to make a quick assessment of the best product for your job.
As a result, Santa Fe Springs, Calif.-based Custom Building Products (CBP), a large, established manufacturer, is capitalizing on its extensive product line and the reputation it's developed from over 50 years in business, to market itself as the one-stop provider for pros. In addition to longevity and trust, another element to CBP's strategy is publicizing use of the company's products in high-profile, well-recognized projects.
Building trust
A trusted brand in the construction industry, CBP is known for its wide variety of products for tile and stone installation, surface preparation, and maintenance.
With decades of experience, CBP has a reputation for delivering high-quality products that professional large and small can rely upon. The company's large assortment of products also makes it easier for construction professionals to get the job done efficiently and effectively.
With trust as the cornerstone of CBP's success, the company only uses high-quality materials and state-of-the-art manufacturing processes to create products that are durable and reliable. This commitment provides professionals with confidence that the products will perform as expected and will last for a long time. Using high-quality products also helps warranty claims, such as tiles cracking or coming loose, in the future.
Tried and true performance
Another plank of CBP's strategy is to further credibility around the quality of its products by publicizing how they have been put to the test in many large-scale, recognizable construction projects. One notable project that utilized the company's products is the 69-story Salesforce Tower in San Francisco. The tower's lobby features a large, intricate tile mosaic that was installed using CBP's Prism® Grout. The grout's color consistency and stain resistance help ensure that the finished mosaic looks great for years to come.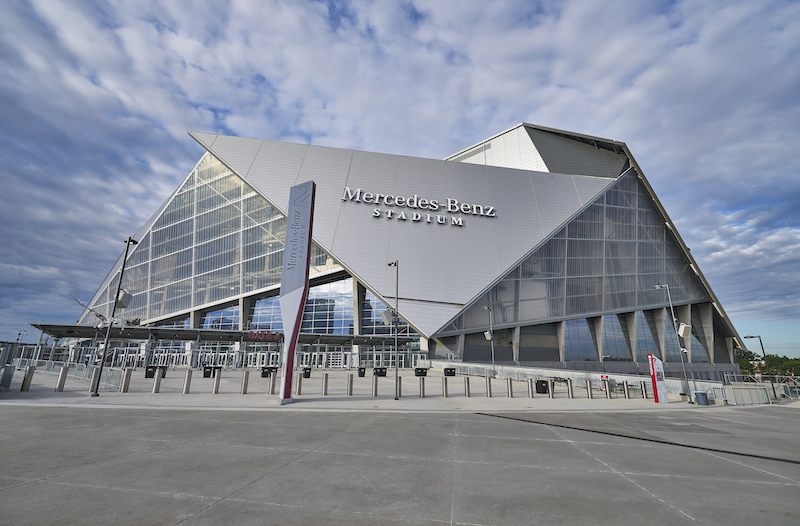 Mercedes-Benz Stadium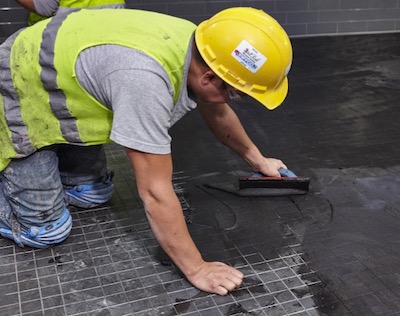 Custom's products were also used in the $1.4 billion Mercedes-Benz Stadium in Atlanta. LevelQuik® primer and LevelLite® were used to level floors. At the same time, MegaLite® Ultimate Crack Prevention Large Format Tile Mortar was used to install over 200,000 sq. ft. of tile throughout the Stadium, since the product's high bond strength and flexibility helped ensure that the tile would stay in place, even in areas with high foot traffic. CBP's involvement extended beyond public areas to locker rooms where RedGard® was applied to wet areas and over concrete slabs to provide ANSI A118.12 crack isolation. Finally, Prism® Ultimate Performance Cement Grout was used throughout the project. The product was selected because it provides dense, stain-resistant grout joints up to 1/2″, is easy to apply, and sets rapidly (walkable in four hours), meeting ANSI A118.7.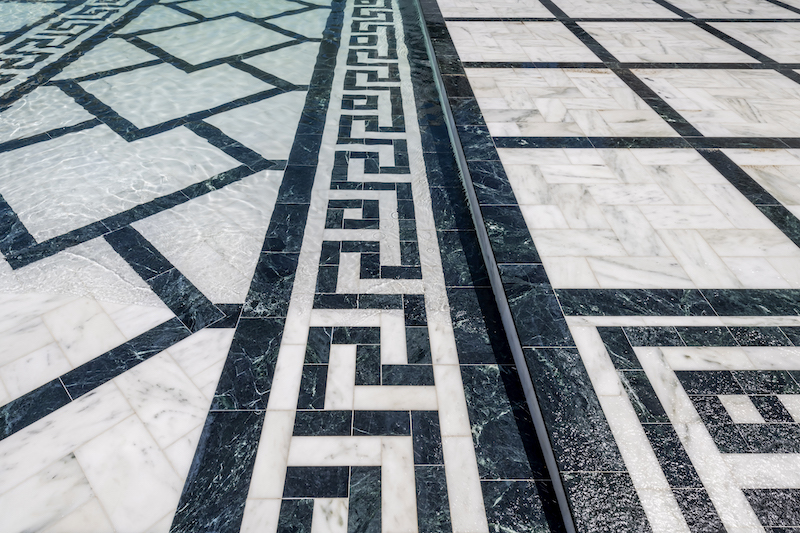 Hearst Castle
Today it's a California State Park and National Historic Landmark, but at one time it hosted some of the most famous individuals from Hollywood and beyond, making Hearst Castle a one-of-a-kind, must-see attraction. As might be expected from any structure of its age, the Neptune Pool – which measures 104′ long by 58′ wide to 95′ at the alcove and holds 345,000 gallons of water – required refurbishment.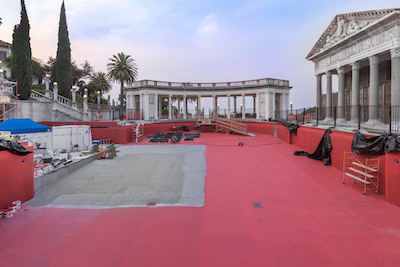 Mark Charles McCandless, President of McCandless Tile, remarked, "Being involved in the pool project was a bit nerve-wracking, but also the opportunity of a lifetime. I trusted CUSTOM products and knew they were the right solution."
Quikrete® Deck Mud, fortified with CUSTOM Thin-Set and Mortar Admix, was used to smooth the surface of the pool shell. RedGard Waterproofing and Crack Prevention Membrane was the choice to help isolate cracks in the substrate and waterproof the surface preparation and mortar bed. This preparation readied the pool for the installation of over 19,000 stone tiles.
Additional CBP products, including Polyblend® Non-Sanded Grout, helped bring this beautiful pool back to life.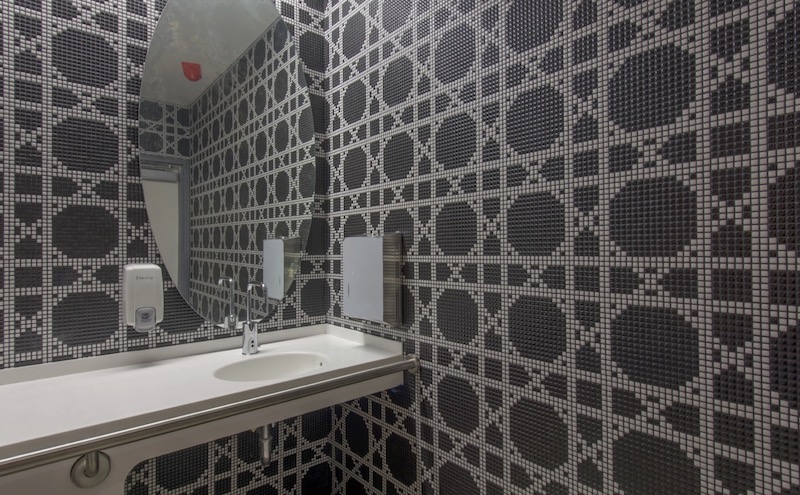 Jacobs Medical Center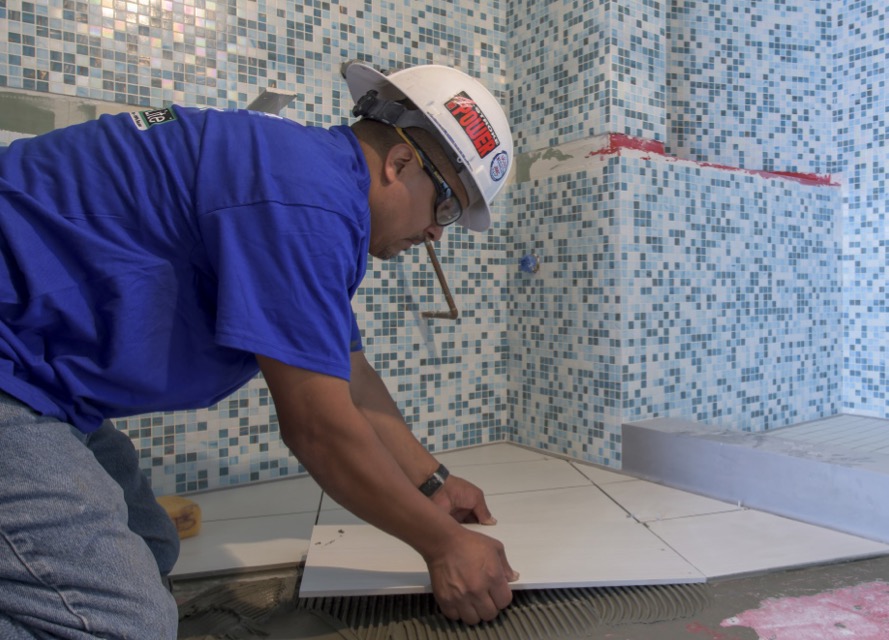 While not as well-known as an NFL stadium or a state park, but extremely important to the San Diego community, was the construction of the Jacobs Medical Center, a 500,000 sq. ft. specialty hospital in La Jolla. CUSTOM tile installation and flooring preparation products were used on all 12 floors of this landmark project. VersaBond®-LFT Professional Large Format Tile Mortar was used for the LFT throughout the project. This product is a non-slumping mortar that may be applied as thick as 3/4″ on horizontal applications to help prevent slippage issues common with LFT.
Additionally, kitchen quarry tile and 2″ tile on shower floors were set with VersaBond® Flex Professional Thin-Set Mortar, which is formulated for high bond strength and extended open time to allow for tile adjustment.
Finally, for chemical and stain resistance in a clinical environment, CEG-Lite® 100% Solids Commercial Epoxy Grout was used on all floor and wall tile. This product is easier to spread than typical epoxy grouts and contributes to LEED certification.
Inland Pacific Tile's Joe McCluney, Project Manager, shared "CUSTOM products are user-friendly, great systems that are durable. When used, the team and I have great confidence the job will go smoothly."
These projects are just a sampling of high-profile efforts – ranging from hotels and casinos to airports and hospitals – that have relied on CBP products. The company's assortment of products allows professionals to find the ideal high-quality, long-lasting product for each job, no matter the size or complexity.
Technical support, sustainability and innovation
In addition to providing trusted products, CBP provides technical support to help professionals get the most out of its products. The company's technical support team can help with product selection, installation, and maintenance, ensuring that the finished project looks great.
CBP is also committed to sustainability, and the company's products are designed to minimize environmental impact. The company uses recycled materials in its products whenever possible and has implemented programs to reduce waste and conserve water.
CBP's large assortment of high-quality products, combined with the trust it has developed over 50 years, has proven a sound strategy and made it easier for construction professionals to get the job done efficiently and effectively. And, the company is not resting on its laurels; innovation is always ongoing, and indications are that new products will be hitting the market this summer.