"Time management" and "work/life balance" seem to be challenges for many of us to achieve, especially when confronted with expanding work responsibilities or opportunities, and personal pursuits we want to enjoy. I mean, we all have to sleep SOMETIME, don't we?
So I checked in with Phil Green, Melissa Swan, and Ron Nash – people who appear to have a decent balance between work and personal life and also seem to radiate presence and joy. I wanted to share some of their insights to share with readers – and to shamelessly incorporate these practices into my own life. And there was so much richness in their responses that to capture it all, I've created two versions of this story.
In print, we offer the kernels of wisdom shared by Phil, Melissa and Ron. Online and in our digital magazine, we present the expanded version of this story, complete with additional gems of wisdom, and "Ron's Recs" – a reading list of books and resources recommended by Ron Nash that support the freedom afforded by a life/work management system and nurture creativity and joyful living.
So, check the print issue for the basics and get the whole story here!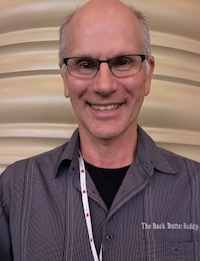 Phil Green
Phil Green is the 65-year old inventor of The Back Butter Buddy (and numerous witty tile-related t-shirts) and a remodeling contractor and tile setter at P.G.C. Construction in Gilberts, Ill., for over 53 years. He is still active today, delighting in his work, and in his life. His motto? "You can always make money, but your time is limited."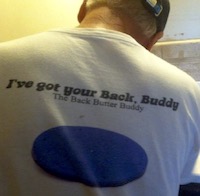 He acknowledges that "Our bodies take abuse every day, and managing that wear and tear is essential. Rest and recreation MUST be included."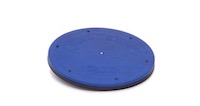 He loves his work, but his priority is family. "I see guys/girls in our trade stating, almost bragging, that they are doing 70-80-hour work weeks," he said. "Sacrificing weekends away from their families and trading it for a few more hours of breathing dust and thinset. For what? A bigger this, or more of that?
"I decided – yes, it's a choice – that I would not trade time with my family for more stuff. The best things in life are not things."
He urges "everyone reading these words to STOP and re-evaluate their own choice. I understand that there arise situations that require additional long hours to complete to meet a deadline, BUT make that the exception, not the rule.
"I consider our tile trade a family, and as such, we need to care for one another," he concluded.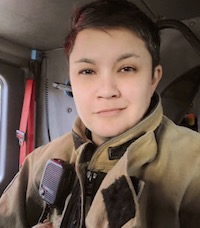 Melissa Swan
Melissa Swan is a force of nature. She is an NTCA Technical Trainer with 15 workshops on her schedule this year, and she co-owns TileVita LLC in Indian Harbour Beach, Fla., with wife Lilah, working at least 40 hours a week installing tile. She invests at least 20 hours a week for the fire department and is in fire school, currently as class leader. Plus she mentors a couple of women in the tile industry. She is wickedly funny, and she makes time to decompress with some fishing time on the beach.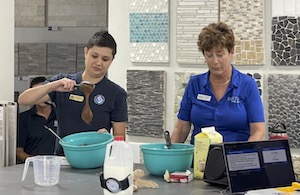 Swan credits "boundaries" and "support" as essential elements to her tenuous balance, which she describes as "winging it," day by day. "Absolutely none of this would be possible without help from Luke Tarillo, my partner in the field and my partner in life/business, Lilah Swan," she said. "I do none of this alone and have a huge support base that I am not afraid to say 'help' to."
She is also "fiercely protective" of her time in her customers' houses: "When I am on a project and my hands are actively working, that's where my mind is at from start to finish. Any communication with me has to be short and quick because I simply will not answer my phone or emails while I am charging people tens of thousands of dollars for my time."
Ditto for when she is at the fire department. "While I'm in uniform, my head is in firefighter mode," she said. And the same applies when she is traveling for workshops, when she builds in some extra self-care. "I know during these weeks I have to be 'on' and it's all eyes on me. My social battery is going to be drained beyond empty. So I will probably need extra meditation in the morning and a greasy cheeseburger at night."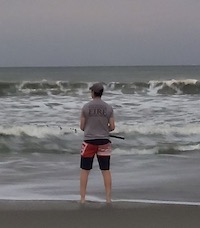 She is keen on enforcing boundaries. She'll say "I'm on a job right now, can I call you tonight?" or "I can't look at your job for at least 2 weeks, should we still move forward?" Sometimes it's "Tonight's no good, I have to study". She says she is not always good at this. "I am a work in progress."
Flexibility is at the core of her success in life and work, together with the understanding that "rolling with punches is a huge part of this job." She's not afraid to ask for help with mistakes, but owns them and makes them right as soon as possible.
She also supports her life by staying hydrated and trying to eat healthy. "If I can carve out a couple of hours, I stop by the beach and throw a line in," she said. "So to come full circle – this is why I say I am 100% winging it. I like to have plans but I also firmly believe in handling life one day at a time. All I have to worry about is getting through today, because if I don't wake up tomorrow then none of these things are my problem anymore. So drink water, throw a line in when you can, and just focus on today."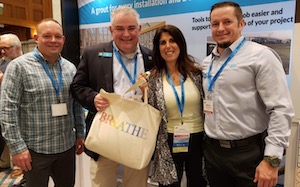 Ron Nash
If you've ever seen Ron Nash's Facebook presence – and know what he does in his role as President, COO North America of LATICRETE International – you'll wonder how he has time to work, enjoy his family and have a lively, ongoing artistic practice – AND be a frequent and highly responsive poster. You might think he has a handle on the space-time continuum that many of us don't have.
Besides the piece of practical advice he shared – that he schedules most of his posts on the weekend to post during the week – would tell you that "time management" is a myth. That you CAN'T manage time. But you CAN manage energy and activities. And he adheres to a system that allows him to do just that, providing concentrated work time, creativity that feeds his soul, family time that feeds his heart and the ability to be present and responsive when dealing with industry friends and colleagues and the demands of his job.
Adopting a system was a necessity in 2004 when he had a broad sales territory with LATICRETE that encompassed Utah, Wyoming, Idaho, Montana, and Eastern Washington. He quickly realized, "You will either have no personal life or you will get some system together, or you will burn out and die." This led him on a search for a system to organize his life.
What he discovered is "discipline equals freedom. If you can get a trusted system, and exercise discipline, it will allow you the freedom you want to feed your soul and do what you dream," he said. Now as an executive, he engages with team members to explain about his organizational system and learn how their systems "fold into mine."
Nash breaks his system down into five steps, gleaned from David Allen's book Getting Things Done.
Capture – He captures thoughts, ideas, goals and activities in the Evernote app on his phone.
Clarify – Later in the day or the week, he reviews and develops clear, concrete action steps for what he captured.
Organize – He decides where to record these steps – dates on the calendar, delegating to others, etc. items
Reflect – He considers these lists and steps and revises them in small daily reviews or broader weekly reviews
Enagage – He decides how he wants to interact with these items and prepare for encounters and tasks.
A key part of Nash's process is meditation. "The benefit to an executive of being mindful is that you are not reactive," he said. "Reactivity gives you a low-grade response to the world." It also allows him the ability to be truly present to the people he interacts with, undistracted by a jumble of thoughts and worries. He meditates in the morning or evening for a minimum of 10 minutes to about 30 minutes.
He pointed out that meditation also scientifically proven to enhance decision-making and problem solving because you are building a muscle of calmness and self-mastery that you can turn to in hectic times or if you are triggered. His methods include mindful breathing (watching your breath), body scanning to promote relaxation, often used before meetings, and mindful walking, which he tries to do every day. He's incorporated these mindfulness techniques and breaks into his leadership as well: "If I see tension building in a meeting, I say let's stop and go through group breathing – 3 breaths in and out."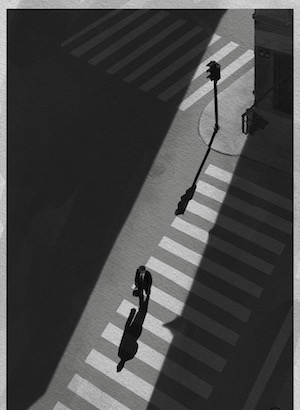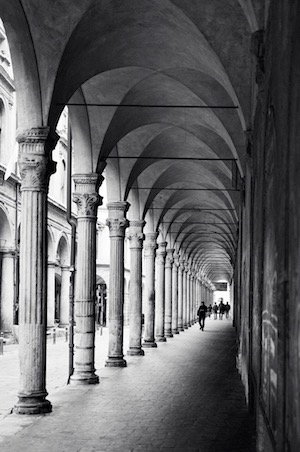 Another part of his process is an ongoing practice of creativity. He isn't kidding when he says, "Art will save the world…That's because creating artistic pursuits uses the same problem-solving part of the brain that is used for executive thought." It has the capacity to help manage stress and build the muscle of creativity, evoke new ways of seeing a situation or problem, improve cognitive function, and continually strengthen those "muscles." Nash recommends keeping a journal or sketchbook (virtual or physical) and creating SOMETHING every week – it doesn't have to be objectively "good;" eventually "you will make a stroke or image that is an artful stroke and elicits emotion."
This practice builds on mindfulness. "You can find the time to do anything that feeds you but you have to understand what feeds you and what doesn't – that's where mindfulness comes in," he said.
Nash uses this management/mindfulness practice to craft his entire life, and sometimes he is better at it than others, and sometimes he goes off the rails and needs to regroup. One way he does that is to devote an entire day in complete isolation reviewing his year's notes and planning the upcoming year with future plans for family enrichment that he reviews with wife Tiffany, and then plans work goals.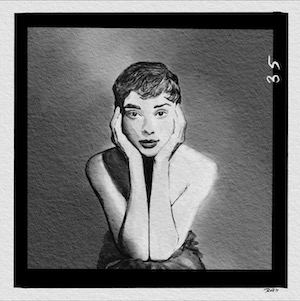 Nash graduated from the Yale Global Leadership Executive Program for Organizational Leadership in 2021. He explained that the cohort began with 60 people, but ended up with 20, broken into two camps: one that were focused on business systems and processes and the other camp that "learned how to inspire people…the inspirational camp started managing and leading very differently, with more artful, creative solutions," he said. The innovative thinking in this group focused on uplifting people and "whole human management." He calls connecting with the human element "pure joy" and sees an upward spiral of leadership where leaders are raising up their teams, and teams in turn see to it that leaders are successful. "We have come so far from the Jack Welch management of leadership," Nash said. "It still exists, but it is over in the macro sense."
One of Nash's mentors and inspirations is David Rothberg, current Chairman of the Board of LATICRETE International. "He travels the world and lives consciously, always coming back with wonderful stories and places he visited and things he did and it enriches his life," Nash said. "He thinks systematically and lives consciously; thinks practically about where he is going. And [when he is with you,] he is with you. I want to have that ability to be with people."
Ron's Recs – recommended reading and resources from Ron Nash
Organizational system
Getting Things Done – David Allen
Mindfulness
Search Inside Yourself – Chade-Meng Tan: A book that provides mindfulness techniques tailored for busy professionals.
The Mindful Leader – Michael Carroll: A guide on how leaders can incorporate mindfulness practices to improve their leadership skills.
Mindfulness-Based Stress Reduction (MBSR) program: Jon Kabat-Zinn's evidence-based program designed to help participants develop mindfulness skills and manage stress more effectively.
Mindful role models
Jon Kabat-Zinn: Founder of Mindfulness-Based Stress Reduction (MBSR) and author of Full Catastrophe Living and Wherever You Go, There You Are.
Thich Nhat Hanh: Renowned Vietnamese Zen master and author of several books on mindfulness, including The Miracle of Mindfulness and Peace Is Every Step.
Pema Chödrön: An American Tibetan Buddhist nun, spiritual teacher, and author of books like When Things Fall Apart and The Places That Scare You.
Creativity
The Artist's Way – Julia Cameron: This book offers a 12-week program to enhance creativity and personal growth.
The War of Art – Steven Pressfield: A guide that explores the challenges of the creative process and offers practical solutions to overcome them.
Big Magic: Creative Living Beyond Fear – Elizabeth Gilbert: This book encourages readers to embrace their creativity and overcome the fears and obstacles that may hold them back.
Productivity gurus
David Allen: Creator of the Getting Things Done (GTD) system and author of the book Getting Things Done.
Stephen Covey: Author of the influential book The 7 Habits of Highly Effective People, which teaches timeless principles of productivity and personal effectiveness.
Cal Newport: Author of Deep Work and Digital Minimalism, focusing on strategies to improve focus and productivity, and the balance between work and personal life.
Additional resources on work-life balance
The Power of Full Engagement – by Jim Loehr and Tony Schwartz: A book that emphasizes the importance of managing energy, rather than time, to achieve a balanced life.
Essentialism: The Disciplined Pursuit of Less – Greg McKeown: A guide on focusing on what truly matters and eliminating distractions to achieve a more balanced lifestyle.
The 4-Hour Workweek by Timothy Ferriss: A book that offers unconventional strategies for improving productivity, outsourcing tasks, and creating a more flexible work-life balance.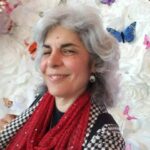 Editorial Director and Senior Writer for TileLetter and TileLetter ARTISAN
Lesley Goddin has been writing and journaling since her first diary at age 11. Her journey has taken her through a career in publishing and publicity, landing her the editor position of TileLetter and its special publications in 2006. Her goal is to educate, inspire, recognize and encourage those in the tile industry -- especially the tile and stone contractor. Other interests include the soft, purring marvels known as cats, labyrinth walking, drumming and percussion, and a range of spiritual, musical and artistic pursuits.