New glass collection offers sustainable, mosaic designs at an affordable price-point
LOS ANGELES – Walker Zanger, North America's premier slab, stone, and tile design resource launches a recycled glass collection to its affordable, luxury line, Walker Zanger Studio. The Walker Zanger Studio Marble Impressions glass collection emulates the look of stylish Carrara marble in five, classic mosaics, creating environmentally conscious designs without compromising luxury quality.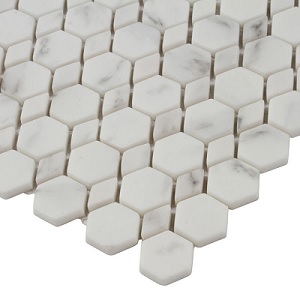 Recognizing the demand for eco-friendly products, Walker Zanger created a sustainable, budget-friendly mosaic collection that allows designers and homeowners to create fresh, sophisticated spaces. Capturing the look and feel of Carrara marble on a durable recycled glass material, this collection offers a sophisticated, natural stone look for the hardest working spaces. Walker Zanger Studio Marble Impressions Glass is the newest addition to the brand's entry-level luxury tile line with new resource-efficient material and design options that enhance projects and fit budgets.
"We continue to focus on creating design-forward collections with environmentally-conscious materials," said Suzi Portugal, Vice President of Design and Sourcing. "This new collection makes our sustainable tile products more accessible, fitting a timeless, yet contemporary aesthetic to encourage the long-term practice of designing with upcycled products."
Walker Zanger Studio Marble Impressions Glass is available in five matte mosaic patterns including Eyelet, Linx, Pixy, Blaze, and Blox. The elegant, Carrara marble design offers a neutral grey and white colorway to create an accent wall or act as a backdrop for an elevated space. The glass material offers additional benefits including a stylish surface that is resistant to mold and mildew with ease-to-clean, low maintenance. The series does not require sealing when installed and is ideal for wet areas, pool and spa spaces, backsplashes, and interior commercial and residential flooring and wall applications. Walker Zanger Studio Marble Impressions Glass collection is available exclusively through Walker Zanger showrooms. To learn more about the collection, visit walkerzanger.com.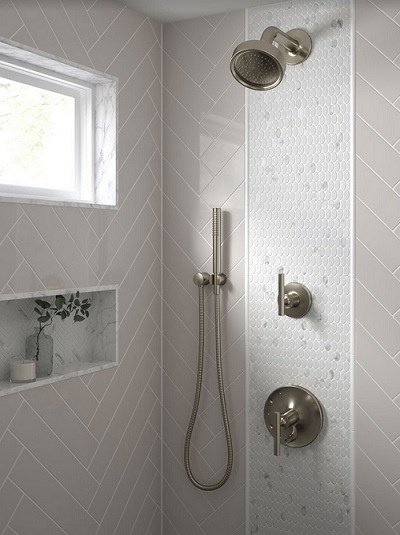 ---
About Walker Zanger
Walker Zanger is the leading stone and tile design resource in North America. For 70 years, the company has helped design-trade professionals and homeowners realize their boldest design visions with the most unique, original, and thought-provoking surface materials. Walker Zanger has quickly become a go-to expert in the industry and is often the first to discover new materials, styles, innovations, and specialty surface products. Rooted in natural stone slab design, the company continues to push the boundaries of possibility, including recent introductions of cutting-edge materials like recycled glass slabs and thinner-than-stone porcelain slabs that emulate natural marble veining. The company carries on the innovative spirit with equal passion today in 11 curated showrooms and slab galleries, and 200 authorized dealers nationwide. Walker Zanger also presents exclusive collections inspired and created by some of design's most influential minds today; Michael Berman, Robert A.M. Stern, and Pietta Donovan have all lent their aesthetic vision to the brand. Walker Zanger is more than a destination for the world's finest stone and tile materials, it's where inspiration lives and 'Design Realized' endures. To learn more about Walker Zanger, please visit www.walkerzanger.com.