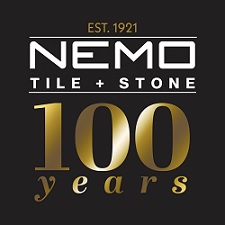 NEW YORK, NEW YORK — January 2022 — Nemo Tile + Stone, a New York City-based provider of top-performing surface materials, introduces Aziza to the market, a porcelain floor and wall tile reminiscent of a traditional Zellige tile. Aziza, a name which means beloved, precious and mighty, is exactly what this porcelain floor and wall tile is. The collection provides a beautiful handmade aesthetic with a natural, crackled effect on the surface, yet it has the durability and structural integrity of porcelain.
"Aziza offers incredible design possibilities with its modular sizes that all work harmoniously, and can go from wall to floor or stand on its own," said Katie Michael-Battaglia, Design Director at Nemo Tile + Stone. "The textures provided by both the original and Fez variations create a multi-dimensionality that is further enhanced by the natural, matte colorways."
Aziza is available in seven colors that combine the palettes of the Moroccan-style tile with more subdued tones of a colored cement. The collection is fully modular and comes in three sizes: 4.5" x 9", 2" x 9", and 4.5" x 4.5". The 2" x 9", and 4.5" x 4.5" sizes also come in the 'Fez' variation, which includes a linear textured surface that occurs randomly on the tiles, adding additional character quality to the collection.
To learn more about Nemo Tile + Stone, interested parties can visit www.nemotile.com. Keep up with the company's latest collections and news by following them on Instagram @nemotile, Twitter @Nemo_Tile, and Facebook @NemoTileCompany.
---
About Nemo Tile + Stone
Nemo Tile + Stone, led by Matt Karlin, third-generation CEO and president, is a 100-year old company based in New York City that offers extensive surfacing collections for a wide variety of spaces including homes, hotels, restaurants, and retail stores. From its modest beginnings in Queens, New York, Nemo Tile + Stone has expanded to include several showrooms throughout New York, including the recently opened Southampton location, as well as locations in Red Bank, NJ, Boston, MA, and Philadelphia, PA. Karlin continues to build on the company's rich heritage as a leading resource for architects, designers, contractors, homeowners and DIY enthusiasts. From classic stone, ceramic and porcelain to glass and metal, Nemo Tile + Stone offers the most comprehensive, high-quality surfacing options on the market today. Known for its customer service, the Nemo Tile + Stone team can assist with all aspects of the tile selection process, from tile to grout, ordering samples and arranging deliveries.