In 1919, Woodman's Markets began as a farming family's corner produce stand in Janesville, Wis. In 1997, they built the largest grocery store in the entire country. Now, Woodman's Markets is celebrating the opening of its 19th store in Bloomingdale, Ill.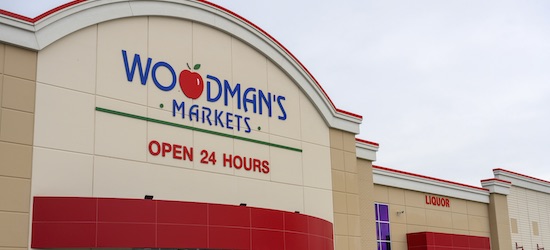 Averaging over 230,000 sq. ft. (more than five acres!), the store sites are many times the size of the typical grocery store. These turnkey shopping destinations feature everything from sushi bars and enclosed liquor stores to their own gas stations where customers can get an oil change service while they shop.
With attached warehouses, Woodman's Markets are like transportation hubs, serving thousands of visitors every day, along with heavy wheeled traffic that includes forklifts and pallet jacks. They present special challenges to the specification writer and the contractor to make sure the tile assemblies can hold up to extra heavy-duty service conditions and dynamic loading. In the case of the latest Woodman's Markets and remodels, contractors employed a full system of installation products from CUSTOM to ensure durable tile floors that will keep working 24 hours a day.
Setting a fast pace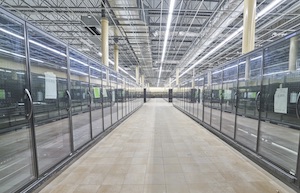 This employee-owned company needed a highly-skilled team to handle the size and speed of their projects. FoxArneson has been Woodman's general contractor for decades and Resch Tile has installed the tile on all of the recent expansions. According to Stephan Miller, project manager for Resch Tile, their firm relies on Custom Building Products installation systems wherever possible. At the Bloomingdale store, which opened in August 2021, their installers set 10,000 sq. ft. of tile per week to complete the installation in just four months.
"The biggest challenge was the pace of the project and other trades getting on the install quickly," offered Miller. "Custom's rapid-setting products like ProLite RS and Prism really helped meet that schedule."
Porcelain tile was specified throughout the retail stores, averaging 155,000 sq. ft. of tile per site. Transceramica conducted field trials for durability and recommended a 14mm thick, through-body porcelain with rectified edges in three specially commissioned colors and sizes. Designs called for a combination of these custom-made tiles from Transceramica accented by popular styles from Daltile.
Surface preparation
Surface prep work began by applying TechPrime A Advanced Acrylic Primer to concrete slabs where leveling was needed. Versatile TechPrime A seals both porous and non-porous surfaces and improved the bond of the underlayment to the subsurface. Next, TechLevel 150 Calcium Aluminate Based Self-Leveling Underlayment was poured and spread with gauge rakes for precise placement. This high-flow formula resists shrinkage, reduces cracks and achieves over 4300 psi compressive strength.
Some areas of the slab did not require leveling but needed crack isolation. RedGard Waterproofing and Crack Prevention Membrane was applied per TCNA Detail F125 Partial Coverage to address small cracks in the concrete and prevent them from transmitting to the tile. RedGard exceeds ANSI A118.12 for high performance and was used to isolate in-plane cracks up to 1/8″.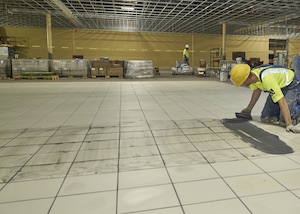 CUSTOM's rapid-setting tile installation system helped to keep the construction schedule on track for opening day. Installers used a trio of popular and proven high-performance products that have been deployed on countless large, fast-track commercial projects in the United States.
"RedGard, ProLite and Prism is the combination we have used for 95% of our installs ever since these products came out," stated Miller. "Our guys love the workability and the rapid cure aspect of it all."
Installing tile
All 6″, 12″ and 24″ format tile at these Woodman's Markets was set with ProLite RS Premium Rapid Setting Large Format Tile Mortar. Designed for non-slump properties to support the weight of large-and- heavy tile, ProLite offered excellent bond strength and high flexibility for these service conditions. This thixotropic formula exceeds ANSI A118.15HT so it did not sag or slip in the vertical installations. Wall application included 12″ x 24″ large-format tile in hallways and restrooms. The rapid-setting formula allowed grouting on floors in just three hours, critical to keeping up with the demanding construction schedule.
Weighing 40% less than typical mortars, ProLite was easier to transport on a jobsite of this size and its superior handling helped achieve wet transfer and prevent installer fatigue. Tile setters used large notch trowels and combed mortar in straight lines to assist in ridge collapse and help prevent voids under the tile.
"In these high traffic conditions, maximum mortar coverage is a must," advised Miller.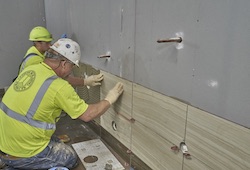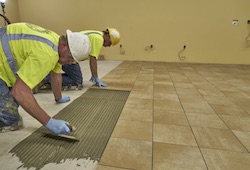 Public access areas of the stores such as grocery aisles and restrooms were grouted with Prism Ultimate Performance Cement Grout. This calcium aluminate cement-based, latex polymer-modified formula offered consistent color without shading regardless of humidity or temperature during application, and it does not effloresce. Prism's rapid-setting formula results in high early strength and dense joints for the highest stain resistance in grout joints up to 1/2″. The unique blend of lightweight recycled glass and fine aggregate sand weighs 30% less than other cement grouts and allows for a smooth consistency that was easy to spread and clean.
An exception to Prism was the quarry tile in the meat prep area of the store, which was grouted with CEG-Lite 100% Solids Commercial Epoxy Grout. CEG-Lite is formulated for the high chemical and stain resistance required with assemblies that are exposed to food contaminants and offered a fast cure time.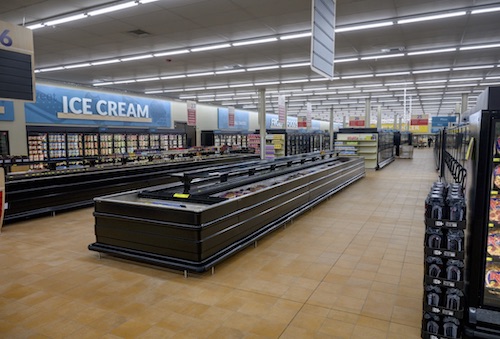 Nearly all of the CUSTOM products used on the project are GREENGUARD Gold certified and also contribute to LEED credits with low VOC, local manufacturing and/or recycled content.
In addition to the Bloomingdale store, this story references the tile and installation systems at the Woodman's Markets Buffalo Grove and Lakemoor, Ill., opened in 2018 and 2019 respectively. The tile assemblies in all of these locations should continue to provide outstanding "customer service" for many years.