Mountaintop experiences are rare. They often involve the effort of the climb and subsequent revelation, and leave participants forever changed.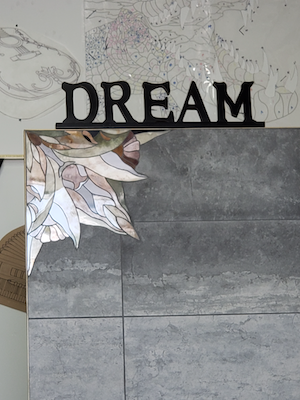 In mid-June, I participated in a mountaintop experience along with 15 tile setters and a dedicated team of trainers and organizers, sponsors and supporters. We all will be forever changed.
What event could evoke this kind of wonder? It was the Premiere Tile Artisans Training, a.k.a. Artisans Revolution in Tile (A.R.T.) held at the Dragonfly Tile and Stone Works shop in Milwaukee, Wis., co-sponsored by the National Tile Contractors Association (NTCA) and LATICRETE International. The goal of this program was to provide instruction, information and inspiration to tile setters who wanted to learn how to add custom, artisan tile works to their business – for their customers' delight and their own sense of joy, pride and accomplishment.
The training was years in the making. "For the past several years, Lee and Jane Callewaert and Joshua Nordstrom have shared with NTCA their vision to provide training and inspiration to tile installers to incorporate artistic elements into tile installations," explained Bart Bettiga, NTCA Executive Director. "We were honored to partner with them on this project. We reached out to manufacturers who we felt shared this vision, and we were able to establish a budget to launch this effort in 2023."
Announced last year during Total Solutions Plus with a live video of instructors and master craftsmen Lee Callewaert, Dragonfly Tile and Stone Works and Joshua Nordstrom, Tierra Tile, it and sold out in a matter of hours when registration opened up.
"Thanks to the support of the industry, and to the passion and dedication and leadership of Lee, Jane and Joshua, this first event was a resounding success," Bettiga added. "We hope to build on this effort and reach many more installers with more programs in the future. Adding artistic elements to tile installations can transform a contractor's business and positively impact their profitability. NTCA is proud to help facilitate this type of content and we encourage any member who has ideas like the Callewaert and Nordstrom had to reach out to us to discuss its potential."
In the months leading up to the training, weekend zoom meetings commenced with organizer extraordinaire Jane Callewaert and instructors worked to refine the material and the program to provide the right balance of inspiration, teaching, experimentation and accomplishment. Assistant Trainers Maria Meyer, Artisan Apprentice with Dragonfly, and Seth Ready of Ready Set Tile and Mosaic of Broomfield, Colo., together with Jeff Kimmerling, Milwaukee-based Sales Rep with LATICRETE, and NTCA Technical Trainer Hank Boyle weighed in on a couple of meetings as the go-date grew closer. Nordstrom and Ready flew in the week before the event to set up the equipment and ready the shop for the class, with a major assist from.
On June 18, the participants streamed in from every region of the U.S. Many flew, but a few attendees drove long distances – like Matt Blood of Paragon Tile Installation who drove from Rhode Island or Aryk Snowberger of Snowbee Custom Tile, who drove his customized Challenger – complete with matte black finish, yellow racing stripes and Snowbee logo — from Canton, Ohio.
Why did they come?
Reasons for attending were many. Lucas Henderson, of Sticks and Stones Tile and Flooring near Seattle, had been inspired by tile since he worked with his uncle doing mosaics as a young boy. He took a detour as a sushi chef for 10 years. "I just missed tile the whole time." He found the Tile Trade Artisans Guild and decided to join the inertia behind the movement, meet people he'd talked to from around the world and learn from the "giants" at the training.
Chris Stover, Stover Tile & Design, Morro Bay, Calif., came to the training to "pick up all the little tips and tricks I don't know, to make connections and to learn more about marketing side of the business."
Aryk Snowberger, Snowbee Custom Tile, said what motivated him to attend was the teachers and people involved in putting it together – "They are the best in the business. So to come and learn from them was worth my money and time and effort…It's a revolution that they are starting and they want us to follow through. It's something we have to do together…and carry that forward into the future, and try to bring art back into tile more often and more mainstream."
And away we go…day one
The four-day program kicked off the next day at Milwaukee's Saint Kate Arts Hotel, where participants were staying. The hotel is a marvel in itself that features an art gallery in the lobby, a ukulele, record player and vinyl records in each room, and thoughtful, stimulating art chosen for rooms and common areas. It is truly a hotel with heART!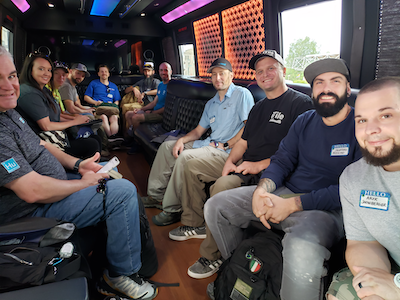 The Callewaerts and Nordstrom welcomed participants and led a discussion about marketing tile art and building one's portfolio. They shared recommendations on gleaning inspiration from a customer's surroundings and emphasized being observant, paying attention, assessing interest level and listening.
A conversation commenced about pricing one's work, with Ron Nash, North America President and COO of LATICRETE International – a major sponsor of the program – chiming in with suggestions and recommendations that ranged from pricing by reputation, rarity and demand, size, previous sales and quality and subject, as well as the emotional connection that develops from the story about the custom, personal aspects that are incorporated into the work.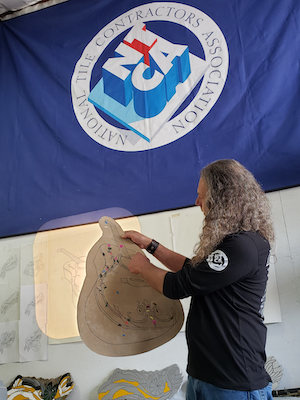 After this session, the group boarded the "Cruise-A-Palooza" bus for a ride to the shop, where the rest of the program would take place. Once at the shop, Ready set the stage with a recording of Alex Gray's World Spirit – The Artist Prayer (alexgray.com), which kicked off his playlist – a literal soundtrack for the entire four-day event.
Callewaert and Nordstrom gave instruction on ways to create designs, from drawing to scale, enlarging drawings using an overhead projector, layering with tracing paper, tracing and modifying the image to fit the goal, or even using one's phone to photograph images in foreshortened perspective and then enlarge and adapt them to the desired design. It was genius – and murmurings and utterances from the group confirmed it!
Templating was the next lesson: identifying the individual mosaic pieces and keying them to the chosen color/material selection. This was shown with tracing paper, Mylar or a vinyl template created from a vector file, with pre-cut pieces that were easy to place, identify and cut. The instructors talked about designing for the material – how to choose materials that support your design, and deciding on grout joint width.
Another consideration of materials selection was how fast materials cut (porcelain, being so hard, is slow cutting; a stone like Cararra is softer and fast cutting), and how to read the "grain" of the material and incorporate it into the design. Students were presented with two pre-cut vinyl templates of a 107-piece koi fish design. The master would serve as a reference, and they would apply the pieces from their working copy to their materials and cut the shapes with wet and ring saws. They also made their material selections from porcelain and stone tiles.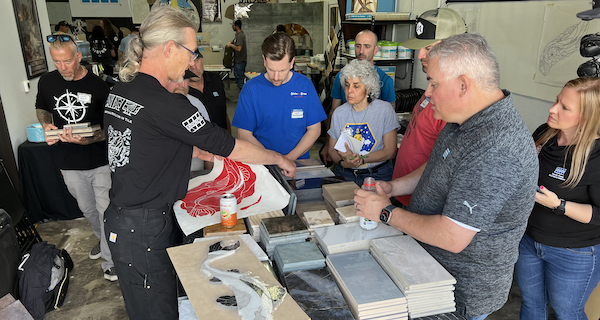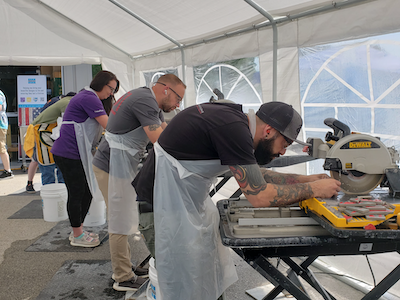 Getting up to speed on the saws
Day two started off with instruction on the Gemini Revolution XT ring saw, which allows more curving, intricate cuts. This tool was new to several participants. There was also instruction on the wet saw for straight, fast cuts and the Wizard grinders from Inland Craft that allow refinements. A schedule was set for artisans to spend 45 minutes at each saw, and then switch, allowing plenty of time to get comfortable with all the tools.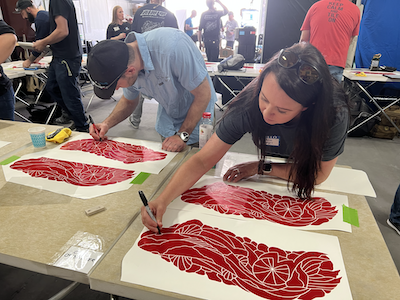 Most artisans finished cutting their 107 pieces in one day. The focus on the saw work was intense, as guided by Callewaert and Nordstrom, with essential assistance, encouragement and support from Meyer and Ready.
Premounting and grouting – the koi take shape!
Day three was refining and lessons in pre-mounting. And for this editor, and Manager, Digital Marketing Sharon LaRiviere of LATICRETE, there was a gracious opportunity to get our hands on the tools for the first time ever! LaRiviere created two hearts on the ring saw, and I made a solstice-inspired compass rose with a yin-yang center. This gave me the opportunity to experience the lessons in design, scaling, projecting, creating a template, cutting an pre-mounting personally, patiently and enthusiastically cheered on and guided by Meyer, Ready, Callewaert and Nordstrom.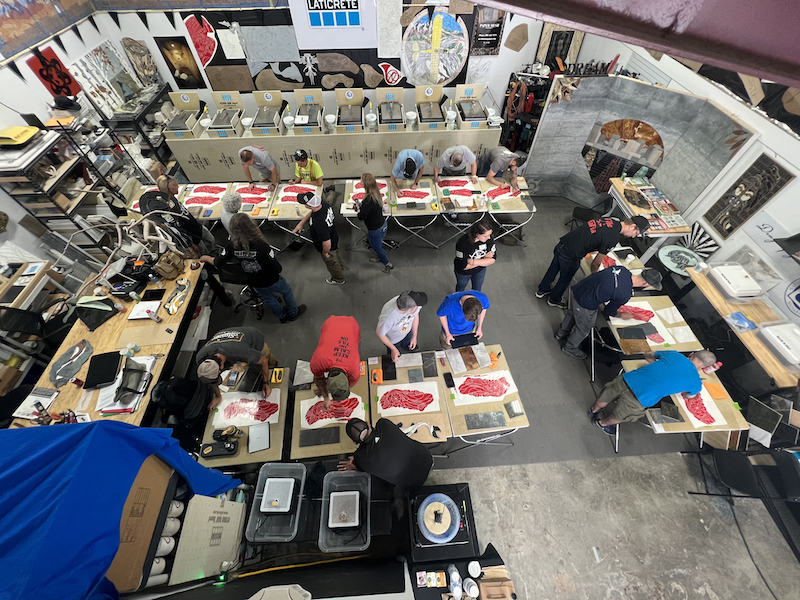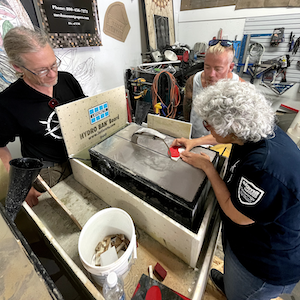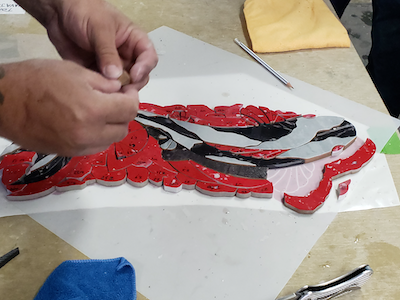 Day four was grouting day with LATICRETE SPECTRALOCK 1. Some artisans chose the Dazzle and Glow components to give their koi a special dimension.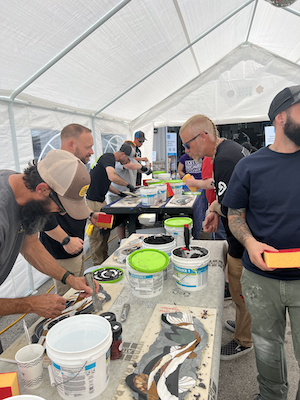 NTCA Technical Trainer Hank Boyle gave a lunchtime program about the importance of industry standards in tile work and introduced the group to the triumvirate of industry publications: The ANSI Manual, TCNA Handbook and NTCA Reference Manual. As part of NTCA's sponsorship of the event, every participant was given a free year NTCA membership.
In addition to the individual koi mosaics, artisans worked on two group projects – a mosaic of the A.R.T. logo and corner shapes that could be assembled into a medallion, inset in field tile.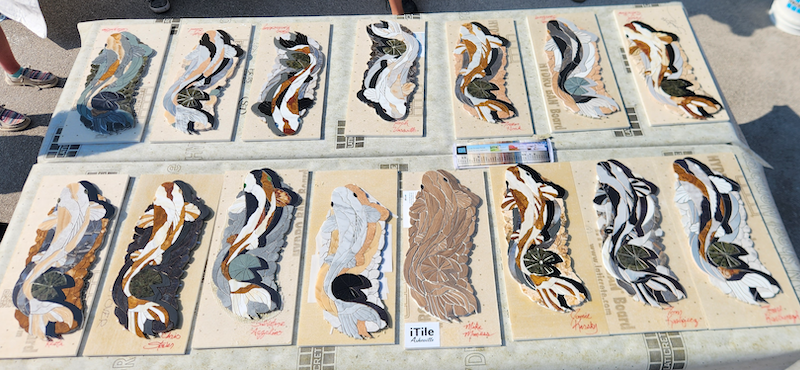 The cheerleaders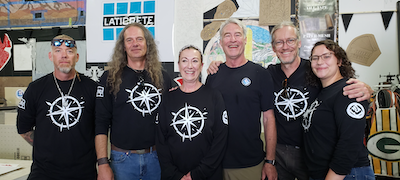 There also was a "cheerleading squad" – people who stopped by to visit, encourage and support the training team and the artisans. These folks included Mike Bernal, Steve Sprung and Rich Eckert from Tile Tools (who also sponsored a reception at the Saint Kate Monday night), and Matt Felton, who lives nearby and is working as a project manager with an inner city church that will involve church, community members and youth in building a new youth community center. Markus Dworowy of Blanke came by to cheer the group on, as did Andrew Lindner with 21st Century Distributors, plus the legendary Dave Gobis, who founded the Ceramic Tile Education Foundation back in the day. NTCA Five-Star Contractor Jan Hohn of Hohn & Hohn made the trip from St. Paul and even took to the saws to create a small mosaic. NTCA Assistant Executive Director Jim Olson drove in from Minneapolis with wife and TileLetter Ad Rep Mary Shaw-Olson to express support and encouragement. All the well-wishers added to the feeling of a community.
"This region has been long known for craftsmanship," Jane Callewaert said. "We take care of each other."
Support flooded in from every sector of the industry, with donations or loans of tools and equipment from TEC Specialty's Chris Kain, Erin Albrecht from J&R Tile, Gemini Saw, Mark Laperriere of Legends Tile & Stone, Tom and Mike Kavajecz, Matt Felton, Tile Tools, Inland Craft, EMI which donated face tape, and tile from Floor & Decor. This was in addition to equipment already on board at Dragonfly and from Nordstrom.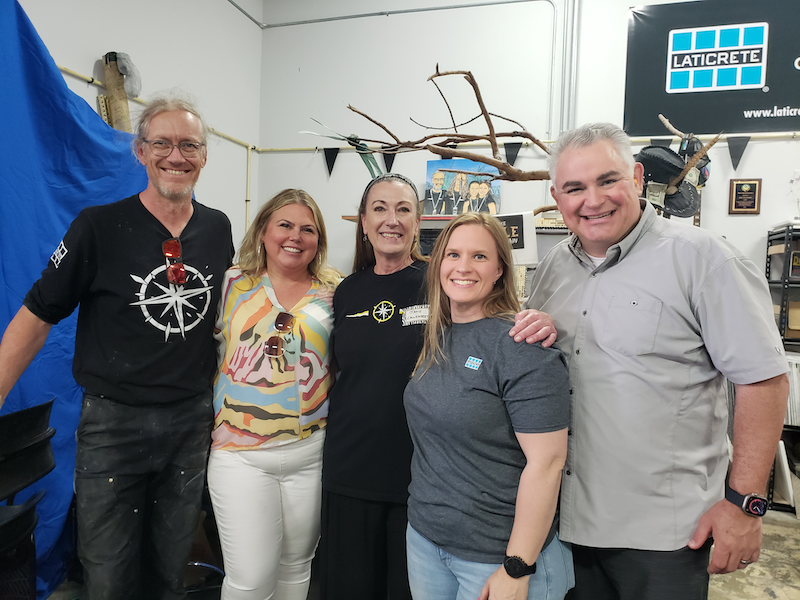 Other supporters were part of the experience: LATICRETE's Ron Nash who visited with participants, helped chronicle the event with his photography, and sponsored Tuesday night dinner for the group. LATICRETE's Sharon La Riviere helped corral people on the bus and shot copious photos and videos throughout the week. Michelle Labriola, Regional Sales Manager with ARTO arrived to survey the ongoings and welcome us to an ARTO-sponsored dinner Wednesday night. And yours truly was a co-chronicler with Sharon, but from the NTCA perspective.
Wrapping up
The event closed with a celebration and presentation of certificates of completion and appreciation. The 15 participants were now equipped with new skills – plus initiation into a coterie of artisans passionate about their skills, and imbued with feelings of patience, inspiration, feeling unstoppable, confidence, pride, satisfaction, invigoration, feeling blessed and grateful, and a deeper dive into art and mosaics. Instructors Callewaert and Nordstrom revealed not only how proud they were of the participants, but also how inspired they were by the new artisans as well.
"I can honestly say, you make me want to do this again," Callewaert said. Nordstrom added, "It just blew me away – everything about it. We inspired you, but you guys inspired us too."
Ron Nash, COO and President, North America of LATICRETE International, co-sponsor of the event, observed, "The instruction was nothing short of exemplary….and the learning doesn't stop with the end of the event. They set up a support system, with continuous guidance from some of our industry's top-notch instructors who are making themselves available for follow-up consultations, ready to help as we transfer their learnings into practice."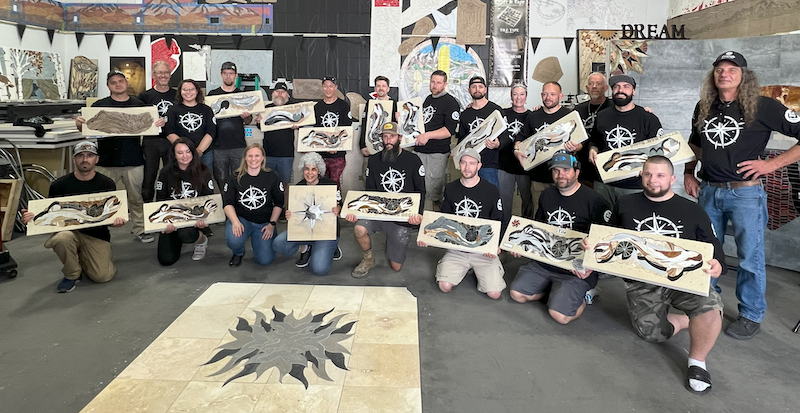 Taking tile artisanship to the streets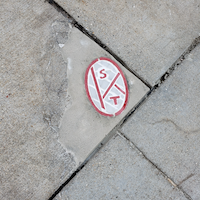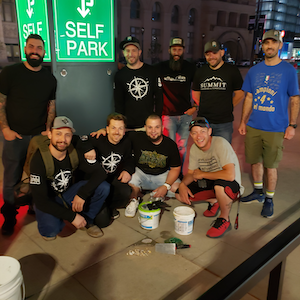 Beyond the training, inspiration abounded, centered around the Saint Kate Hotel itself. A Night Tile Ninja coalition formed to repair a sidewalk outside the hotel with a mosaic of the hotel logo that Lucas Hendrickson created at the shop.
And Hendrickson was inspired before he even arrived in Milwaukee. He created natural pigment from a homegrown purple sweet potato to as a gift for artist-in-residence Jeff Kimpel at the hotel. Kimpel creates art from pigments and oil, suspended in resin in his Painter's Mark Collection, which is an archive of his works and marks from painters in and around the Greater Milwaukee area. Hendrickson is a big fan of natural materials, saying, "I will try to be working with his much natural stone and handmaid tile as possible. I believe that the natural pigments will accent the natural stones in your eyes and entire soul will know the difference." Hendrickson, as well as Josh Vassallo, Aryk Snowberger and Trevor Hook all got to meet Kimpel as he turned Hendrickson's pigment into art before their eyes!
And before they even left Milwaukee, some artisans placed orders for saws, grinders and other equipment to expand their capabilities and put into practice some of the lessons taught at the training.
"It just blew me away – everything about it. We inspired you, but you guys inspired us too."
An evaluation process is underway to assess the impact of the program and plan for future opportunities. Installers interested in elevating their craft with custom art features and artisan techniques are encouraged to join the Tile Trade Artists Guild on Facebook, where announcement will be made about future events and support is always available from current artisan tile setters and instructors. For a view into the A.R.T. event as it was unfolding, visit TileLetter on Facebook.
August 15 online: meet the artisans and instructors!
On August 15, 6 p.m. CDT, learn more at the NTCA Roundtable Live! Artisan Edition Zoom event. This 90-minute roundtable will feature the instructors, Assistant Trainers, participants and artisans themselves. Come hear more about the program and how it impacted these artisans' lives! Click here to zoin!
---
New artisans, unleashing creativity upon the world!
These are the 15 new artisans with leveled-up skills as a result of this training and their willingness to attend, challenge themselves, and follow their inspiration. Keep your eyes peeled for what they are bringing to the world:
Matt Blood, Paragon Tile Installation, Cumberland, R.I.
Mike Maness, iTile LLC, Asheville, N.C.
Jaime Karsky, Meadowlark Tile LLC, Dickerson, N.D.
Trevor Hook, Hooked On Tile LLC, Evansville, Wis.
Aryk Snowberger, Snowbee Custom Tile LLC, Canton, Ohio
Chris Osterritter, Art by Tile Wilmerding, Pa.
Chris Resti, Crest Tile and Mosaic, Inc., Hilton, N.Y.
Josh Vassallo, Vassallo Tile & Stone, Wimberley, Texas
Salvatore Azzolino, Argo Tile & Stone, San Francisco, Calif.
Chris Stover, Stover Tile and Design, Morro Bay, Calif.
Lucas Hendrickson, Sticks and Stones Flooring and Tile LLC, Auburn, Wash.
Tom Kavajecz, Kavajecz Tile and Stone, Waukesha, Wis.
Mike Kavajecz, Kavajecz Tile and Stone, Waukesha, Wis.
Craig Lundeen, Craig's Tile, Maple Grove, Minn.
Tony Kavanagh, Flooring Concepts LLC, Wauwatosa, Wis.
Read more about the training at: https://www.tileletter.com/artisans-revolution-in-tile-a-r-t-comes-to-milwaukee-15-tile-setters-taking-skills-to-the-next-level/.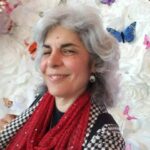 Editorial Director and Senior Writer for TileLetter and TileLetter ARTISAN
Lesley Goddin has been writing and journaling since her first diary at age 11. Her journey has taken her through a career in publishing and publicity, landing her the editor position of TileLetter and its special publications in 2006. Her goal is to educate, inspire, recognize and encourage those in the tile industry -- especially the tile and stone contractor. Other interests include the soft, purring marvels known as cats, labyrinth walking, drumming and percussion, and a range of spiritual, musical and artistic pursuits.