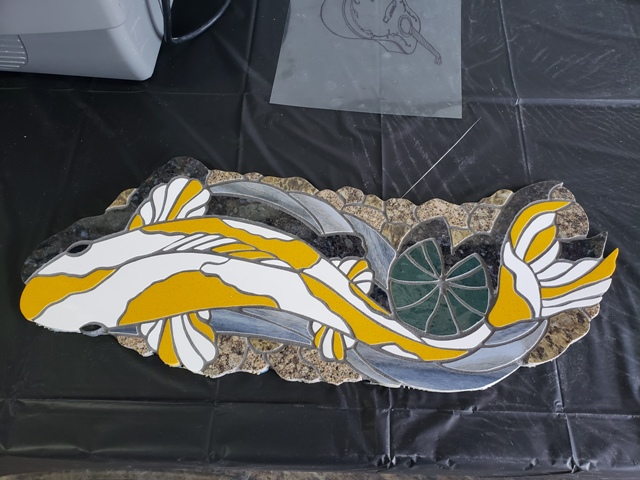 Milwaukee, Wis. (June 24, 2023) — On June 19-23, the Premiere Tile Artisans Training event was held at the Dragonfly Tile and Stone Works shop, here. Sponsored by the National Tile Contractors Association (NTCA) and LATICRETE International, the program also had support from Tile Tools, ARTO, Gemini Saw Co., Inland Craft, Floor & Decor, EMI Mesh Mount Paper and Tape as well as loans of equipment from other industry members.
The A.R.T. program was geared to provide experienced installers with information and hands-on training to design, produce and install their own hand-cut custom art features, according to industry standards. In addition to offering hand-cut artisan features to clients, the program equipped participants with a transference of skills and methods that elevate all tile installations.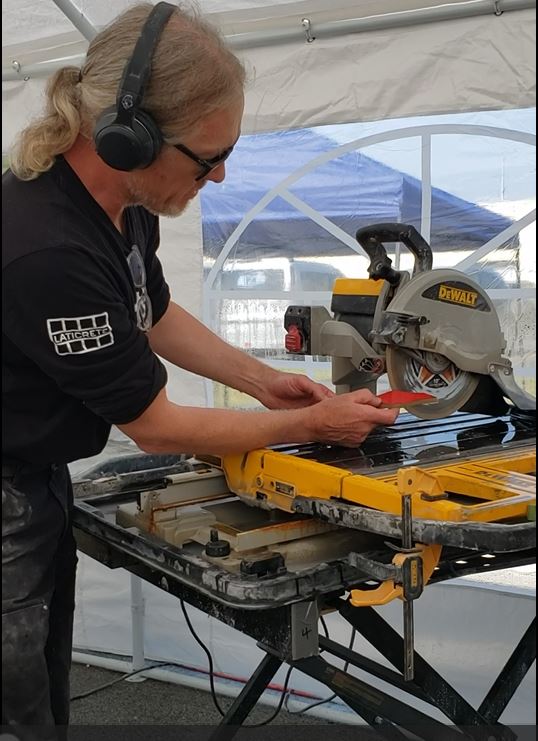 Fifteen enthusiastic participants from around the country filled the class in less than eight hours when it was announced earlier in the year on Facebook, and attended with high hopes of expanding their skills, creating art and distinguishing themselves from the competition with high-level mosaic skills. They were not disappointed.
Motivation
Chris Stover, Stover Tile & Design, Morro Bay, Calif., came to the training to "pick up all the little tips and tricks I don't know, to make connections and to learn more about marketing side of the business."
Aryk Snowberger, Snowbee Custom Tile, Canton, Ohio said what motivated him to attend was the teachers and people involved in putting it together – "They are the best in the business. So to come and learn from them was worth my money and time and effort…It's a revolution that they are starting and they want us to follow through. It's something we have to do together… and carry that forward into the future, and try to bring art back into tile more often and more mainstream."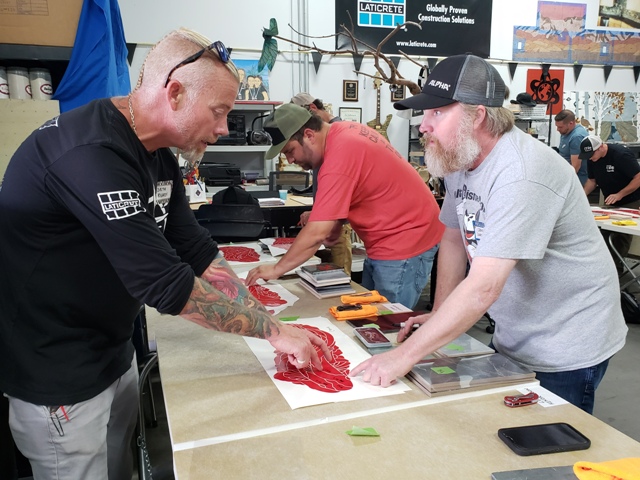 The training was developed by Jane and Lee Callewaert of Dragonfly together with Joshua Nordstrom of Tierra Tile, who flew in from Homer, Alaska to be a primary instructor along with Lee. Also essential to the program were Assistant Trainers Maria Meyer, Dragonfly Artisan Tile Apprentice and Seth Ready of Ready Set Tile & Mosaic in Broomfield, Colo., plus essential assistance from Jeff Kimmerling of LATICRETE.
The program
The intensive four-day program began with a session at Saint Kate, The Arts Hotel, where participants were staying. The opening program focused on specifics of working with clients, marketing, building one's portfolio, and pricing. The burgeoning artisans then moved to the shop where they learned various techniques for creating designs, templating, labeling, and material selection. The group retired to the hotel for a reception hosted by Tile Tools.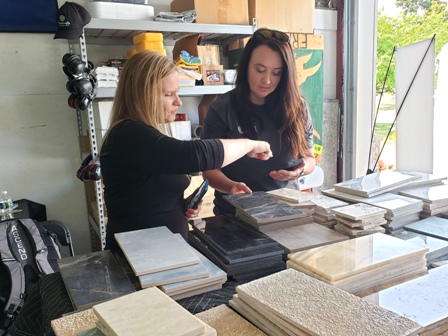 Day two focused on fabrication, working with tools including the wet saw, the ring saw and shapers, some of which was new to several participants. Each artisan was tasked with creating their own 107-piece koi mosaic. That evening, LATICRETE hosted a dinner at Rodizio Brazilian Grill.
Fabrication continued into Wednesday when pre-mounting techniques, as outlined in the NTCA Reference Manual, were taught. ARTO hosted a dinner at The Safe House for all participants.
Artisans completed their projects on Thursday, with additional opportunity to participate in a group project of the A.R.T. logo, work on additional personal projects and learn about cutting mosaics into field tile. Hank Boyle, NTCA Trainer presented a lunchtime talk about the importance of industry standards, and Tile Tools sponsored a closing reception.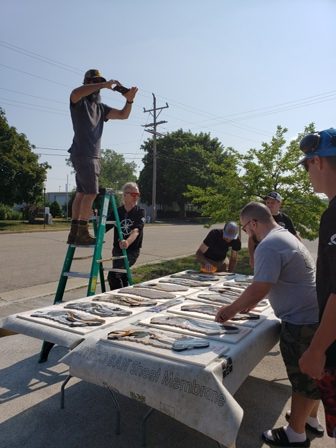 Walking away with skills and inspiration
Participants said they were "proud," "invigorated", "confident," "unstoppable," and "inspired" after taking the class.
Jaime Karsky of Meadowlark Tile LLC, Dickinson ND explained, "I was blown away with the talent…it was amazing to see everyone work and see them get so focused on art mosaics, and I cannot believe that we finished it! I met a lot of really cool people. I'm going home with a ton of inspiration and ideas for projects I want to do. I can't believe how much I learned in this week."
Lucas Hendrickson of Sticks and Stones Flooring and Tile, LLC in Auburn, Wash., said the training helped him "connect the dots" between the propositional knowledge and the actual hands-on skills. "I got the experiential knowledge which I really needed to connect the dots. I ordered all the tools, so I am going to go home and get started right away."
At the close of the class, Lee Callewaert, said to the participants, "I can honestly say, you make me want to do this again. For as much as you may have learned and as much fun you may have had….you gave that to me as well. I'm proud of all of you…Every one of your koi – I would put any one of them on my wall. You rocked it. I just want to say, 'thank you.'"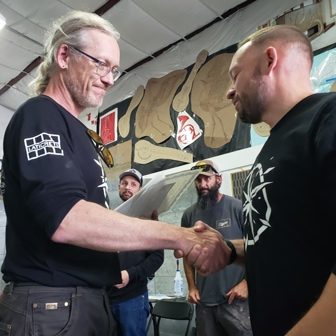 Joshua Nordstrom gave a resounding "ditto," to Callewaert's comments, to peals of laughter, and added, "I've been talking about my goose bumps this whole time. You guys continually just blew me away. I saw a lot of doubt at first, and then you guys just rocked it. The enthusiasm was infectious – I mean half of you guys have already bought tools! You jumped on, you nailed this, you made the A.R.T. sign, you're making stuff for the hotel, and you're making micro mosaics. It just blew me away – everything about it. We inspired you, but you guys inspired us too."
Jim Olson, NTCA Assistant Executive Director, who drove in from Minneapolis with wife and TileLetter Sales Rep Mary Shaw-Olson on Wednesday, said, "This is amazing. This is the beginning of something big. I see this as 15 new artisans in our industry…NTCA is behind this and we are going to move it forward and continue to make things happen in this niche of the industry. It's fantastic. Thank you all!" Though many participants were already NTCA members, the association awarded free memberships to all participants as part of its sponsorship.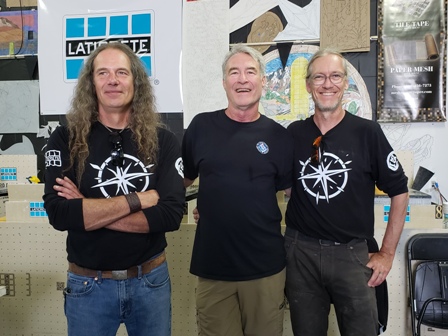 Ron Nash, COO and President, North America of LATICRETE International, a major sponsor of the event, added, "The instruction was nothing short of exemplary….The event was a testament to the power of quality instruction and the remarkable possibilities it unlocks." Nash noted that an ongoing system of support for these artisans is in place, with consultations with these "top-notch instructors" who are ready to help as the learnings are transferred into practice.
The new artisans were so inspired that they created a mosaic of the Saint Kate logo to repair a sidewalk outside the hotel, and installed it Thursday night before heading home the next day!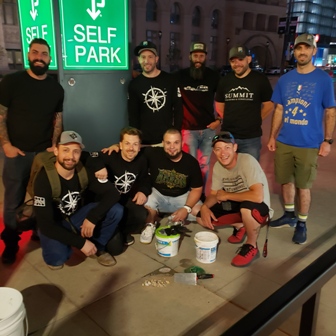 An evaluation process is underway to assess the impact of the program and plan for future opportunities. Installers interested in elevating their craft with custom art features and artisan techniques are encouraged to join the Tile Trade Artists Guild on Facebook, where announcement will be made about future events and support is always available from current artisan tile setters and instructors. For a view into the A.R.T. event as it was unfolding, visit TileLetter on Facebook.
Following is a sampling of the different interpretations of the same pattern by some of the artisans, prior to grouting with LATICRETE SPECTRALOCK 1.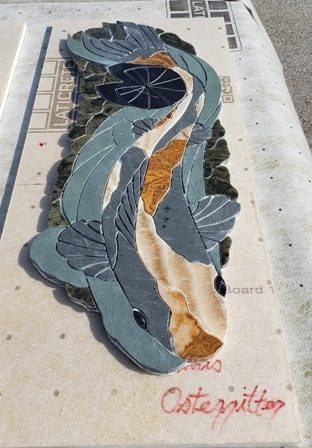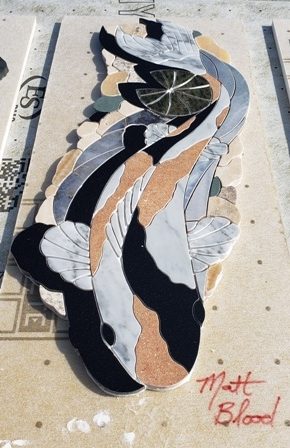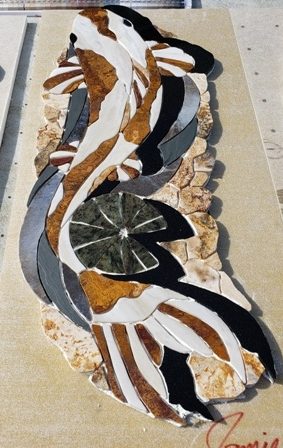 Photos are courtesy of Ron Nash, Jane Callewaert and Lesley Goddin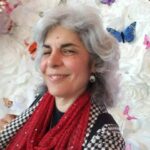 Editorial Director and Senior Writer for TileLetter and TileLetter ARTISAN
Lesley Goddin has been writing and journaling since her first diary at age 11. Her journey has taken her through a career in publishing and publicity, landing her the editor position of TileLetter and its special publications in 2006. Her goal is to educate, inspire, recognize and encourage those in the tile industry -- especially the tile and stone contractor. Other interests include the soft, purring marvels known as cats, labyrinth walking, drumming and percussion, and a range of spiritual, musical and artistic pursuits.