Avenue Mosaic, designer and manufacturer of original tiles, is proud to announce the
release of several new products. Chenille, Rain Dance, Pop Rocks, Homespun, Pyrenees, Flicker and Wet Bar have been added to its ever growing collection. These beautiful
and versatile mosaics can be used for application in any home. From bathroom to backsplash, Avenue Mosaics strive to create innovative and usable surfaces for any project.
With stunning palettes that mimic the demure softness of fine fabric, Chenille offers a complex yet soothing surface design. The movement of the painterly strokes are unique and beautiful in detail.The pattern sits harmoniously within itself, the color ways provide versatility for this intriguing tile.
Shining like glistening drops of rain on summer evening, Rain Dance reflects and refracts light in mesmerizing patterns. Trapped light in a pure glass encasement gleams effortlessly from this dynamic tile design.
Lively and loud, Pop Rock's color ways are named after some of our favorite classic rockers. Shiny and sexy, with peekaboo artwork that strings and strums through a vibrant, frenetic pattern. Despite its movement, Pop Rocks can be used in a more subtle environment, to give a little pop without overwhelming a space.
A cool neutral, Homespun has color swirls throughout resulting in a unique pattern on every tile. The comfortable serenity created by Homespun is perfect for creating a spa-like retreat in any bathroom.
Traditional yet intriguing, Pyrenees is a trompe-l'œil of a tile, proving that there is always complexity in the most simplistic of designs. Although smooth in reality, the alternation of color and the chevron-esque pattern creates a mesmerizing field of depth.
Through the combination of glass and chrome, Flicker captures the spirit of vivacity in a playfully-arranged pattern. The hints of shine make for an exciting surface, that doesn't overpower smaller spaces such as a powder room, vanity, or kitchen backsplash.
Strokes of dark and bright color swirl and blend together to make the smooth appearance of Wet Bar. Effortlessly pieced together, but never boring. A harmonious concoction of contrast and interest is in each inch of this design.
# # #
About Avenue Mosaic – Avenue Mosaic designs and manufactures original tiles with an artistic and functional approach to design. The variety of processes and textures such as glass, stone, ceramic and metal present a diversified and unique selection of artistic tiles. It aims to be at the forefront of tile technology, working with the most talented and resourceful manufacturers around the world to generate original, vibrant artwork for printing in its New York City-based studio. Its products are for commercial and residential applications like kitchen backsplashes and bathroom walls. They can be purchased through US retail outlets, in the US and global distribution.Visit the website at avenuemosaic.com or reach out for more information on new and previous collections.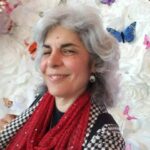 Editorial Director and Senior Writer for TileLetter and TileLetter ARTISAN
Lesley Goddin has been writing and journaling since her first diary at age 11. Her journey has taken her through a career in publishing and publicity, landing her the editor position of TileLetter and its special publications in 2006. Her goal is to educate, inspire, recognize and encourage those in the tile industry -- especially the tile and stone contractor. Other interests include the soft, purring marvels known as cats, labyrinth walking, drumming and percussion, and a range of spiritual, musical and artistic pursuits.