PROFILITEC, Italian producer of state-of-the-art floor profiles and related installation solutions, which has been in the states just a short while, is planning a focused, total launch of its comprehensive product line throughout the United States during 2018. "We have listened to the marketplace, in particular to our growing distribution network, and thoroughly believe our products offer high-performance solutions, longevity… and total value," stated Greg Gelston, longtime construction industry executive and President of PROFILITEC USA.
In particular, the company manufactures tile installation systems including floor, wall, movement, step tread and baseboard profiles, tile pedestal, anti-lippage, shower and uncoupling systems. Additionally, a complete line of profiles for LVT, laminate, hardwood, engineered wood and carpet. For four decades, PROFILITEC has delivered these innovative products to the global marketplace… and while doing so, has developed mutually beneficial relationships with customers worldwide. PROFILITEC prides itself on "doing business the right way."
"Doing business the right way is our mantra," commented Gelston. "We're not looking for new customers offering us instant gratification. Rather, we are focusing exclusively on distributors who are ready to enter into a long-term, mutually beneficial relationship. We offer not only solutions in so many areas of construction with our profile systems. We also offer highly technical educational solutions… based on keeping our customer base updated on the very best methods in which to install our quality products. And, blatantly speaking, we offer profit solutions that clearly explain how members of our distribution network will prosper. I know these are ambitious statements," continued Gelston, "And frankly, we are going to back them up 100%."
Gelston added that a strong number of the nation's top distributors have already signed on with PROFILITEC. "Stay tuned for more announcements about our firm," he declared. "We have a well-planned, strategically defined road-map to success. You'll be hearing more and more about us as time elapses. Stay tuned!"
PROFILITEC's extensive product portfolio can be easily seen by logging onto www.profilitec.com.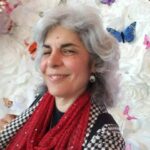 Editorial Director and Senior Writer for TileLetter and TileLetter ARTISAN
Lesley Goddin has been writing and journaling since her first diary at age 11. Her journey has taken her through a career in publishing and publicity, landing her the editor position of TileLetter and its special publications in 2006. Her goal is to educate, inspire, recognize and encourage those in the tile industry -- especially the tile and stone contractor. Other interests include the soft, purring marvels known as cats, labyrinth walking, drumming and percussion, and a range of spiritual, musical and artistic pursuits.