New from Nemo Tile + Stone comes Aster, a Moroccan-inspired collection of porcelain tile. Available in three colorways – Classic, Black and White, and Colors – Aster is suitable for wall and floor applications in a variety of spaces. Each colorway is available in five individual patterns, as well as a mix of nine patterns.
The muted, washed out tones of the Classic line offers a vintage feel that lends a sense of aged elegance to a space.
The Black and White patterns provide a bold contrast that gives any room a bold, modern look.
Colors, with blue and yellow tones, offer a soft brightness and are influenced by Moroccan and Spanish design.
The Aster collection comes in 8" x 8" square tiles reminiscent of cement tile. Its bold geometric patterns can be interspersed with any of the line's four solid colors for added variety. For more information, visit nemotile.com.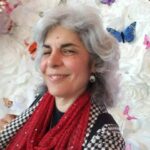 Editorial Director and Senior Writer for TileLetter and TileLetter ARTISAN
Lesley Goddin has been writing and journaling since her first diary at age 11. Her journey has taken her through a career in publishing and publicity, landing her the editor position of TileLetter and its special publications in 2006. Her goal is to educate, inspire, recognize and encourage those in the tile industry -- especially the tile and stone contractor. Other interests include the soft, purring marvels known as cats, labyrinth walking, drumming and percussion, and a range of spiritual, musical and artistic pursuits.