Combining art, science and creativity to bring happiness and excellence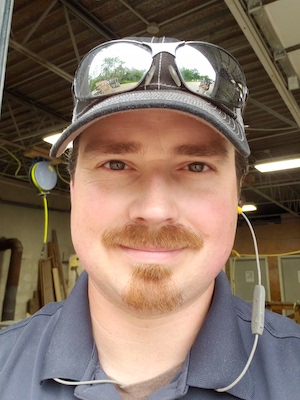 What does a man who initially pursued a career in medicine out of a love of the science and art of healing, prizes integrity and the joy of bringing happiness to customers through the work of his hands choose to do in life?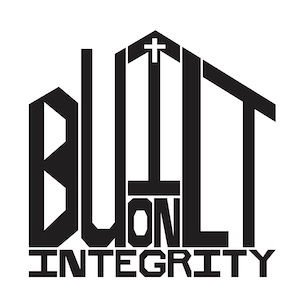 Become a tile contractor, of course!
Timothy Steudeman, solo operator of Built On Integrity in Sulphur Springs, Texas, originally chased a career in medicine, studying for three years to be a doctor and working in the field for a decade. But as much as he loved the art and science of healing, he was disenchanted with the business of medicine. He regrouped and chose a path in construction, homing in on custom residential remodel and tile, specializing in master bathroom additions.
"Tile combines just the right amount of science and art and gives me the opportunity to stand back and see what I created," Steudeman said. "My personal ethos is to be a value creator for everyone I meet, and where I am now optimizes my abilities and passion to be able to do just that."
Tile contracting provides fulfillment for Steudeman. "I find deep personal satisfaction in creating something with my hands," he said. "Working as a tile contractor is the first time in my life to see that creation bring someone else the same level of happiness. Every great installer can see the minor flaws in their own work that others may miss, but seeing the joy the final product brings makes it all worth it."
About two years ago, Steudeman joined NTCA, after receiving substandard and incomplete guidance from the general construction industry about tile setting. He said they tended "to treat tile as a decorative finish and their recommendations were superficial."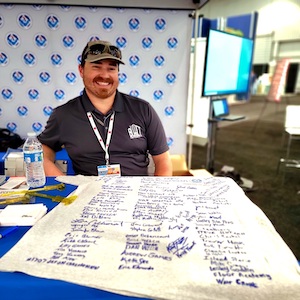 Steudeman quoted Jim Rohn, saying that "We are the average of the five people we spend the most time with." In his time with NTCA, he said, "The contacts and friendships that I have gained with joining the NTCA more than make up for the minor cost. That does not even account for the growth trajectory it has put my business on simply by me surrounding myself with people who have built the type of business that I want."
Part of the kind of business he wants is one that prizes qualified labor. "Before becoming certified myself, I would encourage potential clients to seek out qualified labor even knowing that might lead them away from my company," he said. He credits the pursuit of his Certified Tile Installer credential with igniting "tremendous personal growth," which showed him "which areas of my craft needed improvement," and helped him get back into a growth mindset. He was unsuccessful in his first attempt at his CTI, but just a few months ago, successfully passed the exam to become CTI #1753. "Now that I am a Certified Tile Installer, I feel an obligation to the industry to maintain a self-imposed and ever-increasing level of excellence."
He turned lemons into lemonade during the COVID pandemic, stepping back and evaluating whether or not his business was in line with his goals. "Months before the shutdowns started, we had just reached the point my wife could stay at home and we could rely solely on my income," he explained. He took the opportunity to position Built On Integrity to serve the needs of his customers and his family. "2021 was a transitional year for us, focused on growth and not just income, and our trajectory for 2022 will more than make up the difference."
Always ready to lend a hand at industry events, Steudeman volunteered to staff the NTCA booth at the Coverings show back in April. "I often see online people complaining about the lack of the industry involving them or inviting them to meetings, shows, or trainings," he said. "All you have to do is show up to events and you'll instantly have a chance to be involved. These industry groups are begging for involvement and input from people in the field. Just get here and they will find a spot for you."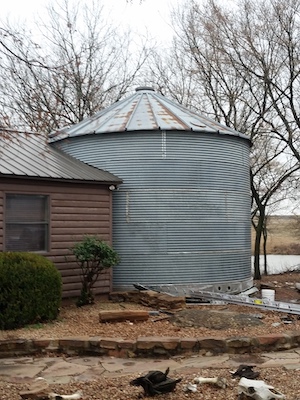 The farmhouse silo bath
A new customer came to Built On Integrity with a decade-long desire that no other contractor would attempt. After hearing her dream, Steudeman knew instantly he wanted to bring it to reality.
Over the course of the next year, Built On Integrity sourced and disassembled a 30-year-old grain bin silo, transported it across the state, and erected it as a master bathroom addition on her farmhouse. The project required relocation of all four utilities (gas, water, septic, and sewage) before custom 22′ diameter the curved stem wall could be erected.
The foundation and subfloor were designed and built for the finished floor to flush out with the adjacent floor to accommodate the customer request for the existing luxury vinyl plank to continue into the new addition.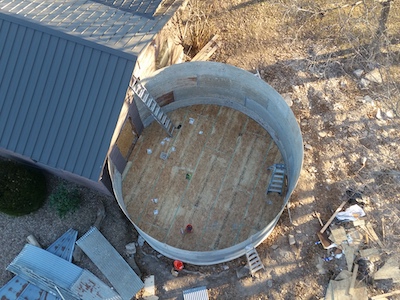 The silo was erected on the new foundation and scribed into the existing structure and roofline. The customer wanted to maintain the appearance of the silo's interior, requiring a double metal wall structure to accommodate the insulation needed. The interior walls for the shower and water closet were constructed with reduced height and open ceiling to allow for multiple chandeliers. Built On Integrity produced a custom curved vanity and matching 28 sq. ft. sliding interior barn door.
The decision to change the flooring to 12″x12″ slate throughout required changes to the subfloor and the use of an uncoupling membrane to accommodate. The 54 sq. ft. shower featured a curbless ramp and stone-wall look tile, prepped with a mud pan with bonded flange drain, CBU walls, and a waterproofing sheet membrane on both. The tile work took place during the summer months before HVAC was installed, presenting challenges when working with the setting materials.
"The difficulties on this project challenged me to learn tile industry standards, methods, and solutions available to ease installation and produce better results," Steudeman said.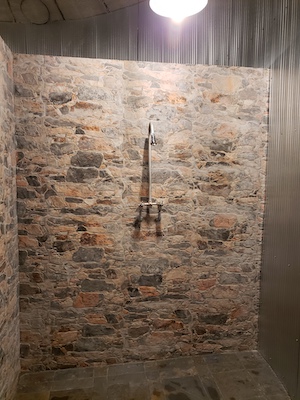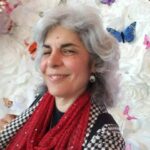 Editorial Director and Senior Writer for TileLetter and TileLetter ARTISAN
Lesley Goddin has been writing and journaling since her first diary at age 11. Her journey has taken her through a career in publishing and publicity, landing her the editor position of TileLetter and its special publications in 2006. Her goal is to educate, inspire, recognize and encourage those in the tile industry -- especially the tile and stone contractor. Other interests include the soft, purring marvels known as cats, labyrinth walking, drumming and percussion, and a range of spiritual, musical and artistic pursuits.