(New York, NY – April 2020) Confindustria Ceramica (the Italian Association of Ceramics) and the Italian Trade Agency are proud to announce the winners of the 2020 Ceramics of Italy Tile Competition. After reviewing a record number of outstanding projects from all across North America, the international jury of design experts selected four winners and three honorable mentions. The chosen projects demonstrate creative use of Italian ceramic tile, representing all three built project categories – commercial, residential and institutional – and one student category. For the first time this year, the competition also featured a People's Choice Award. Following a two-week period of public online voting, the honor was given to a multi-family housing project that garnered an overwhelming total of 396 public votes.
This year's project submissions revealed an elevated degree of innovation and design, with inventive tile applications like countertops, custom furnishings, exterior façades, and bespoke feature walls. Joining the ranks of esteemed past winners like Gensler, Snøhetta, Renzo Piano Building Workshop and more, the 2020 Tile Competition winners were revealed during a virtual press conference hosted by Coverings on April 20, 2020 The winners will also be honored during an awards ceremony in Bologna, Italy at Cersaie – the world's premier exhibition of ceramic tile and bathroom furnishings – taking place in the fall. In addition to this 5-day, CEU-accredited trip, built project winners will also receive a check for $2,000. The contractor and distributor teams involved with each winning project will be awarded an additional $1,000.
COMMERCIAL WINNER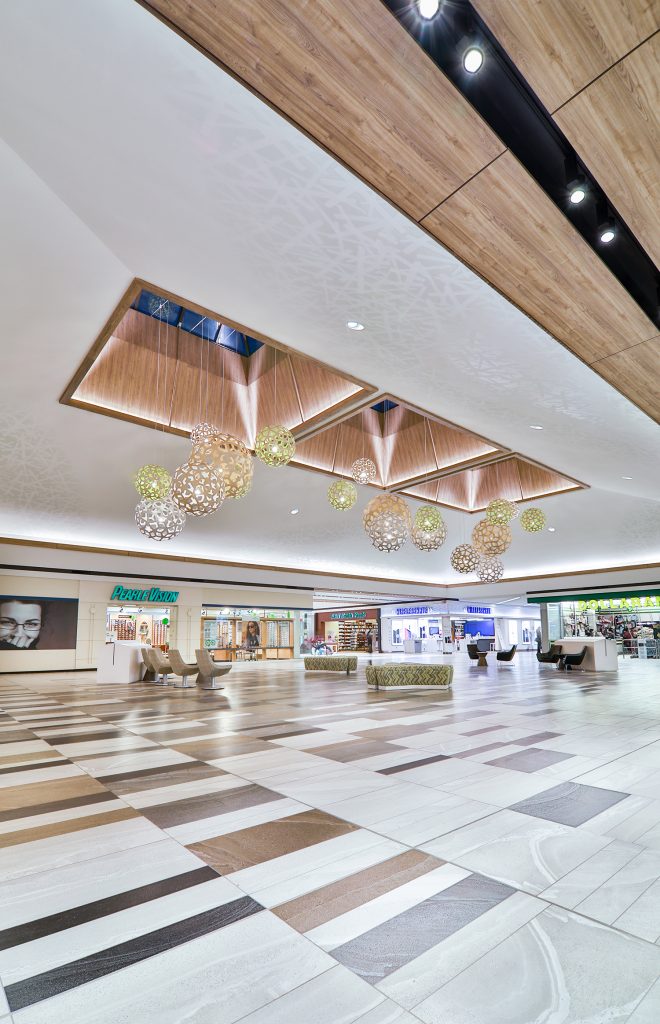 Firm: Ruscio Studio
Project: Garden City Shopping Centre
Location: Winnipeg, MB, Canada
Tile Manufacturers: Alfalux; Casalgrande Padana
Distributor: Italbec
Contractor: Fabris & Watts
The Garden City Shopping Centre in Manitoba, Canada had not been renovated since 1989, so in 2017 Ruscio Studio was tasked with developing a sleek, contemporary new design that would stand the test of time. Through the use of floral upholstery, Canadian oak wood, and colorful lounge areas, the designers created a modern space that plays into the "garden" theme. Stone-look floor tiles byAlfalux Ceramiche were installed in various colorways and configurations throughout the mall, serving as a way to visually separate and connect different spaces. A uniform installation in the main aisles creates the appearance of wider corridors, while a patterned installation in the center court represents the convergence of shoppers as they flow from one aisle to the other. Finally, black Casalgrande Padana tiles were selected for the bathroom floors. Ruscio Studio was very careful to choose timeless, durable floor tiles that could withstand the next 20 years of heavy pedestrian traffic.
COMMERCIAL HONORABLE MENTION
Firm: Design Continuum, Inc.
Project: Hotel Bennett
Location: Charleston, SC, United States
Tile Manufacturers: Ceramiche Caesar; Ceramiche Coem; Emilceramica; Florim; Marca Corona; Ceramiche Refin
Distributor: Ceramic Technics
Contractor: NTCA Five-Star Contractor, David Allen Company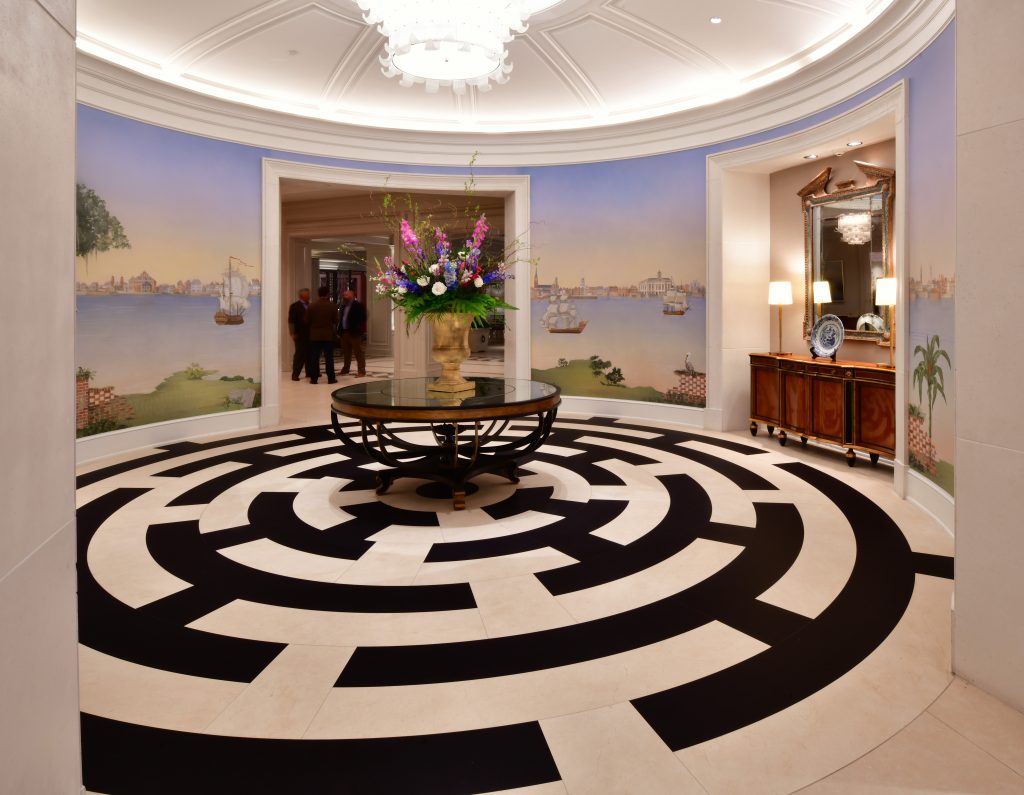 Adapted from the old Charleston County Library, Hotel Bennett is now a 175,000 square foot luxury hotel with 179 guest rooms and suites. The architects at Design Continuum, Inc. were challenged with designing a European-style space, imbuing it with historic charm inspired by several different time periods. To that effect, era-appropriate Italian tile is featured extensively throughout the building and amenities, each installation demonstrating superior craftsmanship and thoughtful design. Ceramiche Caesar tiles cover the rooftop pool deck and terraces, and floral Ceramiche Coem tiles decorate the floors of a French patisserie. Wood-effect tiles from Emilceramica andRefin Ceramicheadd warmth in the rooftop bar area, while stone-look Florimtiles are used throughout the public areas. Finally, a herringbone installation with marble-effect tiles from Marca Corona brings European glamor to the guest bathrooms and spa retail floor.
RESIDENTIAL WINNER
Firm: Bolivar Arquitectos
Project: M+B Residence Club de Golf la Herradura
Location: Monterrey, NL, Mexico
Tile Manufacturers: Florim; Provenza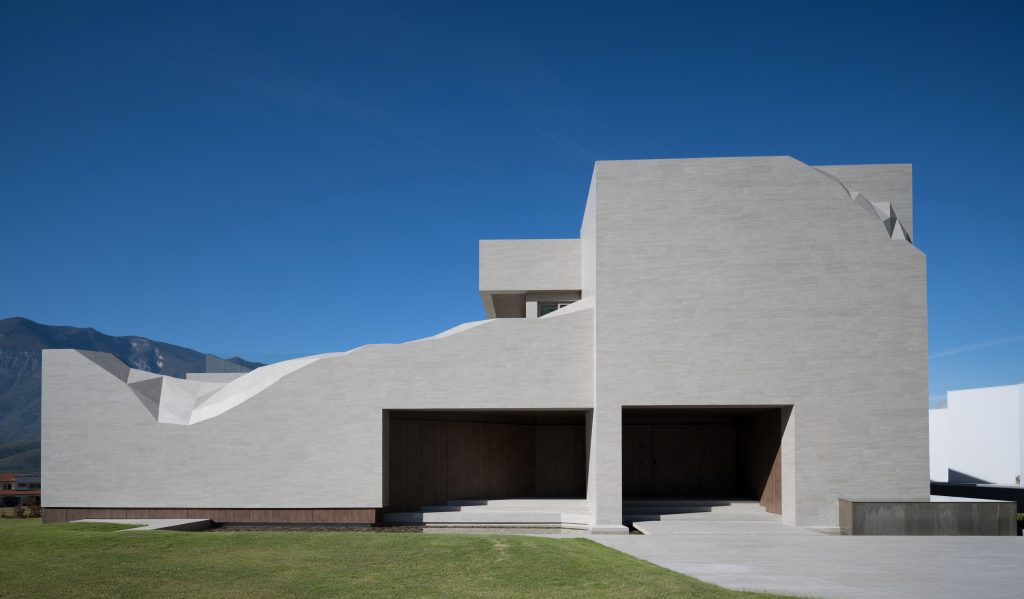 Nestled in a picturesque valley in Monterrey, Mexico,M+B Residence Club de Golf la Herraduraembodies luxury to the max. The design by Bolivar Arquitectos is sleek and minimal, but clever contours and unexpected material choices make this single-family home extraordinary. The façade, which is clad in almost 13,000 square feet of quartzite-effect porcelain tiles from Provenza, has a jagged silhouette that mimics the topography of the surrounding mountains. Matching tiles are also carried through to the backyard terrace and pool area, and a mosaic version adorns the walls of an ellipse-shaped guest bathroom. In keeping with the muted, monochromatic color palette, the architect used gray marble and stone-effect tiles by Florim to cover the floors and walls throughout the interior spaces.
RESIDENTIAL HONORABLE MENTION
Firm: STUDIOSC
Project: 426 Tompkins Ave
Location: Brooklyn, NY, United States
Tile Manufacturers: Fioranese; Ceramiche Refin
Distributor: Highstyle Stone and Tile
Contractor: ABF Tile Installation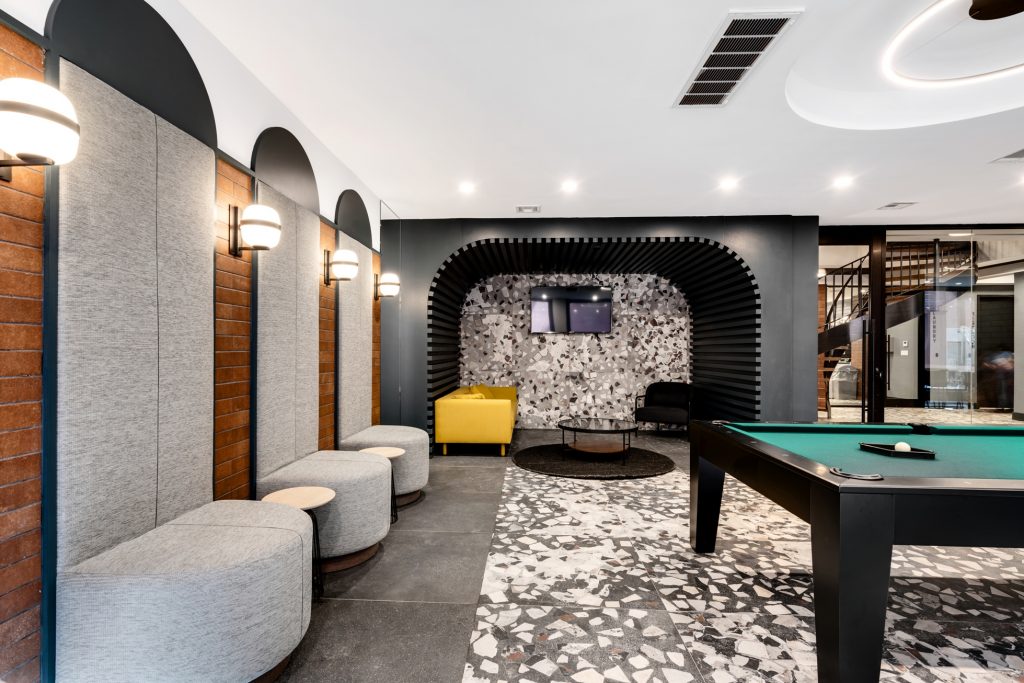 STUDIOSC designed this multi-family residential building for a transforming neighborhood in Brooklyn, NY. 426 Tompkins Ave is elegant and modern, distinguished by a vaulted entrance, double-height ceilings, and a bold choice of tile. The terrazzo-effect floor tiles by Fioranese serve as a visual focal point in the lobby and provide a sense of human scale to counteract the vertical space, which spans three stories. Paired with coordinated gray tiles from the same collection, the Fioranese tiles continue throughout the floors and walls of the lounge area, hallways, and recreation spaces for a stylish and cohesive design. In the apartment bathrooms, a fossil-inspired collection from Ceramiche Refin decorates the walls, floors, and shower ceilings.
INSTITUTIONAL WINNER
Firm: Perkins and Will
Project: NYC Healthcare Clinic
Location: New York, NY, United States
Tile Manufacturers: Laminam; Saime Ceramiche
Distributor: Nemo Tile; Stone Source
Contractor: Wilkstone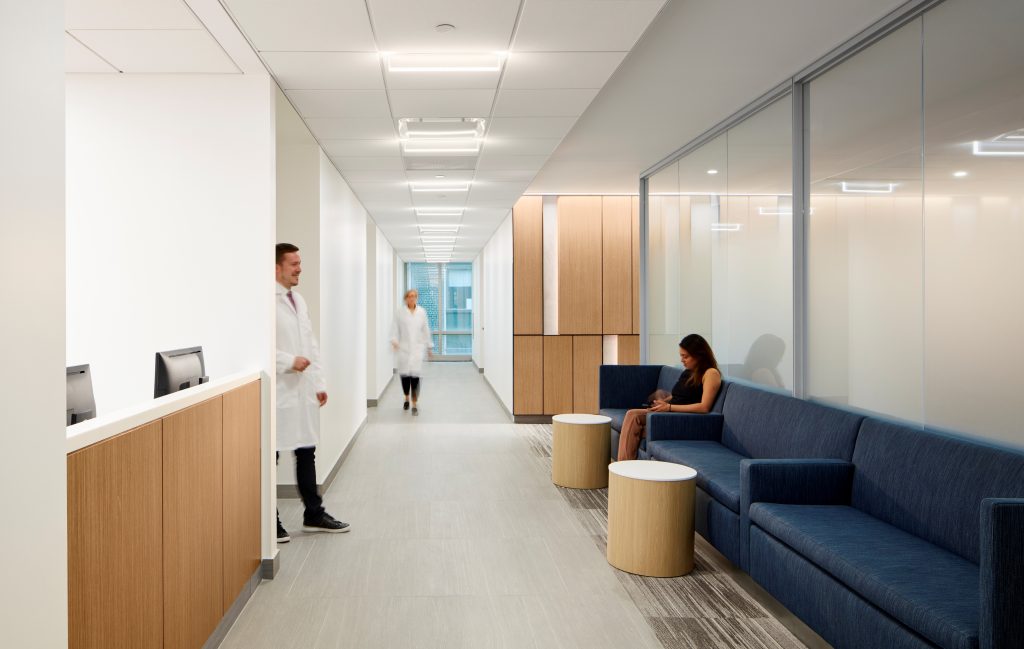 This NYC Healthcare Clinic is an active outpatient facility located in a 25-story commercial building in Midtown Manhattan. Natural daylight permeates the public spaces, and views to the outside provide simple and efficient wayfinding in this bustling medical center. Through the use of Italian tile and smart architectural details, Perkins and Will designed a space that was unique to the neighborhood yet visually consistent with the client's vast network of care centers. Gray, stone-effect tiles from Saime Ceramiche were specified for the lobby flooring, providing a hygienic, high-performance solution that is guaranteed to last a lifetime of heavy use. A striking feature wall installation, inspired by the local urban landscape, showcases large-format Laminam tiles in the recessed light niches.
INSTITUTIONAL HONORABLE MENTION
Firm: uoai architects
Project: Nathan Phillips Square Bicycle Station | Archive 513
Location: Toronto, ON, Canada
Tile Manufacturer: Lea Ceramiche
Distributor: Ciot
Contractor: Thin Tile Canada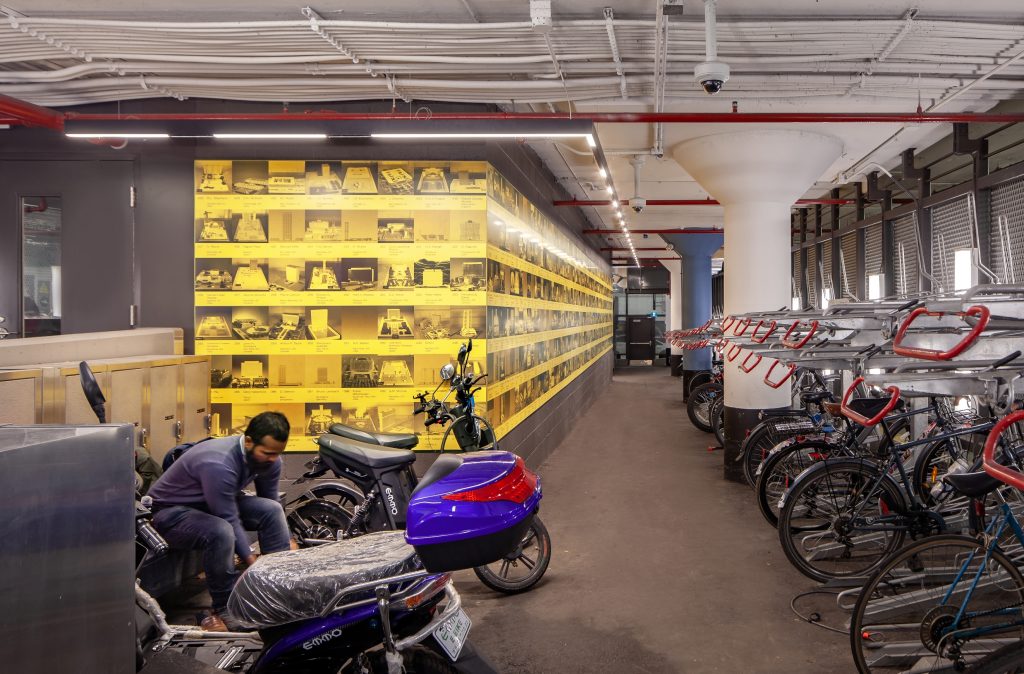 Situated one level beneath Toronto City Hall, Nathan Phillips Square Bicycle Station | Archive 513 is a key component in the revitalization of Canada's largest city square. This subterranean facility provides 200 secure bicycle parking spaces, which are separated from the adjoining car parking garage by a panel of metal mesh. Challenged with creating a unique way to display archival materials from the 1958 New City Hall International Design Competition, uoai architects worked with Lea Ceramiche to produce 22 custom-printed, large-format ceramic slabs. These yellow, 3.5mm-thick tiles cover the walls inside the station's two-story central vestibule, featuring excerpts from the 1958 competition brief and high-definition images of the original design proposals submitted by 513 international entrants. Using over 60 linear feet of digitally-printed ceramic, this project explores the intersections between contemporary urban infrastructure and a pivotal moment in Toronto's modernist architectural history.
STUDENT WINNER
Entrants: Carolina Cardona, Gabriela Mesquita, Rachael Cowan, Mariapia Sierra
University: Florida International University (FIU)
Declared Major: Interior Architecture
Project: …sensuum spa
Tiles Used: Valentino by Ceramiche Piemme; Abitare la Ceramica; Rondine; Ceramiche Coem; Italgraniti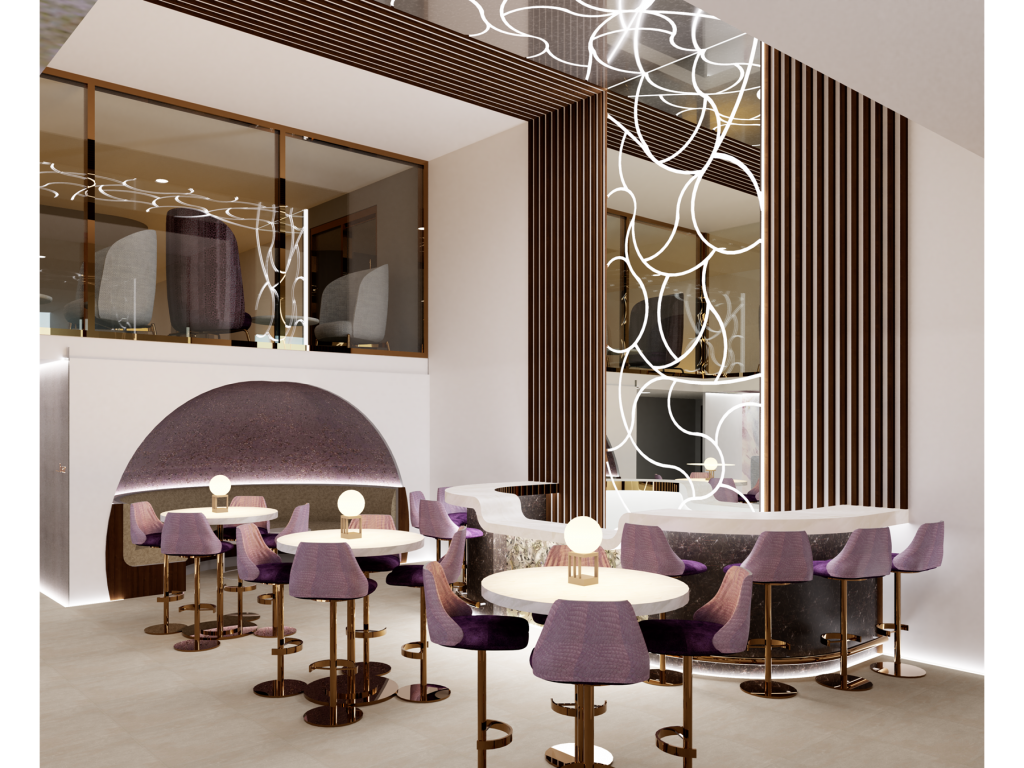 Conceived as an exclusive amenity on the Virgin Voyages cruise line, …sensuum spa is a holistic approach to wellness through an experience of the senses. It offers a pause in the midst of constant frenzy, represented through the use of curvilinear forms, natural materials and a serene color palette. FIU students Carolina Cardona, Gabriela Mesquita, Rachael Cowan and Mariapia Sierra imagined a thoughtful placement of Italian tile throughout the rooms, creating a restorative atmosphere for the guests. A rich onyx-look tile from Valentino by Ceramiche Piemme adorns the walls in the hammam and couples treatment rooms, complemented by a beige stone-effect tile by Ceramiche Coem. Rondine tiles line the pool, while 3D wall tiles from Italgraniti add textural interest. A stone-look tile by Abitare la Ceramica provides general flooring.
PEOPLE'S CHOICE AWARD
Firm: Vida Design
Project: The Rodney
Location: Portland, OR, United States
Tile Manufacturer: Appiani
Distributor: Statements Tile
Contractor: Floor Solutions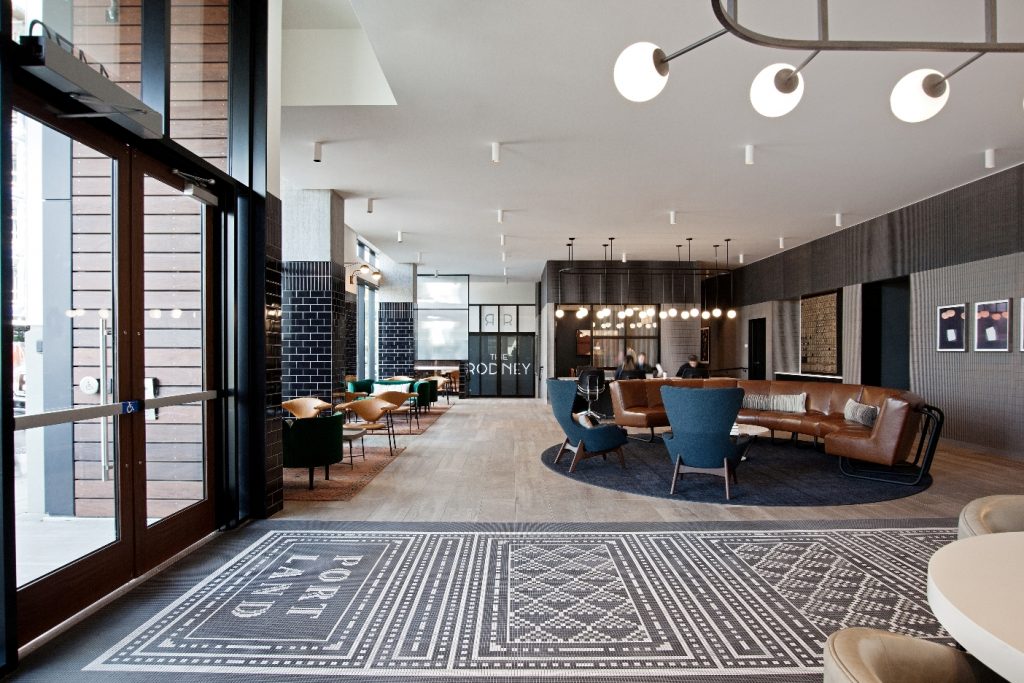 Upon entering The Rodney, a high-end multi-family high-rise in Portland's Pearl District, residents are greeted by a custom Appiani mosaic on the lobby floor. Working closely with their Statements Tile representative, the team at Vida Design was able to create their own mosaic that reflects Portland's rich heritage and future growth. The one-of-a-kind installation is durable and slip resistant, creating a powerful visual impact that brings edge to a classy interior space.