Dallas, TX – January 26, 2017 – At the Surfaces 2018 tradeshow, Daltile, Marazzi and American Olean will be prominently integrating digital technology into their shared booth space via 28 strategically-placed ipads, a virtual-reality home, selfie stations, a 600 square foot animated LED floor/wall main stage full of live presentations and an additional 1,200 square feet of video playing throughout the space.
"Our Surfaces booth this year is very technology-forward, to align with the way each of our brands and their respective marketing programs are currently reaching consumers," said Paij Thorn-Brooks, vice president of marketing for Dal-Tile Corporation.  "Today's consumers are well-informed. Because of the internet, there are countless resources available where they can educate themselves on just about any topic."
"One of the key ways we engage with in-market consumers is through our Daltile, Marazzi and American Olean digital channels – websites, social media, online coupons and other methods," said Thorn-Brooks. "Most consumers are researching online in some form, so whether it's through inspirational photography that helps a consumer find their style, detailed product information, online sample order and delivery programs or pointing them to a trusted retailer, our goal is to provide what they need digitally to move them from the consideration phase to the in-store selection phase."
"Once there, connecting the online and in-store experience is critical to the success of a brand," added Thorn-Brooks. "Because we live in an omnichannel world, consumers can experience our brands any place, any time and at multiple touch points – sometimes even simultaneously if they're in-store and on their mobile device at the same time – and that happens often. We know it's important to provide the right kind of information at critical touch points during the purchase journey, and it almost always starts with digital."
Daltile booth #5603 / #5821
Marazzi booth #5613
American Olean booth #5613
About Daltile
Daltile is the industry-leading brand of ceramic, porcelain, glass and metal tile as well as natural stone, large-format slab and countertop products. Daltile products are distributed through over 250 company-owned sales service centers, stone slab yards and gallery design centers that service a robust network of trade customers. Dedicated to innovative product development and distinguished style, Daltile provides a rich palette of quality products created to inspire residential and commercial designs. For more information, visit daltile.com and follow Daltile on Facebook, Twitter and YouTube.
About Marazzi
With a bold vision for the future, Marazzi built the first Italian-owned ceramic manufacturing plant in the U.S. in 1982, assuring domestic access to world-renowned technology and style.  Manufacturing a vast array of quality tile products, including porcelains, glazed ceramics, glass mosaics, natural stones and metallics, the brand continues to evolve for the savvy homeowner and designer.  Bold, daring and occasionally over the top, Marazzi provides captivating designs that integrate Italian style into exciting and imaginative environments. For more information, visit marazzitile.com and follow Marazzi on Facebook, Twitter, Pinterest and YouTube.
About American Olean
Since 1923, American Olean has been offering an extensive array of quality tile products. Through an appealing selection and a trusted network of industry professionals, American Olean empowers the creative visions of residential and commercial design and construction. For more information, visit americanolean.com and follow American Olean on Facebook, Twitter, Instagram, Houzz and Pinterest.
# # #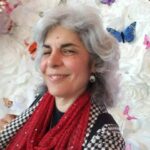 Editorial Director and Senior Writer for TileLetter and TileLetter ARTISAN
Lesley Goddin has been writing and journaling since her first diary at age 11. Her journey has taken her through a career in publishing and publicity, landing her the editor position of TileLetter and its special publications in 2006. Her goal is to educate, inspire, recognize and encourage those in the tile industry -- especially the tile and stone contractor. Other interests include the soft, purring marvels known as cats, labyrinth walking, drumming and percussion, and a range of spiritual, musical and artistic pursuits.