About Crossville, Inc.
Founded in 1986 and celebrating 30 years in 2016, Crossville Inc. is a U.S.-owned and operated manufacturer of award-winning tile collections for residential and contract applications. Its headquarters and manufacturing facilities are located in Crossville, Tennessee. Crossville, Inc. is a wholly owned subsidiary of Curran Group, a private holding company renowned for its core values of family, respect, partnership, integrity, and improvement.
An industry innovator, Crossville is the first U.S. tile manufacturer to achieve the following:
– produce large format tile on site,
– manufacture tile with certified recycled content,
– develop the Tile Take-Back® Program for recycling fired porcelain tile,
– achieve certification of its waste recycling programs,
– achieve TCNA's Green Squared certification for all of its U.S.-produced tile lines,
– distribute a complete line of gauged porcelain tile panels, and
– become a net consumer of waste.
For more information, visit Crossville's website by clicking here.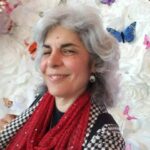 Editorial Director and Senior Writer for TileLetter and TileLetter ARTISAN
Lesley Goddin has been writing and journaling since her first diary at age 11. Her journey has taken her through a career in publishing and publicity, landing her the editor position of TileLetter and its special publications in 2006. Her goal is to educate, inspire, recognize and encourage those in the tile industry -- especially the tile and stone contractor. Other interests include the soft, purring marvels known as cats, labyrinth walking, drumming and percussion, and a range of spiritual, musical and artistic pursuits.