WILMINGTON, Del., Jan. 9, 2018 – DuPont™ Zodiaq® is becoming part of the Corian® Design family of branded products, services and design solutions. While the popular quartz product continues to be owned by DuPont, the product will be re-branded as Corian® Quartz as part of the new global design brand, Corian® Design which was introduced earlier this year.
"The move from DuPont™ Zodiaq® to Corian® Quartz will better align the product to the brand's design principles and allow Corian® Design to more efficiently and effectively communicate the product offering to the market," said Julie Eaton, global business director for Corian® Design.
Along with the name change comes bolder designs, textures and aesthetics for Corian® Quartz which will be previewed this week at the Kitchen and Bath Industry Show in Orlando. Customers can expect to start seeing Corian® Quartz in the market effective immediately, kicking off the Corian® Design – Make Your Space™ Campaign launching today.
All product warranties, properties and quality of levels of service customers previously experienced with DuPont™ Zodiaq® remain unchanged with Corian® Quartz. The line currently boasts 52 colors and patterns for use in residential and commercial in a variety of uses including kitchens, bathrooms, hotels, hospitals and restaurants. Corian® Design will now offer a range of materials, including Corian® Quartz all with the goal of helping customers make a statement or make a space "uniquely you."
For more information, please visit http://corianquartz.com/.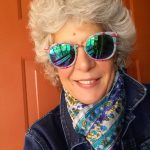 Editor for TileLetter, and TileLetter ARTISAN publications.
Lesley Goddin has been writing and journaling since her first diary at age 11, and drawing and sketching since she could hold a pencil. Her penchant for observation led to her becoming a paid professional as a trade journalist, publicist and is editor for TileLetter. She has also written for Guideposts, Walls, Windows and Floors, Floor Covering Weekly, and Low Carb Energy.