Editor's Letter – Coverings 2018
You will enrich your life immeasurably if you approach it with a sense of wonder and discovery, and always challenge yourself to try new things. – Nate Berkus
---
Welcome to the latest, greatest incarnation of Coverings – in this its 29th year – celebrated in the fair city of Atlanta!
Coverings never fails to impress, with its sprawling show floor, thousands of new products to adorn floors, walls, and countertops as well as those that ensure installations perform for the long haul. There are hundreds of learning opportunities, whether you are attending a conference session or watching the presentations on the Live Installation Demonstration Stage, and lots of special show features and events. There are also ample chances to meet new folks and hobnob with old friends at happy hours, lunches, tours and after-show parties. Take a look through this issue at all the opportunities this show affords you, plot your course, and go!
One thing I am excited about is a brand new feature this year – The Installation Experience in Hall C, Booth #8401. This is an event like no other. The Installation Experience showcases the best and the worst of tile and illustrates why qualified labor makes all the difference.
The Installation Experience will take you on a tour through tile failures, and their corresponding successes when installed by qualified craftspeople. You'll see examples of the work of tile masters and technical experts from top industry associations – CTEF, IMI, International Union of Bricklayers (IUBAC), NTCA, TCAA and TCNA: beautiful tile in working bath, kitchen and fireplace installs.
In addition, there's a CTI Challenge – two teams of Certified Tile Installers – led by Jason McDaniel of Stoneman Construction LLC and Greg Twarog of Surfaces15 – will face off on a tile installation competition.
There's also an opportunity for you to learn more about the CTI test as well as the Advanced Certifications for Tile Installers (ACT) test, and witness test demonstrations, while having the chance to ask questions about the exams. Relax in a expansive seating area with a large TV screen showing time-lapsed progress video, highlighting the various construction stages of the projects slated to take place. In addition, 30-60 minute training sessions offered in the nearby Contractor Lounge will prepare you for a full Installation Experience.
As you wend your way through your week in Atlanta, be sure to stop by and take part in the Installation Experience, as well as a reprise of the Installation Design Showcase Tiny House feature from last year, in which NTCA Five Star Contractors pair with top designers to bring a Tiny House to life. It's right around the corner in Hall C, Booth #8804.
As you page through this issue, take note of the "tour of Atlanta" in our cover story. Perhaps as you are out and about in the city, you'll get a chance to view the stellar tilework in these projects. Also in keeping with the theme about qualified labor in the Installation Experience, Becky Serbin's Qualified Labor story details the SkillsUSA competition that takes place in Georgia each year and the opportunities that exist to bring this to other states to promote tile setting as a viable career path to high school students. Speaking of young people getting into the act, check out the Member Spotlight about Darin Shocker, owner of Dutchess County Tile and his son's decision at 18 to pursue a career in tile setting over an academic college path.
I'd love to hear from you about what you found to be the most valuable about Coverings this year, so please drop me a line at [email protected] and share your impressions! Pack your comfy shoes, your notebook to record your impressions, your plans to share what you've learned with the folks back home, and have fun! Looking forward to meeting you there!
God bless,
Lesley
[email protected]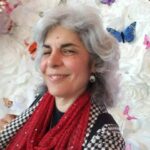 Editorial Director and Senior Writer for TileLetter and TileLetter ARTISAN
Lesley Goddin has been writing and journaling since her first diary at age 11. Her journey has taken her through a career in publishing and publicity, landing her the editor position of TileLetter and its special publications in 2006. Her goal is to educate, inspire, recognize and encourage those in the tile industry -- especially the tile and stone contractor. Other interests include the soft, purring marvels known as cats, labyrinth walking, drumming and percussion, and a range of spiritual, musical and artistic pursuits.