Editor's Letter – June 2018
"And so with the sunshine and the great bursts of leaves growing on the trees, just as things grow in fast movies, I had that familiar conviction that life was beginning over again with the summer."
– F. Scott Fitzgerald, The Great Gatsby
---
Well, you've made it to the halfway point of the year. Congratulate yourself that you are still above ground and hopefully making a good living in a profession you enjoy. So many are not, including a much-beloved icon of our industry, Armen Tavy, the irrepressible inventor and founder of Tavy Enterprises LLC. Read a bit about his impact on the industry and his legacy in this issue.
Last month, there was SO much to see at the Coverings show. We at TileLetter and NTCA were posting from the show on Facebook and Twitter with #ntcaatcoverings18, so if you frequent these social media outlets, see what was hopping in Atlanta. For the rest of you, we've provided an overview of many of the happenings at Coverings and a smattering of the kaleidoscope of products we saw there. By the way, it was wonderful to meet with so many of you in Atlanta! It made my heart sing! Remember to add Coverings to your 2019 schedule – April 9-13, in Orlando, and let's visit again, among the rest of the excitement and education the show offers!
Though training and education has always been part of NTCA's charter, NTCA is taking these opportunities to the next level with the Members Only Regional Training Program instituted this year, and the ongoing network of free workshops that crisscross the country. Get a bird's eye view of these offerings in both our new Training & Education section with Connie Heinlein's "Riding Shotgun," and the NTCA University Update story that details our Members Only Regional Training opportunities.
The respirable crystalline silica issue is not going away, and compliance with OSHA's recently established regulation safeguards workers' health – and keeps your operations legal. Learn more about this issue in our Tech Talk section where we view some of the information presented by iQ Power Tools' Joel Guth during a Coverings conference session.
How lucrative is tile setting anyway, and how does it compare with other trades? Take a look at our Wage Study story in Business Tip. Input and feedback are welcome!
Finally, our Hot Topics section addresses the next generation of tile setters. Thanks to Dave Clark over at the Global Tile Posse Facebook Group, an interesting discussion recently ensued about teaching offspring the trade – how early do you start, what kinds of tools do you let them use, and the like. Drop in and see how knowledge of our trade is being passed on to the next generation.
We're right on the cusp of summer. What major projects do you have on the roster? We're always looking for great case studies with before/after photography, so if you've got something you'd like to crow about, send it to me at the email below!
God bless,
Lesley
[email protected]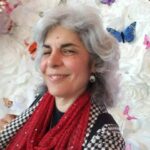 Editorial Director and Senior Writer for TileLetter and TileLetter ARTISAN
Lesley Goddin has been writing and journaling since her first diary at age 11. Her journey has taken her through a career in publishing and publicity, landing her the editor position of TileLetter and its special publications in 2006. Her goal is to educate, inspire, recognize and encourage those in the tile industry -- especially the tile and stone contractor. Other interests include the soft, purring marvels known as cats, labyrinth walking, drumming and percussion, and a range of spiritual, musical and artistic pursuits.