Members are always asking me about training opportunities. Well, this month I wanted to promote regional training. 
At the start of the year, NTCA announced that it would offer regional day-long events in each of its 12 regions throughout 2018. As we close in on the midway point of the year, NTCA Training Director Mark Heinlein has been traveling the country training NTCA members on one of two topics. Depending on location, he could be leading a day-long training in Industry Standards/Substrate Prep/Large-Format Tile or Gauged Porcelain Tile/Panels. 
Industry Standards/Surface Prep Large-Format Tile
The Industry Standards/Surface Prep/Large-Format Tile session starts with classroom lessons on tile industry methods and standards using ANSI resources. From there, class members learn how to use and navigate the TCNA Handbook. The attendees spend the rest of the day in a physical, hands-on working setting. Heinlein works with the class to check substrate flatness on floors and walls, general examination of framing systems, and proper installation of cementitious backer units. He then reviews various surface prep methods before releasing the attendees to work with the prep materials. 
Attendees are teamed into small groups to explore proper materials and tools for patching and rendering a vertical substrate to meet industry tolerance for large-format tile. The small groups then experiment with and pour self-leveling underlayment (SLU). 
When all substrates have been properly prepared and flattened, the class advances to proper mortar selection, mixing, trowel selection, mortar coverage, and installation techniques for large-format tile. When this event was held in Portland, Ore., Dirk Sullivan, owner of Hawthorne Tile, sent 10 installers with various levels of knowledge. Sullivan stated, "Training and education are key to the success of my company, and more importantly, the industry as a whole. The regional training event that was held here in Portland this past March was a fantastic opportunity for our installers as well as community here in Portland to see firsthand the hands-on [demonstrations], standards, techniques and materials used for successful, by-the-book installations. More please!"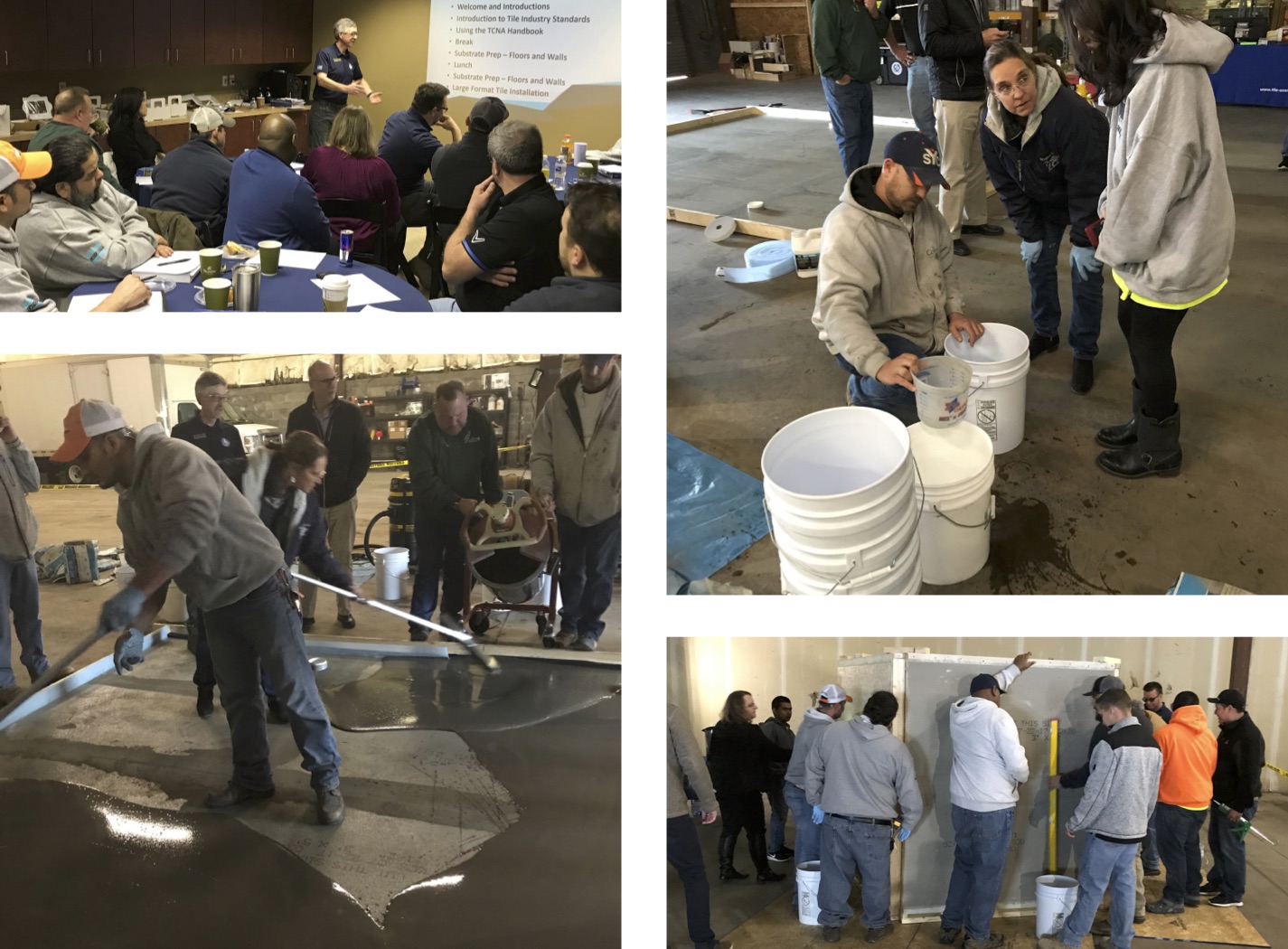 Gauged Porcelain Tile Panels
The Gauged Porcelain Tile/Panels (GPTP) course begins with streamlined overview of industry standards, then delves into ANSI A137.3 and ANSI A108.19, which have recently been approved and are specific to this new product.
After the classroom work, attendees relocate to the work area to learn about the tools that they will use during the day. Every attendee will join a small team to set a full-sized panel on either on a floor or wall substrate. As the teams work through the process, Heinlein offers tips and tricks to lead to a successful installation.
Visalia Ceramic Tile, Inc., was one of the first locations to hold the GPTP course. Sam Bruce, president, stated, "As a company, a handful of our crews have installed GPTP, but this training gave us the opportunity to have every tile setter get a high level of education and instruction of what GPTP is and how different the installation can be. The training put Visalia Ceramic Tile in a position to confidently send any tile setter to a project where GPTPs would be installed."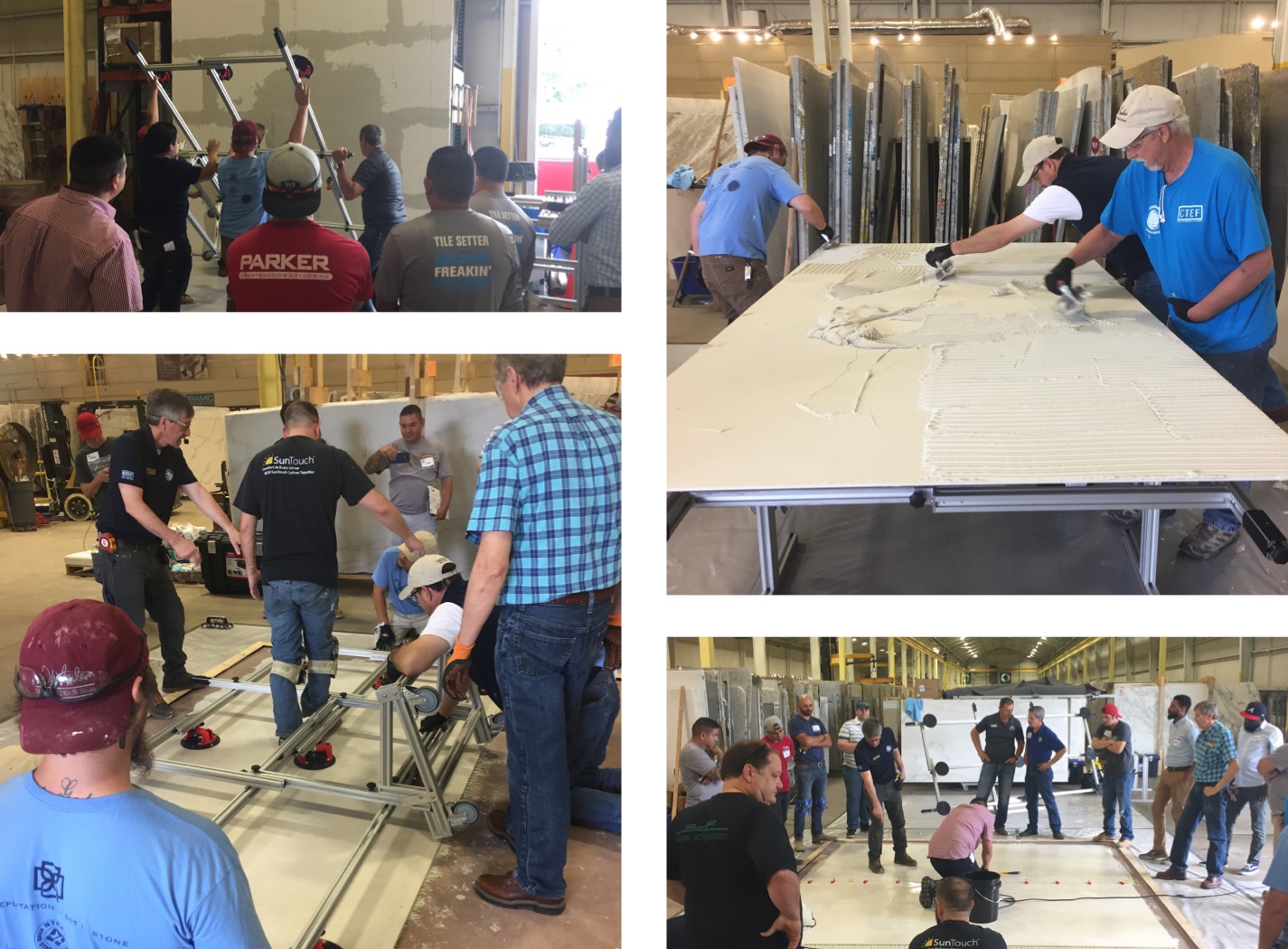 Testimonials
Still not convinced that you should consider attending or sending your team? Well, here is some feedback from others who have attended:
Woody Sanders, Owner, D.W. Sanders Tile & Stone Contracting: "The regional event was a tremendous opportunity that we took full advantage of. The efforts and preparation of the NTCA, along with the workshop sponsors could not go without being noticed and applauded. With the popularity of GPTP growing and the recent completed standards being published, this training focused on GPTP from start to finish. Furthermore, the event focused on proper techniques with hands-on training. This is why a few of my apprentice setters and I attended. Looking back, I should have brought my entire staff, but coming out of Coverings' Tiny House [Installation Design Showcase] last week, we needed to get back to work."
Rod Owen, Owner, C.C. Owen Tile, stated: "We had the opportunity to send a diverse group of our men for the Gauged Porcelain Tile Panels training. They ranged from master journeymen to first-year students in our Apprentice Training Program here at C.C. Owen Tile Co.
"The training gave the opportunity to discover new, exciting materials and methods of installation while emphasizing the absolute necessity for a strong core foundation of time proven methods," Owen continued. "While our veterans were realizing the importance of staying in the know of their ever-changing industry, the apprentices were digesting the many aspects of an industry they have just begun a career in. 
"It's great to see these guys the several days after the training session because there is a synergy that comes from these sessions: the guys learning something new, and the guys realizing the company cares about their professional growth and development as well," Owen said. "It's also intriguing when we tell the general contractor we are pulling guys off their jobsite for the day. As a specialty contractor, logic would tell you that the GC will have a fit but to our disbelief most are in support when you tell them it's a training session.
"More importantly, the NTCA regional event was an opportunity for our tile setters to experience the tile industry in a different way than they are used to," Owen concluded. "Meeting Mark, Robb and David Gillespie of Crossville and other superstars in the industry who have a passion for tile was a little astonishing. Receiving the high level of training and event type atmosphere was in a way a version of Total Solutions Plus or Coverings. Our tile setters left this event motivated, refreshed and eager to enhance their skills in the trade, the same way that the national events do for me."
Due to the magnitude of hands-on work and training by Heinlein, class sizes are limited to the first 20 registrants. In many cases, we are also unable to accept attendees without a registration and don't have room in the training area to allow people to just stay and watch. If you decide to register, no matter which training event you attend, you are going to learn something even if you think you are an expert already. The next regional training event is in Elk Grove, Ill., on July 13th. To learn more about regional events available in your area, visit  https://bit.ly/2Lccbq6.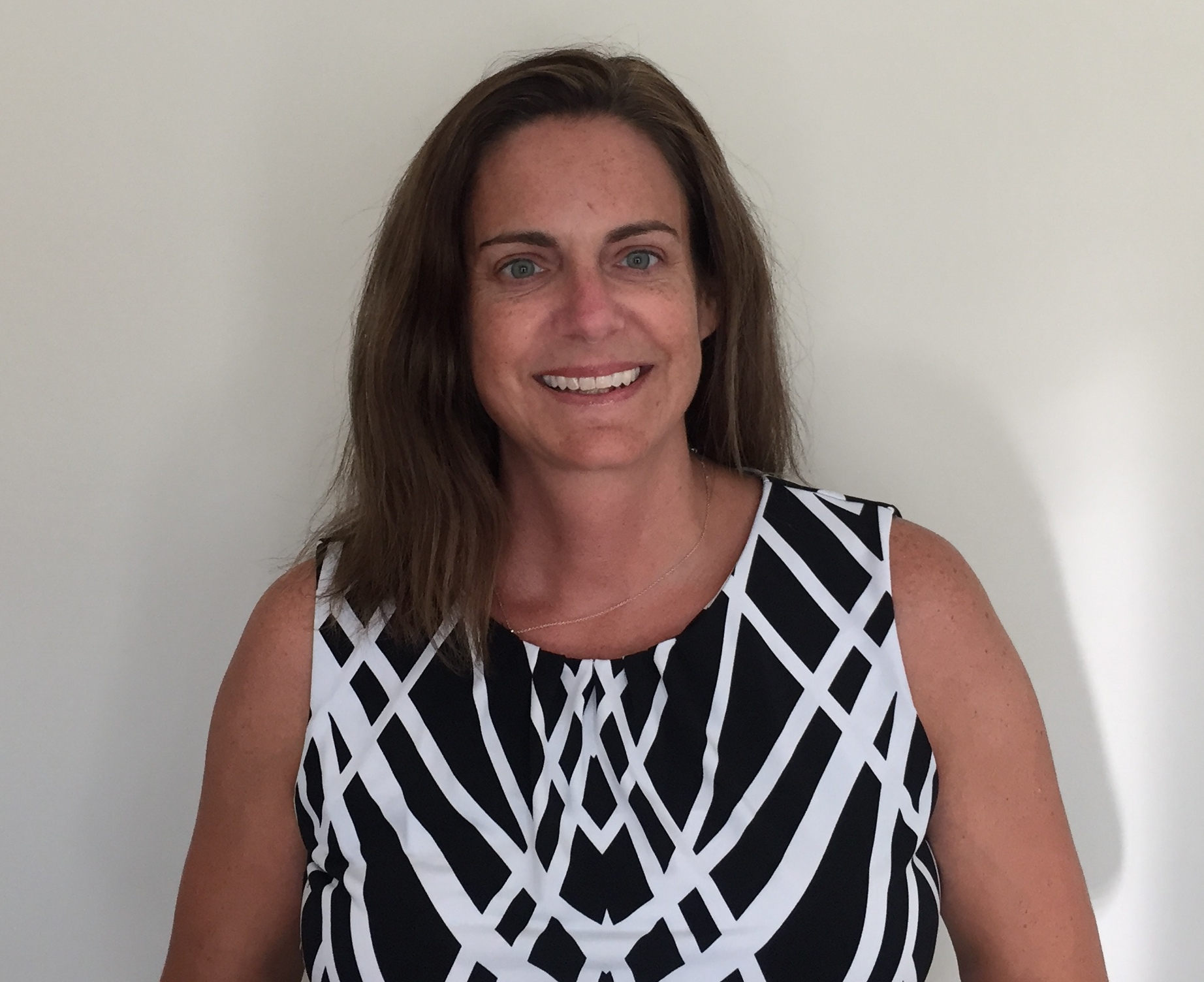 Becky Serbin is the Training and Education Director for the National Tile Contractors Association.  Serbin oversees the implementation of NTCA University, a learning management software program the association offers for continuing education for tile and stone installation and specifications.  As part of this program, she has worked closely with staff and committee members to develop an Apprenticeship Program that combines on line courses with field experience training.
Serbin joined NTCA after having worked 13 years for Georgia Pacific Corporation where her duties included architectural and technical services, associate product management, and continuing education curriculum development and implementation. At Georgia Pacific, she served as the TCNA Backerboard SubCommittee Chairperson and participated in NTCA Technical Committee meetings and document development. She holds a Masters Degree in Business Administration from Kennesaw State University.