The quality and integrity of the tile covering is only as good as its foundation. Many substrates are unsuitable, especially in areas with high moisture, requiring comprehensive preparation and waterproofing. Multifunctional foam building panels provide the tile setter with control over the installation by providing the means to simply and easily create ideal substrates for tile.
Control of the substrate
Originally the tile setter was responsible for building substrates using mortar. While this demanded significant skill and labor, the results were flat, plumb, and level surfaces with square corners for high-quality finished applications. As the thin-bed method became predominant, fewer installers were able to remain competitive or float mortar at all. Building the substrate shifted from the tile setter to other trades, and the results were often not suitable for tile, whether dimensionally unstable, moisture-sensitive, or poorly constructed. Comprehensive preparation by the tile setter became paramount. When foam tile backers emerged, control of the substrate was returned to the tile setter.
The foam board
Typical foam boards consist of a foam plastic core (e.g., XPS, EPS, or polyiso), sandwiched by reinforcing layers to provide stiffness. The reinforcing layer may serve as the bonding surface, or another layer may be added for this purpose. Panels are waterproof, stable, lightweight, and easy to handle, cut, and install, making them an excellent substrate for tile. There is often a wide range of thicknesses to suit various applications.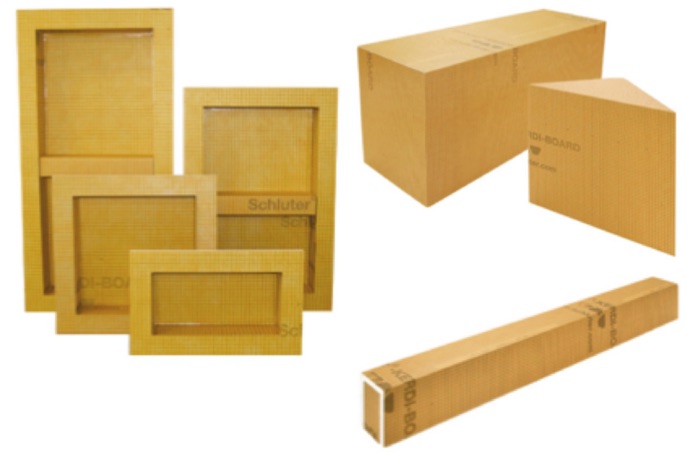 Prefabricated components for shower applications, including niches, benches, curbs, and ramps, are waterproof, stable, and ready to tile. They are easy to install, saving time and increasing productivity, and integrate simply with foam panels or bonded waterproofing membranes.
Curbs can be built-up using conventional building materials, but this is time-consuming and requires complete waterproofing. Foam curbs are fast and can be seamlessly installed into the surrounding waterproofing system. Prefabricated ramps are an excellent option for curbless showers, especially when recessing the substrate is not desired or possible. 
Foam panel applications
Walls: Foam panels can be fastened to framing to replace drywall or cement backer boards. The assembly is completed by sealing seams and penetrations, rather than applying a membrane over the entire surface.
Masonry and finished walls are often unsuitable for tile because they can be uneven or difficult to bond to. Foam panels can be fully embedded in thin-set mortar or spot-bonded to the wall. Spot-bonding, an approved method for KERDI-BOARD panels, allows for adjustment to achieve plumb wall surfaces and square corners.
Partitions: Partitions are commonly used to separate shower or toilet stalls or to divide rooms. Using masonry blocks or framing is time-consuming and often requires further preparation before tiling. Foam panels, typically 2″ thick, provide an efficient alternative. They can be bonded with thin-set mortar or adhesive and anchored to floors and walls, or stabilized with reinforcement profiles.
Shelves and benches: Custom shelves are an elegant solution for storing toiletries in the shower. Simply cut the foam panel and dry fit the shelf prior to installation, using waterproofing accessories as required. The shelf can even be tiled beforehand for quick installation, including retrofit applications in existing showers.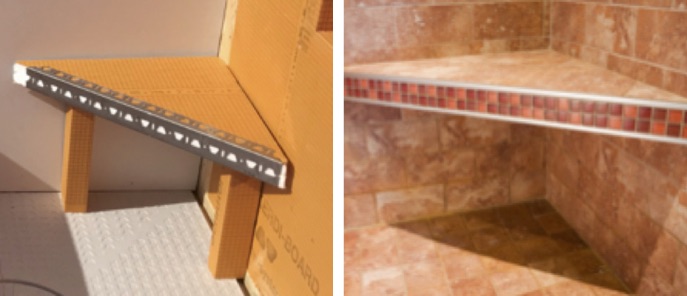 Custom benches can be installed with an apron similar to the prefabricated variety, or as floating seats. For example, a 2″ thick panel with reinforcing profile installed across the face can be used to create a floating seat that supports loads typical of the application. 
Bathtub platforms: Foam panels can be cut to size to create the supports, decking, and apron for the structure, all to the exact dimensions required by the tile setter. Thin-set mortar or adhesive can be used to install the panels, although mortar will provide more adjustability to ensure level horizontal surfaces. Not only does the tile setter take back control of the installation, he or she can generate additional revenue on the project.
Countertops and Vanities: Gauged porcelain tile panels have created an opportunity for the tile setter to reclaim countertops, particularly when coupled with foam boards. Using these tile panels reduces the number of grout joints on the countertop, and 1-1/2″ or 2″ foam boards can be adhered to the base cabinets instead of plywood.

Foam boards can also be used to create storage solutions to suit the owner's needs. Even floating vanities can be constructed using multiple layers of foam panels supported by finished brackets or corbels. The vanity is simply bonded to the walls and the top of the supports.
Returning control to the
tile setter
Multifunctional foam building panels are a modern incarnation of the mortar bed, in that they return control of the project to the tile setter. Creative applications can be realized using simple tools and materials in a fraction of the time it takes to build using conventional materials. Flat, level, plumb, and square substrates are now within reach, along with reduced labor and increased productivity.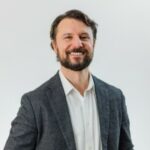 Sean Gerolimatos is the director of research and development for Schluter Systems LP. He has been with the company since 2003. Gerolimatos has served as a member of the Tile Council of North America's Handbook Membrane Committee, the National Tile Contractors Association's Technical Committee and has written articles for numerous trade publications including TileLetter. Gerolimatos's academic background is in civil engineering. He has a bachelor's degree from Clarkson University and a masters from Cornell University.