Manufacturers offer advice for successful floor warming installations

Electric underfloor heating systems have come a long way since the old days. They offer comfort underfoot, ease of installation, and smart controls that can be programmed or can learn a consumer's pattern of use, delivering toasty warm floors when users arrive home.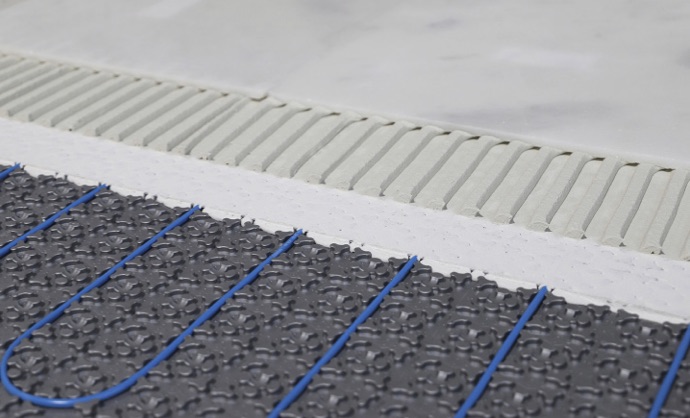 And fortunately, ceramic and porcelain tile are excellent choices for radiant heated flooring, said Thomas Utley, Technical Specialist FLEXBONE HEAT/ARDEX Tile and Stone Installation Systems. "They have high thermal conductivity and retain heat better than other flooring choices. The thickness of the tile has little impact on the heat output but the heating time is increased with thicker tiles."
But like any product, there are things to keep in mind for a successful electric floor warming installation. We surveyed a few of the top electric floor warming manufacturers to get their recommendations for foolproof installations.
Top tips for contractors
What are the top things contractors should keep in mind when working with electric floor warming systems? First of all, "Contractors should be mindful that the desired flooring finish must be compatible and tolerant of the thermal fluctuations these systems can exert, in order to ensure there is no damage to the flooring," LATICRETE's International's Art Mintie, Senior Director of Technical Services, said.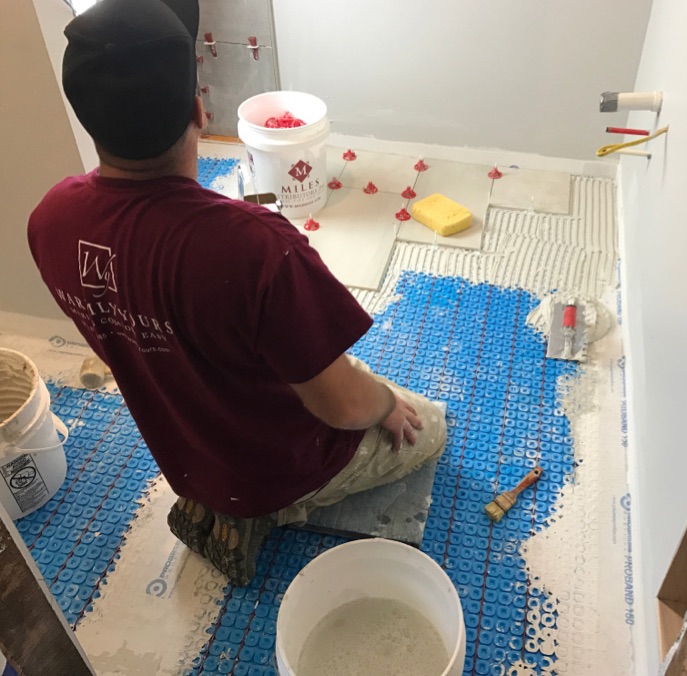 He also cautioned contractors to choose the best type of underfloor heating system that suits their specific needs. "Hydronic (liquid) systems are a popular alternative that rival electric radiant floor heating systems by pumping heated water from a boiler through tubing laid in a pattern under the floor," he explained. "These systems are also often more expensive and are recommended to be installed at the time of construction, whereas electric radiant floor heating systems are a great retrofitting project that can be done at any time."
Since these ARE electric systems, Regis Verliefde, Territory Director, NAM of Warmup said, "It's important for the tile installer to double/triple check coverage and spacing to provide the desired solution for the consumer. While most systems install in a similar way, some are for comfort heat and some are built to heat the whole room. Installers should get familiar with which systems do what and what spacing or insulation to provide on a cold basement slab, for example."
Respect Ohm's Law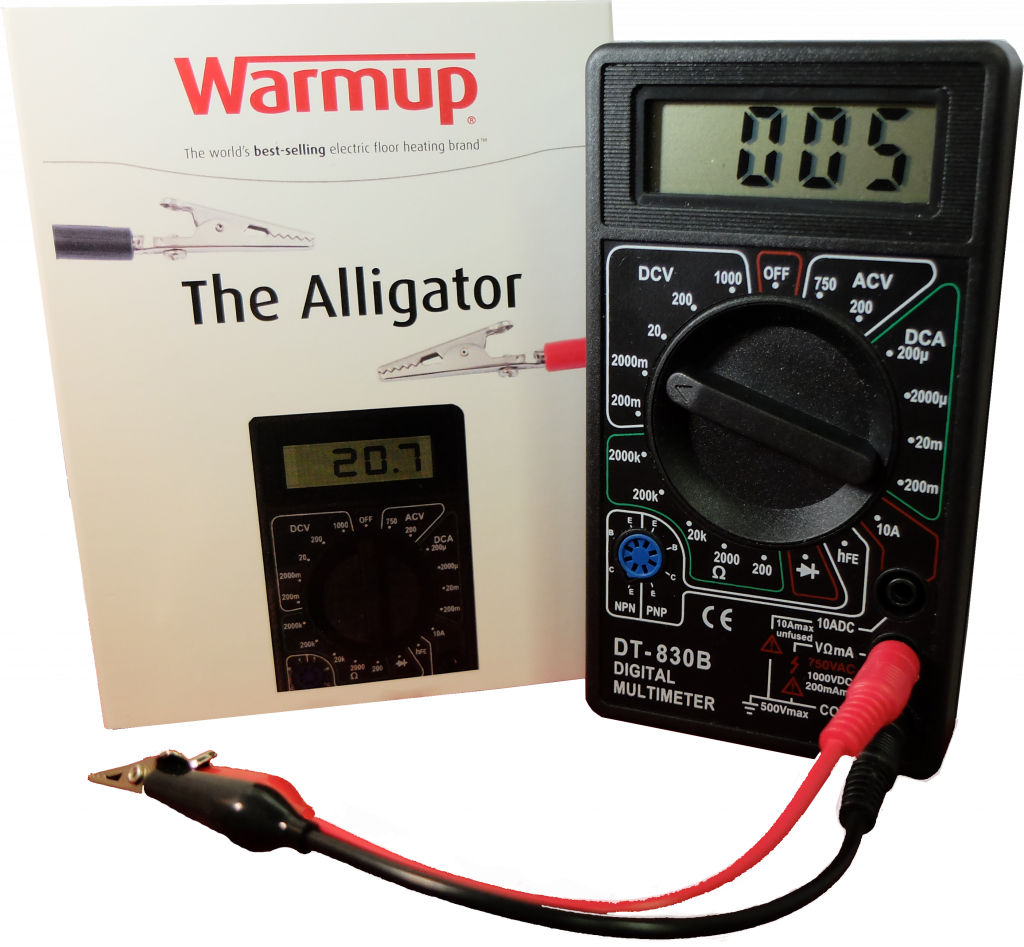 It's a good idea to recognize that cutting electric heating elements to make it fit your project is a bad idea, said Julia Billen, owner and president of Warmly Yours. "Because of Ohm's Law, if floor heating cables are shortened, the resistance of the cables will be correspondingly lowered, which in turn drives up the voltage and wattage," she said. "This can cause the heat output of the system to go over the limits set by national or local code or, in some cases, even cause the heating system to fail. It's important to work with a floor heating distributor to ensure you have the right amount of heating elements for your project."
She also recommends testing the heating elements often with a digital ohmmeter – before, during and after installation. "In between ohmmeter tests, we recommend that you use a continuity alarm that is connected to the heating cables that will sound an alarm if the cable is damaged," she added. She also advised taking measures to avoid damaging the floor heating cables during installation.
"One way to avoid this is to install the floor heating mats (if that's the system-type being used) upside down so that the mat material can protect the cables from damage by trowels or other tools," she recommended. "Another way is to avoid using metal trowels or floats to apply the thinset on top of the heating system, as these can occasionally damage the floor heating cables."
Plan ahead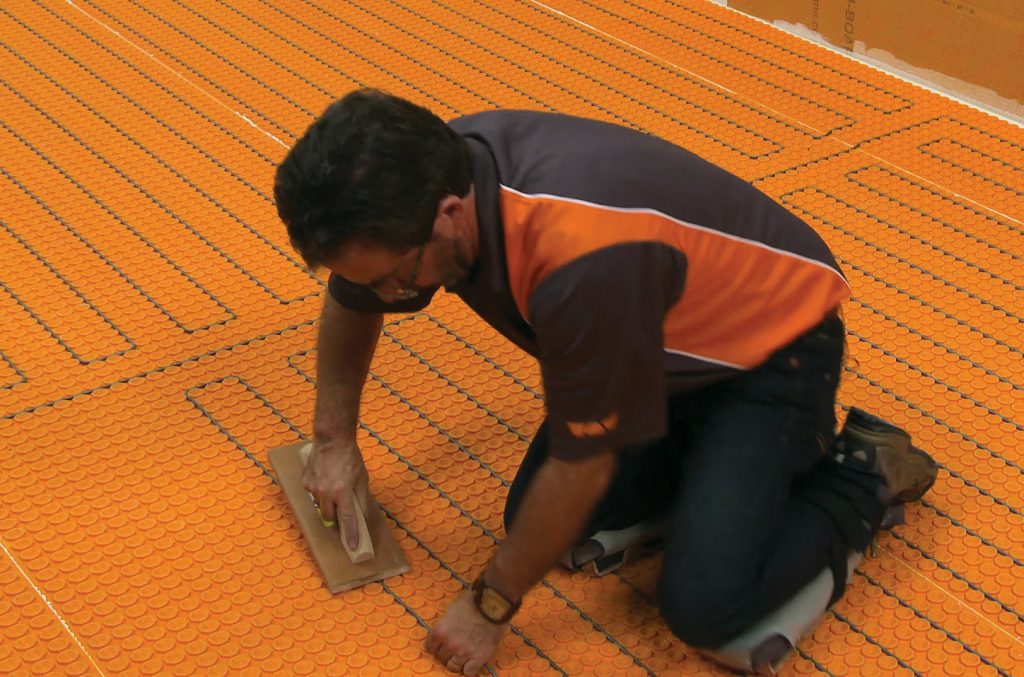 Sean Gerolimatos, Director of Research and Development with Schluter Systems, emphasized preplanning before you start. "It is important to read and understand all product/system and code requirements, create a detailed plan, and execute it diligently," he said.
Gerolimatos also suggested, "Carefully calculate the length of heating cable required based on the floor space, minimum clearance from fixed building elements and other objects, and coverage of the heating cable at the manufacturer recommended spacing." Another great suggestion he offered was to be sure "the owner and any other trades on the project know where heating cable is installed (photos are helpful) to avoid damage during subsequent work."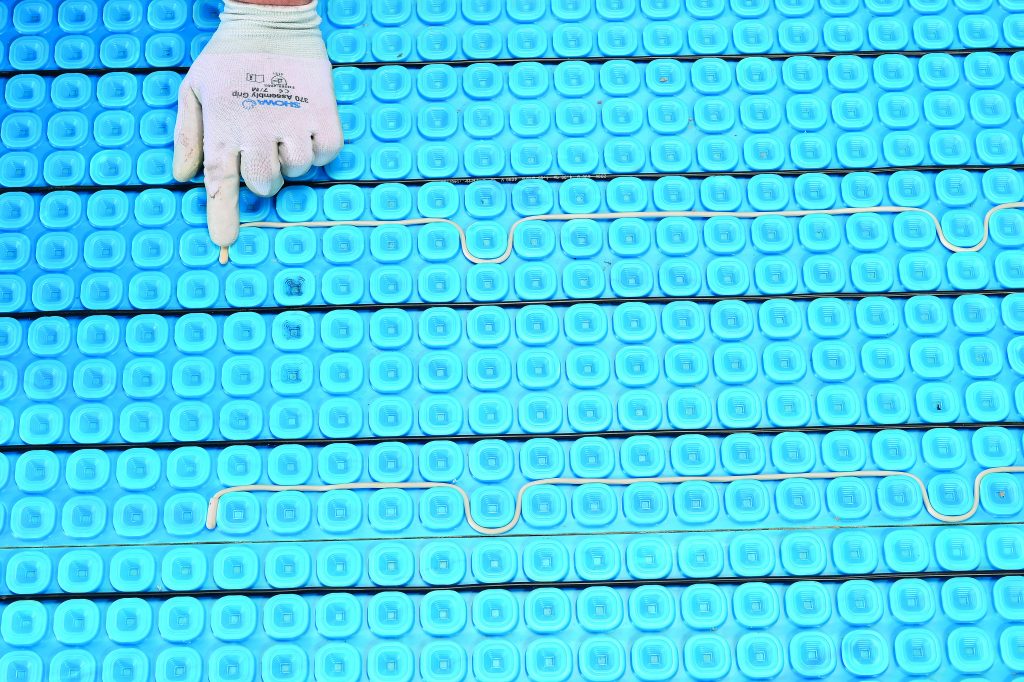 Domenico Borelli, Vice President and CEO of Progress Profiles America echoed other suggestions, adding that it's crucial that the "subfloor is suitable for tile installation and electrical radiant heat." One may think that goes without saying, but establishing a suitable subfloor is essential in any tile installation, especially one that uses electrical mats and cables to provide floor warming. He also emphasized exact, accurate measurements and ordering the proper amount of heating wire for the job.
ARDEX's Utley also advised contractors to "Plan to include a second sensor wire in your layout. Only one will get connected initially. The back-up sensor can then easily be connected to the thermostat in the wall without disturbing the flooring installation."
Even heat distribution is a must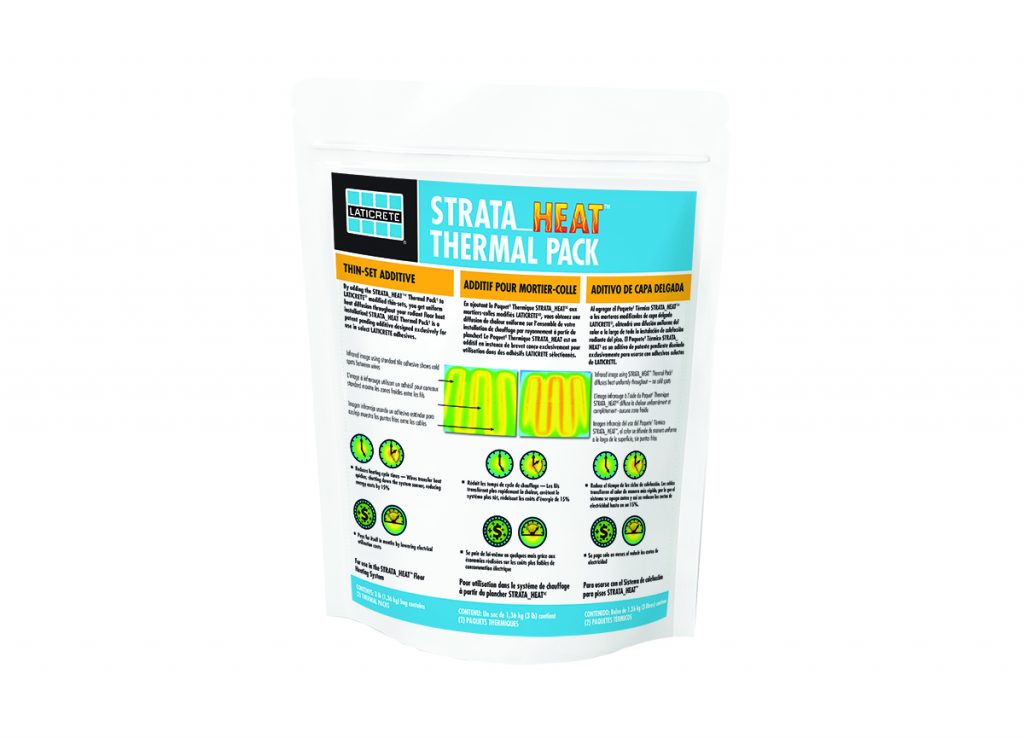 In addition, heat sink and heat loss are two primary issues that can arise when installing electric radiant floor heating, LATICRETE's Mintie offered. "Generally, a backer board with insulation properties can be placed over the concrete slab in order to assist and prevent these from happening. For plywood substrates, installers should conform to TCNA Handbook for Ceramic, Glass and Stone Tile Installation requirements when installing ceramic, porcelain or dimension stone tile finishes over heated flooring systems.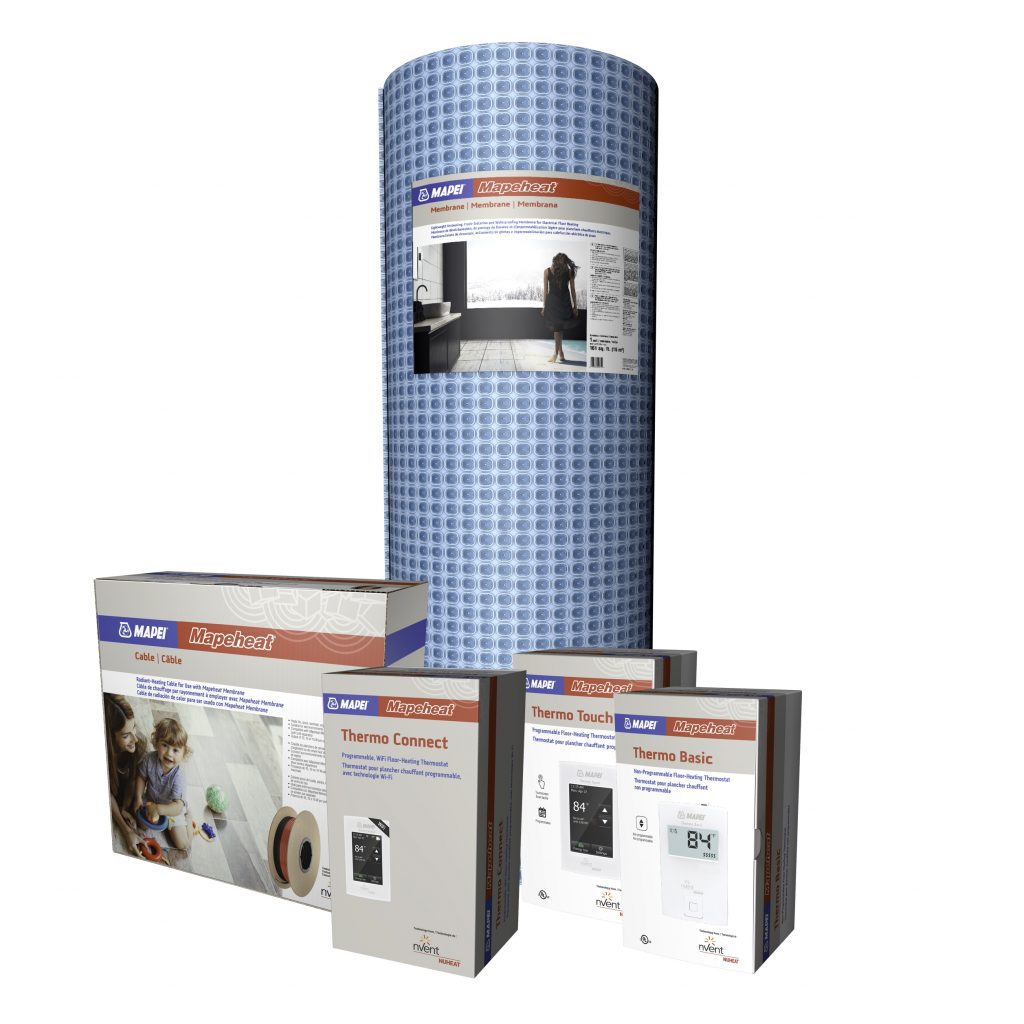 Sonya Moste, Product Manager, MAPEI Crack Isolation and Sound Control Membranes also advised contractors to plan for even distribution of heat. "Hot spots and cold spots detract from the experience of a heated floor so consistent watt density is critical," she said. "Things that make this task easier are pre-built custom mats designed specifically for the individual floor shape or a floor heating membrane with heating cable that has flexible layout requirements (i.e. no restrictions on run length and no requirement for tension loops)." She also suggested "future-proofing the installation with WiFi thermostats featuring connectivity with multiple connected home systems (such as Google Assistant, Amazon Alexa, IFTTT, Nest, Control4, etc.) and also offering an Open API for custom smart home integrations."
Don't underestimate manufacturer support, she advised. "Choose manufacturers that will back their products and the completed installation for 25 years, or more, and make sure the warranty is not pro-rated (in other words, make sure the coverage isn't for half the value after half of the warranty period has passed)," she said. And a knowledgeable technical support team that offers on-site and telephone consultation is worth its weight in gold.
Working with electricians
To follow code, you will need to work with an electrician to complete this project. It's essential to coordinate your services for ultimate success. Progress Profiles' Borelli said, "A 10 minute conversation at the job site will save time and money and aggravation later." And MAPEI's Moste pointed out that it's a good idea to "work with manufacturers that have experience dealing with both trades. The best certification programs will cater to tile contractors and electricians."
A good suggestion from Warmup's Verliefde is to leave the product tag with wattage and voltage attached to the lead wire or inside the roughed-in electrical box, ensuring the right voltage breaker is provided for the job. He also recommended that contractors locate where the electrician has roughed-in the thermostat box and start the system at the base of that point on the wall. "And if your system is over 250 sq. ft., have a quick chat with the electrical contractor to discuss power supply and the best location for the power connections," he added.
Warmly Yours' Billen insisted that tile contractors and electricians test the heating cables at every stage of the installation, and record and communicate those readings to each other to ensure the system remains functional at every stage of the process.
At Schluter, Gerolimatos noted that different floor systems may have different orders of installation, so as he suggested earlier in this story – plan and acquaint yourself with the quirks of the particular system you are working with.
"It's also important to establish where the responsibility of each trade begins and ends," he said. "For example, some jurisdictions allow tile setters to layout the heating cables, where others require the electrician do so."
And finally he mentioned that connecting a 120V heating cable to a 240V power source is one of the most common mistakes when installing electric floor warming systems. "This can be easily avoided with a little bit of planning ahead of time," he explained. "Check the available power source and make sure to order the corresponding heating cable (120V cable for 120V power, 240V cable for 240V power)."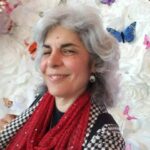 Editorial Director and Senior Writer for TileLetter and TileLetter ARTISAN
Lesley Goddin has been writing and journaling since her first diary at age 11. Her journey has taken her through a career in publishing and publicity, landing her the editor position of TileLetter and its special publications in 2006. Her goal is to educate, inspire, recognize and encourage those in the tile industry -- especially the tile and stone contractor. Other interests include the soft, purring marvels known as cats, labyrinth walking, drumming and percussion, and a range of spiritual, musical and artistic pursuits.