Kitchen Renovation Spend Continues to Rise; Pro Hiring Reaches a Four Year High
Homeowners are making room in their renovation budgets to prioritize kitchen countertops, according to the 2022 U.S. Houzz Kitchen Trends Study. The survey of nearly 2,400 U.S. homeowners using Houzz who are in the midst of, are planning, or recently completed a kitchen renovation, found that more than one-third of homeowners reportedly splurged on countertops (35 percent). The most common feature improved during kitchen renovations, countertops were upgraded by more than nine in 10 homeowners (91 percent).
When it comes to choosing new kitchen countertops, homeowners opt for materials based on the look and feel, durability and ease of cleaning, rather than cost (69, 57, 38 and 23 percent, respectively). Engineered quartz and granite, for example, are the most popular countertop materials (42 and 24 percent, respectively), despite tariff and pandemic-induced price increases. Of the more than one in five renovating homeowners who select an island countertop material that contrasts from their primary countertops, over one-third choose butcher block or wood slab (35 percent), which has also been impacted by the pandemic. Aesthetically, homeowners increasingly choose white for their countertops during renovations (39 percent), up six percentage points from the previous year.
"It is clear that homeowners are willing to spend a little more to get exactly what they want in countertops that are both beautiful and practical, despite rising prices of labor, products and materials," said Marine Sargsyan, Houzz senior economist. "We're seeing a rise in overall kitchen renovation spend as homeowners not only splurge on specific features but also make major modifications to the kitchen layout, systems and walls, many of which require the assistance of licensed home professionals. In fact, hiring rates for home professionals to complete these projects are the highest we've seen in four years." 
Ceramic or porcelain tile continues to dominate as the most common backsplash material at 56 percent. Continuing last year's trend, most homeowners upgrading the backsplash extend it from the countertop to the upper cabinets or range hood (66percent). One in 10 renovating homeowners takes the backsplash all the way from the countertop to the ceiling (11percent).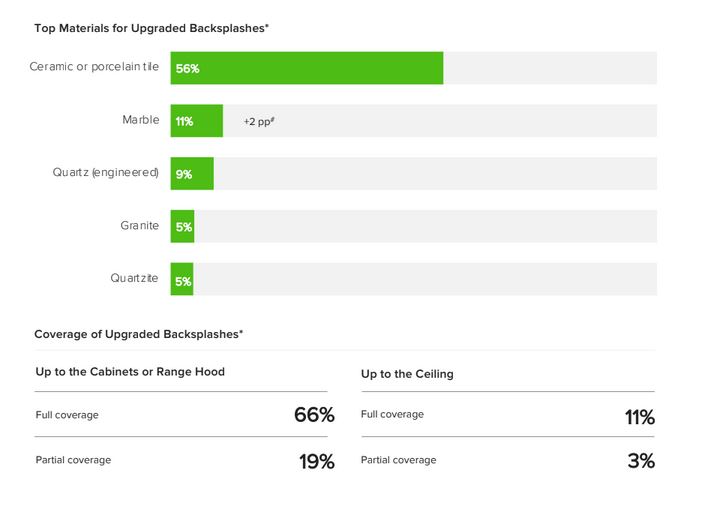 The median spend for both major and minor kitchen remodels* increased in mid-2021 by 14 percent to $40,000 and by 25 percent to $10,000, respectively, compared to 2020. The median spend for a major kitchen remodel of a large kitchen (250 square feet or more), continued to climb for the fourth year in a row, to $50,000, up from $45,000 the previous year. The median spend on a major small kitchen remodel (less than 250 square feet), increased as well, up to $35,000 in mid-2021 from $30,000 in mid-2020.
More than two in five homeowners change the layout of their kitchen and over one-third upgrade systems, such as electrical or plumbing, or modify walls (43, 38 and 33 percent, respectively). Considering the complexities of these projects, homeowners are increasingly turning to home professionals for help. Overall hiring of kitchen renovation professionals has jumped to 89 percent from 85 percent in 2020, its highest level in four years. General contractors continue to be hired the most frequently (53 percent), up significantly by four percentage points from 2021. Cabinetmakers, kitchen designers and interior designers are also being hired more frequently than last year.
Additional insights from the 2022 U.S. Houzz Kitchen Trends Study include:
Appliances Get a Boost from High-Tech Features: Appliances are the second most common feature that homeowners splurge on during kitchen renovations (27 percent). Over a third of upgraded appliances include high-tech features (35 percent), up six percentage points from the previous year. The most popular kitchen appliance features are wireless and smartphone controls (26 percent), up eight percentage points from 2021. 
Beverage Refrigerators Abound: Nearly one in five homeowners are incorporating beverage refrigerators in their renovated kitchens (19 percent), up five percentage points from 2021, and 14 percent are adding wine refrigerators. This may be connected to the increase in homeowners who use their kitchens for entertaining (56 percent), up four percentage points over the past year. 
Islands Are Where We Work From Home: Following a kitchen renovation, one in five homeowners say that a top activity at their island is work (20 percent), up four percentage points from 2021. Homeowners are making space for this activity with nearly two in five islands stretching more than 7 feet in length (39 percent), up five percentage points from last year. Homeowners are also making the space brighter with the vast majority installing new light fixtures above islands (92 percent). 
White and Gray Prevail as Top Colors: White continues to lead as the top choice for kitchen cabinets, backsplash and walls (41, 40 and 32 percent, respectively). Gray is the most common alternative to white, with 27 percent of renovating homeowners painting the kitchen walls gray, 13 percent installing gray flooring, and 11 percent opting for a gray backsplash. That said, blue, black and green bring visual interest to the space through contrasting kitchen island cabinet colors (26, 10 and five percent, respectively).
Vinyl Flooring Steps Ahead: Vinyl or resilient flooring continues its ascent for the third year in a row, nearly doubling in popularity since 2019 to 23 percent and overtaking ceramic and porcelain tile (19 percent), which declined by five percentage points and fell from first place. Hardwood now leads as the most popular flooring material in kitchens (25 percent).
You can download the full 2022 U.S. Houzz Kitchen Trends Study here.
Houzz has over 24 million photos of professionally designed interiors and exteriors, including completed bathroom projects, and more than 2.7 million active home remodeling and design professionals including kitchen and bath remodelers, kitchen and bath designers, architects and general contractors. The Houzz Shop offers millions of products, including items for the kitchen from cabinets and storage to fixtures to tile.
The "U.S. Kitchen Trends Study" is an online survey fielded to U.S. Houzz users between July 21-27, 2021. n=2,380.
*A major kitchen remodel refers to a remodel in which at least all the cabinets and appliances are replaced. A minor kitchen remodel refers to all other remodels.
---
About Houzz
Houzz is the leading platform for home renovation and design, providing people with everything they need to improve their homes from start to finish. On Houzz, people can find design inspiration, research and hire home professionals, and shop for products to complete their projects. For home professionals, Houzz Pro (houzz.com/pro) provides an all-in-one software solution that empowers industry pros to stand out, win clients and manage their projects efficiently and profitably. The Houzz community is made up of millions of homeowners, home design enthusiasts and home improvement professionals around the world. Houzz is available on the web and as a top-rated mobile app. Headquartered in Palo Alto, California, Houzz also has international offices in London, Berlin, Sydney, Moscow, Tel Aviv and Tokyo. Houzz is a registered trademark of Houzz Inc. worldwide. For more information, visit houzz.com.