What do Legal Sea Foods of Boston and tile contracting have in common? Stephen Belyea, owner of JSG Tile and Stone LLC in Weymouth, Mass. (jsgtileandstone.com) is the common thread in both scenarios. Belyea gave up his career as head chef at Legal Sea Foods and pursued commercial flooring work with a small company while he was contemplating his next move in the restaurant business.
"When I realized how much better life could be not working 12-15 hours a day, I stuck to learning as much as I could about flooring," Belyea said. "I worked my way up to a lead installer and enjoyed the work I was doing" – work that included installing carpet, wood, vinyl, rubber and turf in the gyms at Gillette Stadium and Fenway Park.
Belyea gravitated towards tile, captivated by the rewarding technical aspects of the installations, and eventually focused solely on tile. Pursuing his passion for tile the same way he pursued his passion for food, he made excellence his goal. "I wanted to be as good as I could be," he said. "I attended any and all events I could to network, meet people and learn as much as I could."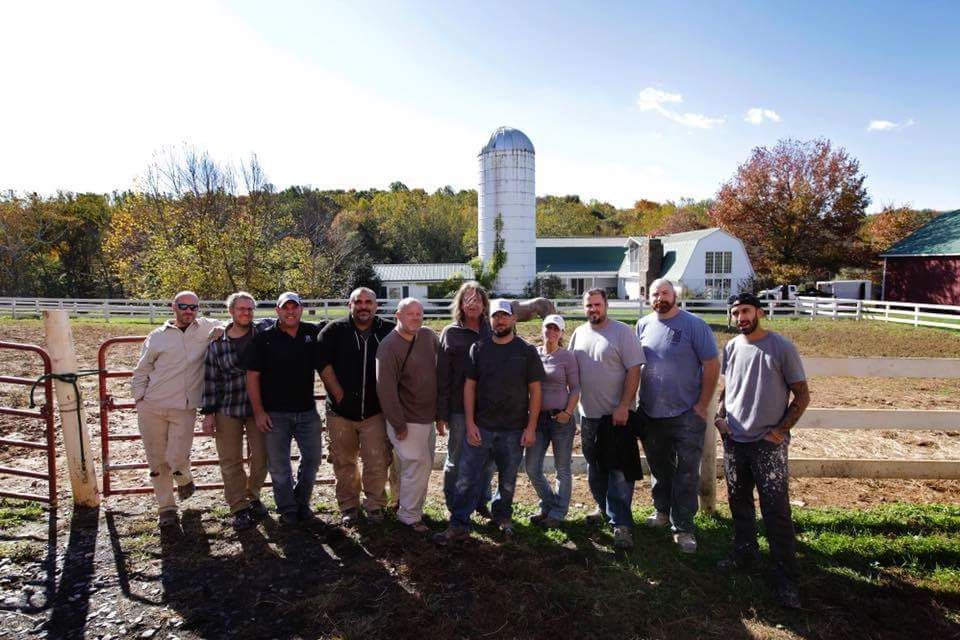 In 2014, he discovered Tile Geeks on Facebook – only 500 strong at that time. "I realized from that page that there was a hell of a lot of knowledge about tile I did not have." Belyea said. "So I made a point to learn about all the new/different techniques and tools there were. I have attended Coverings in Las Vegas, Chicago, Orlando, and Atlanta." Belyea met Salvatore DiBlasi through Tile Geeks and in person at the Journal of Light Construction show in 2015 and the two have been great friends since.
In Chicago 2016, Belyea met NTCA member Bradford Denny, who signed him up as a NTCA member. "Joining the NTCA has been a great choice for me," Belyea explained. "It has given me access to some of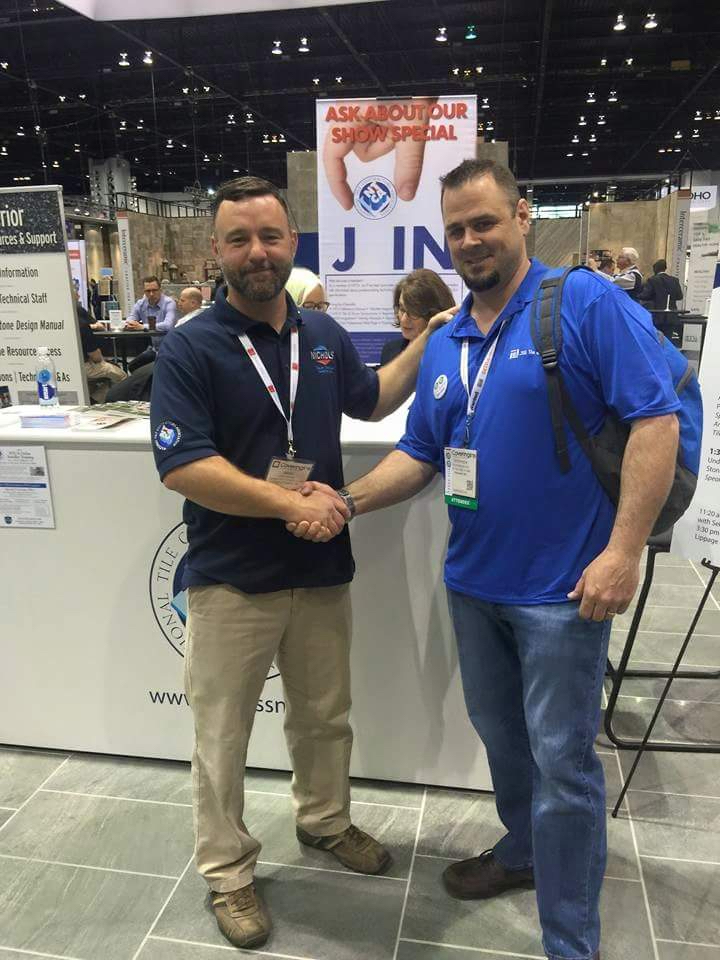 the best and brightest in the business. I know that I have access to people like Mark Heinlein – who is a great friend and resource – to turn to when I have questions about an installation method I might not be well versed in. A year after joining, I became a State Ambassador for the NTCA. I attend workshops all over New England giving support to the NTCA at their events."
In December 2016, Belyea and DiBlasi took a road trip to the CTEF in South Carolina to attend a Tile Love/Schluter/CTI event. Belyea also took the Certified Tile Installer (CTI) test and passed as CTI #1274.
"I have the pleasure of seeing my test in Sal's video, which is also used by the CTEF in a video to promote qualified labor," Belyea said. "I am currently a Regional Evaluator for the CTEF and look forward to certifying more installers in my area. Being a CTI has helped me in my business because it shows my customers that I have a vested interest in the industry. Educated consumers realize that they are better off having their project done right by a professional the first time, rather than a costly failed project being done for a second time."
Today Belyea is cooking with gas, bringing artistry and excellence to high-end residential custom tile projects, from new construction on summer houses in Cape Cod to renovations on multi-million dollar residences in downtown Boston.
"I take great joy and pride in what I do," he said. "I compare the finished tile project to a prepared meal. The customer's approval of the finished project is very rewarding to me."
Another rewarding experience – one of the highlights of both his life and his career – was to be part of the Tile Geeks Project last year in Dickerson, Md., for the Madison Fields Autism Foundation (see TileLetter, January 2018 issue). "It was nine grueling days of work," he said. "But I am so glad I did it. I got to meet and work with great people, installers and now friends."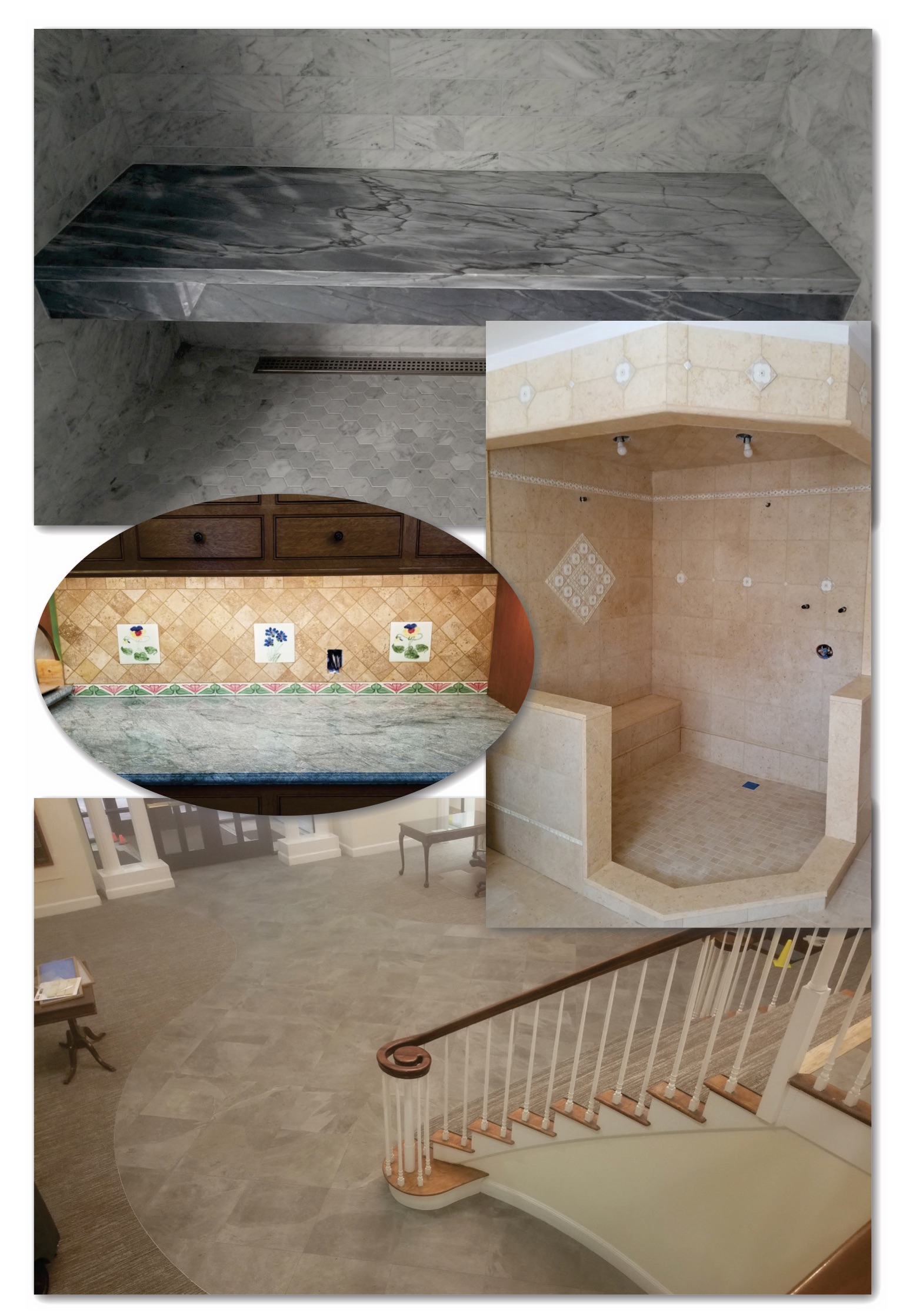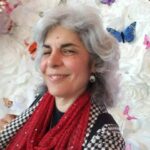 Editorial Director and Senior Writer for TileLetter and TileLetter ARTISAN
Lesley Goddin has been writing and journaling since her first diary at age 11. Her journey has taken her through a career in publishing and publicity, landing her the editor position of TileLetter and its special publications in 2006. Her goal is to educate, inspire, recognize and encourage those in the tile industry -- especially the tile and stone contractor. Other interests include the soft, purring marvels known as cats, labyrinth walking, drumming and percussion, and a range of spiritual, musical and artistic pursuits.