German architect Manuel Herz will be one of the guest speakers in the "Building, Dwelling, Thinking" cultural programme at this year's Cersaie with a lecture to be held on the afternoon of Thursday 29 September at 3.00 p.m. in the Palazzo dei Congressi in the Bologna Exhibition Centre. The International Exhibition of Ceramic Tile and Bathroom Furnishings will be back in Bologna from 26 to 30 September, confirming its role as the world's most important event for ceramics, bathroom furnishings, architecture and design.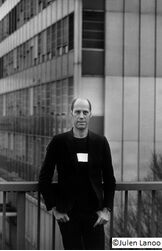 Manuel Herz Architects is an architecture and urban planning firm founded by Manuel Herz with offices in Basel and Cologne. A graduate in Architecture from the RWTH in Aachen and the Architectural Association in London, Manuel Herz has lectured at the Bartlett School of Architecture in London, the Berlage Institute in Rotterdam, the Harvard Graduate School of Design, ETH Zurich and the University of Basel.
Manuel Herz has worked extensively in the fields of furniture and exhibition design as well as in urban planning and urban research. His work has garnered numerous international design awards and has been exhibited in museums all over the world. It is included in several permanent collections, including that of the Museum of Modern Art (MoMA) in New York. Manuel Herz's research focuses on the architecture and urban planning of migration. His book From Camp to City: Refugee Camps of the Western Sahara documents how refugee camps can serve as places of social emancipation.
One of his most famous projects is the Mainz Synagogue, a multi-level volume clad in green glazed ceramic tiles whose form is inspired by the relationship between writing and space. This place of worship was officially opened on 3 September 2010 and built on the site of the synagogue destroyed by the Nazis. The portal, the only surviving element of the original synagogue, was integrated into the modern construction. The Mainz Synagogue won the German Façade Prize in 2011 and was nominated for the Mies van der Rohe Prize for European Architecture.
Manuel Herz has also designed a masterplan and synagogue for the Babyn Yar memorial area in Kiev, Ukraine. The synagogue, conceived symbolically as a "place for reflection", is located in an area marked by deep ravines and rugged topography, where 33,771 Jews were massacred by the Nazis in the space of two days on 29 and 30 September 1941. The striking building designed by Manuel Herz – modelled on the wooden shtetlekh synagogues typical of Eastern Europe – has the form of a book that is opened and closed by means of a special mechanism that protects the sanctity of the interior.
Participants in the conference are entitled to 2 professional educational credits for architects. Attendance at the exhibition itself qualifies for a further educational credit, which can be obtained by providing self-certification and uploading a copy of the ticket to the iMateria platform.