Morris Tile Distributors of Richmond will open a new branch in Charlottesville, VA this month. The company added locations in Midlothian, VA in 2015 and Fredericksburg, VA in 2016.
Morris Tile has acquired the showroom location of Wainwright Tile and Stone at 711 Preston Avenue.The company will retain the existing local team to insure the commitment to the Charlottesville community remains strong.This strategic expansion is consistent with the Morris family's commitment to operating acompany that is "big enough to compete, yet small enough to care."
Robert Whit Morris, II, President, Morris Tile Distributors, Inc. explained, "We are looking forward to enhancing our service to the Charlottesville market with the addition of a dedicated staff and downtown showroom. We have provided tile and materials to area contractors for more than 50 years, but have not had a local location where clients could select their preferred materials in person.
"The opportunity to acquire the showroom operations from Wainwright Tile & Stone is
a perfect fit for Morris Tile Distributors," he added. "The similarities of our cultures, client service focus, and community support closely matched. I am equally excited about the expert Wainwright team that will join Morris Tile Distributors."
While selling the showroom selection and supply side of their business, Wayne and Diane Murphy, the owners of Wainwright Tile and Stone, will retain the service division. This separation will allow them to continue to provide the exceptional service and quality installations that have built their outstanding reputation. Morris Tile has acquired only the material selection and supply side of the business. Wayne added, "Diane and I have been partnering with Morris Tile since we opened our business in 1999. We are all happy that they will continue in the tradition of Wainwright Tile and Stone".
Morris Tile is scheduled to open their location on January 15, 2018.Whit Morris will lead the efforts for further developing the Charlottesville market. He plans to continue the
charitable initiatives started by Wainwright and their staff including: Habitat for Humanity, the Boys and Girls Club, and the HOWS Project and to pursue new opportunities such as
the Design House that assists the Charlottesville Shelter.
Morris Tile Distributors, Inc. has proudly been serving the Mid-Atlantic since 1953. With
11 locations  in Virginia and Maryland, Morris Tile is one of the largest and most-established family-owned tile distributors on the East Coast.
For more information on the company, please visit www.morristile.net.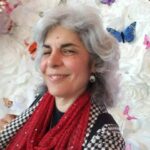 Editorial Director and Senior Writer for TileLetter and TileLetter ARTISAN
Lesley Goddin has been writing and journaling since her first diary at age 11. Her journey has taken her through a career in publishing and publicity, landing her the editor position of TileLetter and its special publications in 2006. Her goal is to educate, inspire, recognize and encourage those in the tile industry -- especially the tile and stone contractor. Other interests include the soft, purring marvels known as cats, labyrinth walking, drumming and percussion, and a range of spiritual, musical and artistic pursuits.