Oberlin, OH and Chestertown, NY, January 16, 2018—The Natural Stone Institute has entered into an agreement in Turkey with Marble 24: The International Natural Stone and Technology Fair, commonly referred to as the IZMIR Fair. The association will send a delegation of industry leaders to exhibit and provide educational seminars during the show.
Natural Stone Institute board member Bruce Knaphus (KEPCO+) commented: "Turkey represents approximately 33% of the world's marble supply with more than 120 colors available. The IZMIR Fair attracts an attendance that is among the top three international trade shows. This is another opportunity for the Natural Stone Institute to further expand its international outreach regarding technical and educational resources."
Marble 24's Caner Özkan added: "Having the Natural Stone Institute participate in our Fair to provide education about the Dimension Stone Design Manual and Natural Stone Supplier-to-Buyer Manual will benefit stone companies in Turkey, as well as those around the globe."
The 24th edition of the Fair will occur March 28-31, 2018.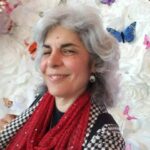 Editorial Director and Senior Writer for TileLetter and TileLetter ARTISAN
Lesley Goddin has been writing and journaling since her first diary at age 11. Her journey has taken her through a career in publishing and publicity, landing her the editor position of TileLetter and its special publications in 2006. Her goal is to educate, inspire, recognize and encourage those in the tile industry -- especially the tile and stone contractor. Other interests include the soft, purring marvels known as cats, labyrinth walking, drumming and percussion, and a range of spiritual, musical and artistic pursuits.