New Installation Experience takes visitors on a journey through qualified labor
The National Tile Contractor's Association (NTCA) has a full menu of activities, programs and features planned for Coverings '18. Visit NTCA at booth #8209 or #7832 where it is co-exhibiting with TCNA, CTDA, THF, IMI and TCAA. 
Installation Experience, Hall C Booth#8401: A highlight of NTCA's activities at Coverings is the brand new Installation Experience.
"Plans for this interactive event have been in the works for over a year," stated NTCA Executive Director Bart Bettiga. "We are psyched to see it go 'live' and know it will be well-received and well-attended by Coverings attendees. The live demonstrations and wealth of knowledge that can be attained in this approximately 3,900-sq.-ft. arena should be the highlight of any visitor's time at the show!"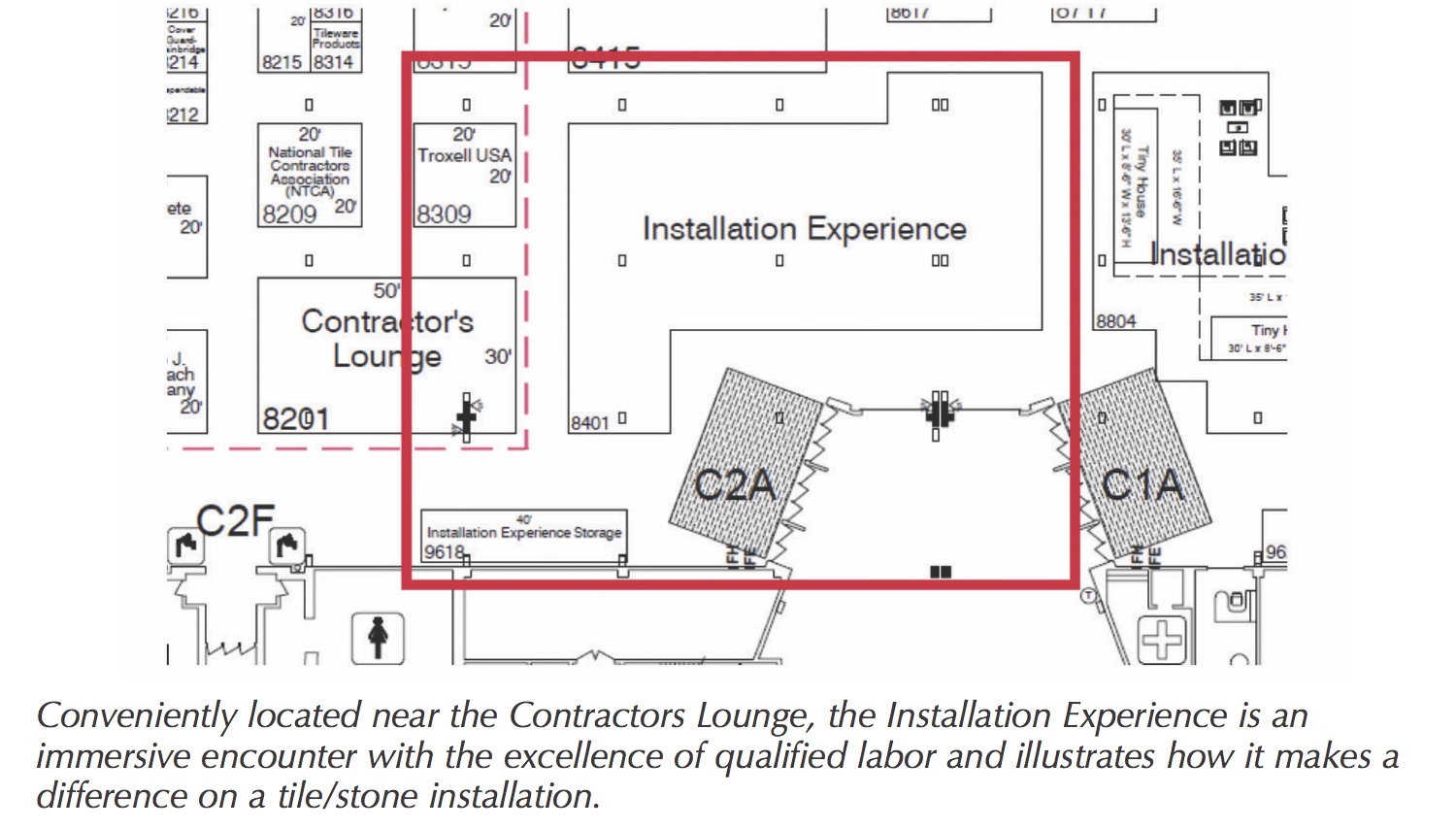 The Installation Experience allows Coverings show attendees to experience numerous types of tile installations implemented by master installers and technical experts from top industry associations –CTEF, IMI, International Union of Bricklayers (IUBAC), NTCA, TCAA and TCNA. These live, interactive sessions will showcase today's best practices relative to a multitude of distinctive tile installations in a fully functioning kitchen, a bathroom with heated tile floor, vintage fireplace upgrade and grand installation of a contemporary shower system. These state-of-the-art projects will involve glass tile, porcelain, gauged porcelain panels, natural stone and other cutting-edge tile products and breakthrough technology installation systems.
Entering via a self-guided, designated pathway, guest/participants will journey through room after room of fully interactive installations with top representatives posted along the way to answer any and all questions. They'll have the opportunity to speak with industry experts regarding key processes, learning new strategies and experiencing hands-on demonstrations of the most modern of technologies.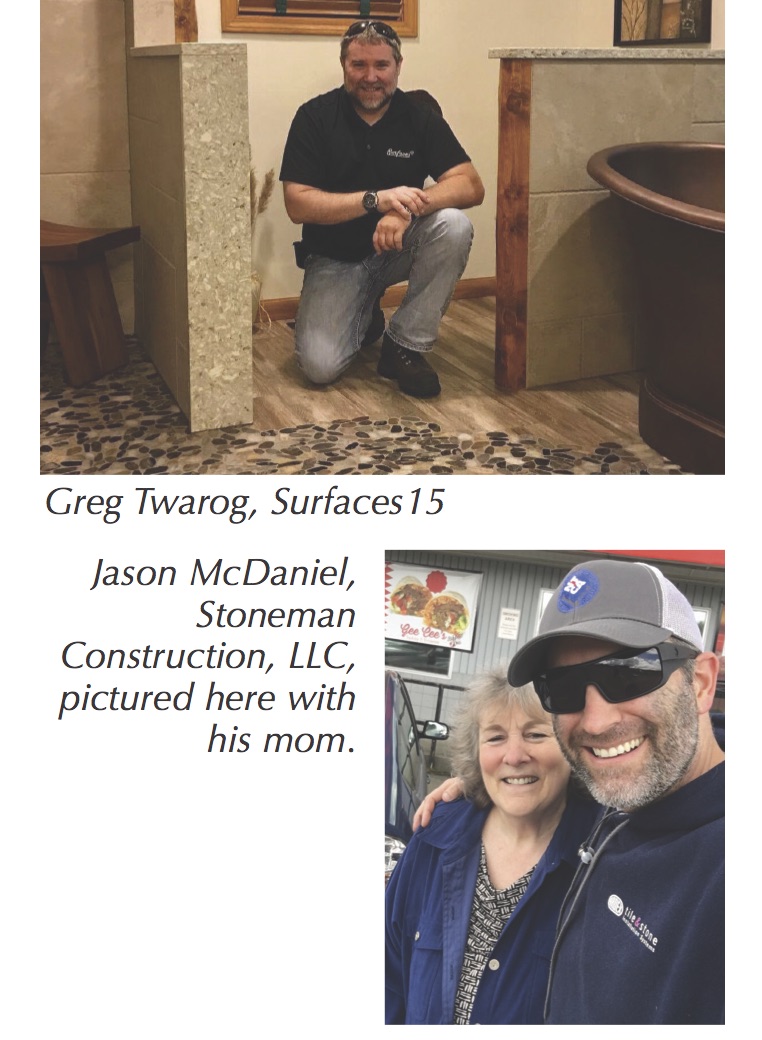 Other highlights include photographic retrospectives in the Hall of Failures and the Hall of Excellence that show the difference between the right way and wrong way to perform a tile installation. In the Hall of ACT (Advanced Certifications for Tile Installers), ACT representatives will be available to discuss the program with attendees.
Part of the Installation Experience includes the Construction Zone, where visitors can experience the progression of the CTI (Certified Tile Installer) Challenge. The CTI Challenge is an exciting, live event designed by CTEF Director Scott Carothers, which pits rival teams of NTCA members who are Certified Tile Installers in a "Fight of the Century" for the best installation. Jason McDaniel, a 2018 Rock Star and owner of Stoneman Construction LLC in Lake Oswego, Oregon, and Greg Twarog of Surfaces15, in Downers Grove, Ill., head up the teams of contenders for this good-natured competition.
Representatives will be onsite to define, discuss, and demonstrate just what it takes to be a part of the elite group of qualified labor that includes the CTI program and the ultimate group of installers who have achieved the status of being ACT certified.
The Installation Experience will conclude with At Home, with Tile. This final installation area features an expansive seating area and large TV screen showing time-lapsed progress video, highlighting the various construction stages of the various projects slated to take place. Don't miss this amazing new Coverings feature that has something for everyone. Your Coverings experience will be incomplete without it. 
But that's not the only program that NTCA has on tap at Coverings. Here's a rundown of other events to equip you with knowledge and inspiration:
Conference programs: This year, conference sessions will have a strong emphasis on promoting tile versus competitive products, workforce development, recruitment strategies, retention and employee training. Some programs will support the education taking place in the Installation Experience, and some highlighted speakers will address the contractor audience. Several sessions will utilize a new Quickfire format that condenses program content to short, 20-minute presentations to allow for more information to be shared. Visit this link for the complete schedule: https://www.eventscribe.com/2018/Coverings/agenda.asp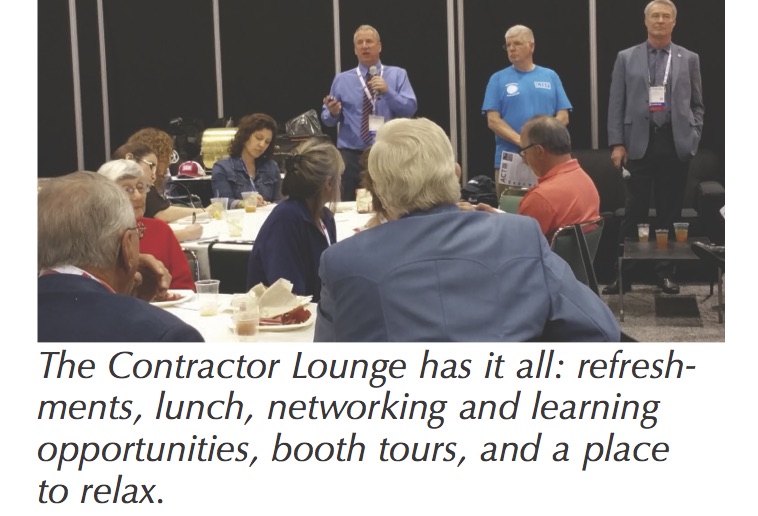 Contractor and Dealer Lounge Booth #8201, Tours, and Contractor Days events: You'll find the Contractor & Dealer Lounge in booth 8201, where you can regroup, network, and participate in short presentations and roundtable discussions throughout the week. Sponsored lunches and giveaways, and a guided contractor tour will take place on Wednesday and Thursday at 11 a.m., the official Contractor Days. Sign up for the tours in the lounge; and circle back at 3 p.m. to kick back during Happy Hour.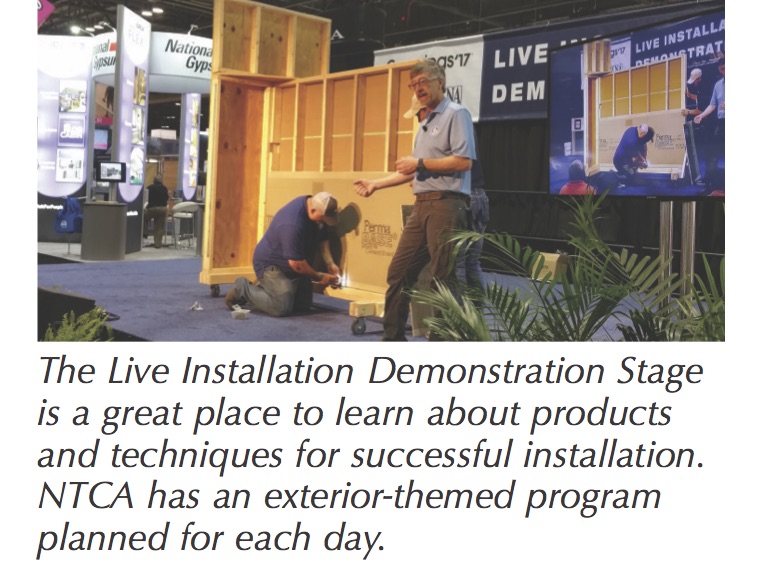 Live Installation Demonstration Stage: NTCA trainers/presenters Robb Roderick and Luis Bautista have arranged a full schedule of exterior-installation-themed demos at booth #7201 that focus on industry standards, methods, and best practices for successful tile installations in the great outdoors. Three "episodes" will be repeated twice on a rolling schedule from Tuesday -Thursday, with a recap of highlights on Friday morning. 
The full schedule of all demos is at http://www.coverings.com/live-installation-demonstration-stage. The "Into the Wild: Managing Mother Nature" NTCA presentations are as follows:
Tuesday, May 8
Noon – Part 1 On the Trail: On Ground Exterior Installations & Environmental Management (Sun, Water, Temperature, Structural Movement)
3 p.m. – Part 2 Scaling the Cliff: Exterior Vertical Installations & Environmental & Structural Management
Wednesday, May 9
11:50 a.m. – Part 3 At the Summit: Approved Methods & New Technology in the Installations of Tile Balcony & Roof Decks
1:20 p.m. – Part 1 On the Trail: On Ground Exterior Installations & Environmental Management
Thursday, May 10
1:30 p.m. – Part 2 Scaling the Cliff: Exterior Vertical Installations & Environmental & Structural Management
4:10 p.m. – Part 3 At the Summit: Approved Methods & New Technology in the Installations of Tile Balcony & Roof Decks
Friday, May 11
11:10 a.m. – All Things Wild: Review of Exterior Installations – Floors, Walls, Balcony/Roof Decks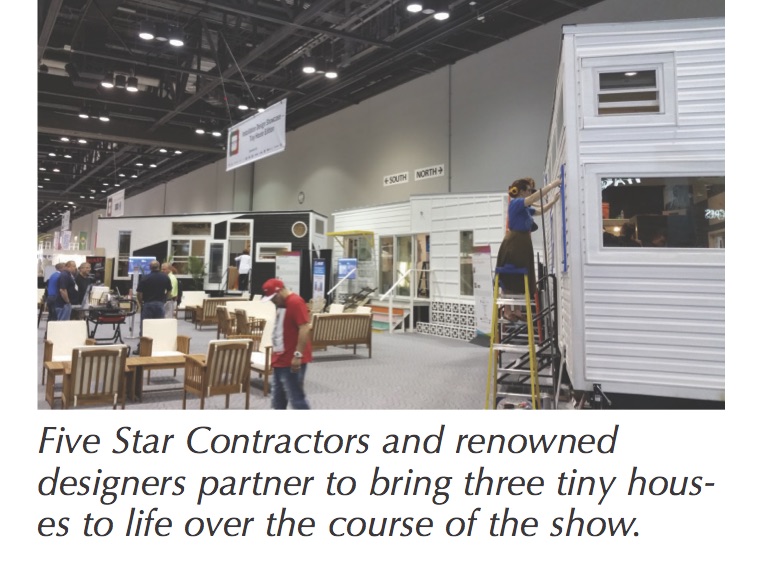 The Installation Design Showcase (IDS) in Hall C, Booth #8804 will feature three tiny houses this year, installed by NTCA Five Star Contractors J&R Tile, Visalia Ceramic Tile back for their second year in a row and D.W. Sanders participating for its first IDS. This must-see attraction partners leading designers with Five Star Contractors to bring these projects to life in real time on the show floor and showcase the synergy between beautiful design and exceptional installation. Here are the teams:
Red Team: Jeffrey Bruce Baker Designs paired with D.W. Sanders Tile & Stone, with tile and stone supplied by Florim, and setting materials from LATICRETE.
Blue Team: Johnson Studio/Cooper Carry paired with Visalia Ceramic Tile, with tile and stone supplied by Ceramic of Italy and installation materials from MAPEI.
Green Team: Carson Guest partners with J& R Tile, with tile and stone supplied by Crossville, Inc., and installation materials by ARDEX. 
Member benefit questions answered: If you've been wondering if the benefits of NTCA are for you, stop by NTCA booth #8209 during the show to talk with representatives who will be able to answer your questions about the full range of member benefits and member-only opportunities. 
Coverings Installation Design (CID)Awards – Hosted by TileLetter, Contemporary Stone & Tile Design and Tile Magazine, this awards ceremony recognizes outstanding designers and installers of tile and stone projects at home and around the world. It takes place Wednesday, May 9, 5:30 -6:30 p.m. in room B401.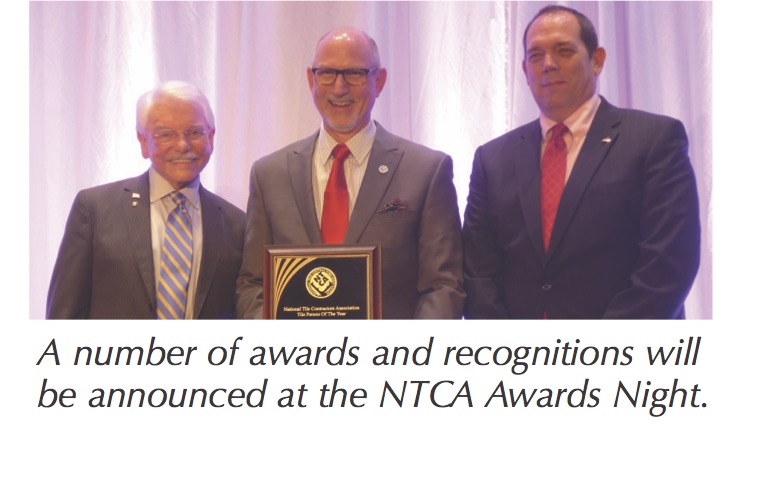 NTCA Sixth Annual Award Ceremony, Thursday May 10, 5:30 p.m. to 7 p.m., Building B, Room B401/40: This anticipated night of celebration and ceremony includes a cocktail and dining reception, followed by the association presenting special awards to industry leaders. Included in this year's agenda will be:
2017 NTCA Tile Person of the Year
Best Practice Award for Committee Leadership
NTCA emerging leaders named to the Coverings Rock Star program
Five Star Contractor Projects of the Year program
Joe A. Tarver Award for Service to the Industry
Tom Ade Youth Scholarship Awards
The Tile Council of North America, a sponsor of the Awards Program, will also honor a deserving individual with its Service to the Industry award.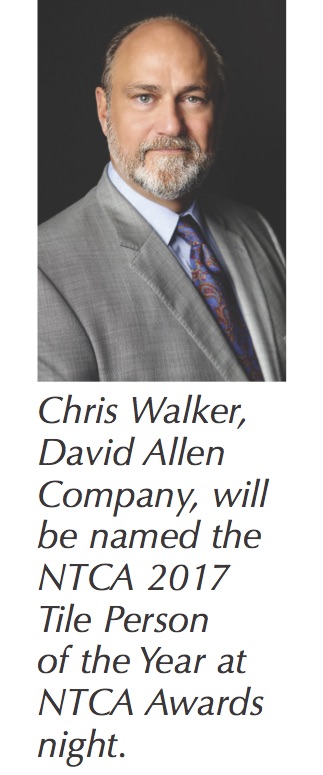 Highlighting the event, the NTCA 2017 Tile Person of the Year Award will be presented to Christopher Walker, Vice President of the David Allen Company. Chris has logged more than 32 years as a professional manager and installer in the tile Industry and has successfully managed the successful installation of millions of feet of commercial projects. A recognized industry expert, Chris also serves the industry as 1st Vice President of the National Tile Contractors Association, Chairman of the American National Standards Institute A-108 Committee, Chairman of the US Technical Advisory Group for ISO T-189, Board of Directors – Associated Builders & Contractor (ABC) of Virginia, as well as having been a voting member of the NTCA and TCNA Handbook and Technical Committees for many years.
Visit the TileLetter and National Tile Contractors Association pages on Facebook for ongoing live updates from the show.