Yes, dear reader, I know we have reported on virtual NTCA Roundtables Live! in past TileLetter issues. They are one of the adjustments NTCA made in 2020 to continue to bring education, training and a forum for tile setters and tile industry members to confer about important issues in as warm and connecting a way as virtual technology will allow. 
But there is a bit of a phenomenon afoot with the monthly NTCA Roundtables Live! Artisan Editions. By the time you read this, we will have held five of these themed events, with the next one scheduled for March 16. At press time, we have just completed the 4th installment, on templating mosaic installations, and we had well over 50 people ATTEND the event, up from 36 people REGISTERED for the first installment in October 2020.
There are many aspects to tile setting, but upping your game into custom design, artistry and precision tile installation gives you an edge on your competition. Plus, it is a tribute to your skill and vision and a satisfying enduring outlet for your creativity, while granting your customer a signature install or accent to home or commercial setting.
Enter the Artisan Edition NTCA Roundtables Live! The format for these roundtables involves an expert core panel consisting of renown artisan tile setters – Lee Callewaert from Dragonfly Tile & Stone Works, Joshua Nordstrom of Tierra Tile and Angie Halford Ré of Unique Mosaics LLC – presenting information about the business, technical or creative aspects of artisan tile setting while fielding questions from attendees. NTCA Technical Director Mark Heinlein moderates, and other staff members contribute or run the ASK THE REF contest.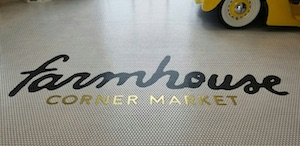 The first Artisan Edition roundtable focused mostly on the creativity and business of artisan tile setting – how to develop a market for this work, what kind of creative freedom to expect, what kinds of materials are used, tools needed, how to price artistic tile work, how to create renderings. The second edition saw artisan tile setters Mark Clyburn of Precision Installations, Lisa Bustamante of Custom Mosaic Creations, Inc., Chris Stover of Stover Tile and Design, and Nadine Edelstein of Tile Design by Edelstein present and discuss the intricacies of one of their own projects. The third installment was a thorough examination of tools used to cut tile, stone and glass materials for creative projects, with detailed videos on using a wet saw (Nordstrom's favorite tool) a ring saw (Callewaert's prized piece of equipment) and Ré discussing hand tools, nippers, score-and-snap tools and other methods she uses. The most recent Artisan Edition roundtable before press time was in January, and this featured Nordstrom walking us through his method of creating a bay-and-mountain scene to adorn a fireplace, from initial drawing through templating. Eight videos supported his explanations so we could hear and see his techniques demonstrated and ask questions.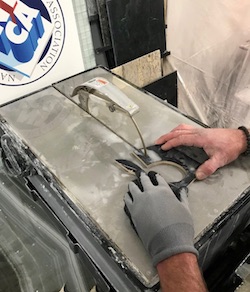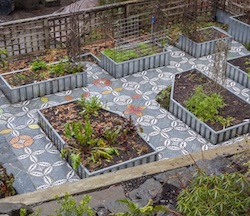 Each NTCA Roundtables Live! also includes the ASK THE REF giveway, where attendees can win useful prizes by answering questions that are derived from the NTCA Reference Manual. Custom Building Products and Rubi Tools are the ASK THE REF sponsors for 2021.
During a time when in-person training has been wanting, these Artisan Edition NTCA Roundtables Live! have expanded the discussion about the benefits and intricacies of artisan tile setting, delivered free from world-class, award-winning tile artisans each month. Visit the NTCA website (www.tile-assn.com) for dates and registration. And sign up for reminders by texting "NTCA" to 31996 or click here to opt in. 
Let the adjustments NTCA has had to make in its training program during COVID be your gain. Join us to learn about the possibilities and practicalities of artisan tile setting during the NTCA Roundtables Live! Artisan Editions, and get inspired!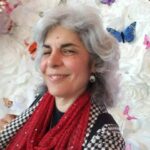 Editorial Director and Senior Writer for TileLetter and TileLetter ARTISAN
Lesley Goddin has been writing and journaling since her first diary at age 11. Her journey has taken her through a career in publishing and publicity, landing her the editor position of TileLetter and its special publications in 2006. Her goal is to educate, inspire, recognize and encourage those in the tile industry -- especially the tile and stone contractor. Other interests include the soft, purring marvels known as cats, labyrinth walking, drumming and percussion, and a range of spiritual, musical and artistic pursuits.