ALBUQUERQUE, NM – NTCA Trainer/Presenter Robb Roderick drove through Albuquerque, NM today on his way to the association's first 2018 western swing workshop, located at Bedrosian's in Anaheim, Calif., set for Wednesday night, January 17. He was able to connect with TileLetter editor Lesley Goddin, based here,  for a quick lunch at Albuquerque's famed Owl Café, before continuing his journey across New Mexico, Arizona and into California for the workshop.
The NTCA Workshop program has a new theme for 2018: Tile Matters: Best Practices for Pros. The three-hour program – most often held from 5 pm – 8 pm – includes an hour of networking and catered meal followed by two hours of all new educational presentations and interactive opportunities.
Each workshop will address:
OSHA silica dust regulations
Standards review
Showers/waterproofing
Sealants
Mortar coverage
This year, not only will participants to the free workshops benefit from the presentations and product/method demos by NTCA Trainer/Presenters, but there will be more opportunities for attendees to have real hands-on experience with the products and methods being discussed.
The following workshops are being held this week:
January 17  
Bedrosians
1515 Winston Road
Ahaheim, Calif.
714-778-8453
January 18
Bedrosians
1725 Hacienda Drive
Vista, Calif.
760-724-6400
In addition to Robb Roderick, workshops are being presented by NTCA Training Director/Trainer/Presenter Mark Heinlein and NTCA Trainer/Director Luis Bautista. CTEF's Scott Carothers is presenting CTEF Educational Workshops as well, and kicked the year off with one at Floor & Decor in Buford, Ga., on January 4th.
For more information about workshops and new members-only Regional Training Programs coming to a location near you, visit http://www.tile-assn.com/events/event_list.asp?show=&group=&start=11%2F4%2F2014&end=&view=&cid=12716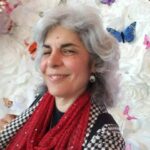 Editorial Director and Senior Writer for TileLetter and TileLetter ARTISAN
Lesley Goddin has been writing and journaling since her first diary at age 11. Her journey has taken her through a career in publishing and publicity, landing her the editor position of TileLetter and its special publications in 2006. Her goal is to educate, inspire, recognize and encourage those in the tile industry -- especially the tile and stone contractor. Other interests include the soft, purring marvels known as cats, labyrinth walking, drumming and percussion, and a range of spiritual, musical and artistic pursuits.