In 2018, our training department, led by NTCA Training Director Mark Heinlein and supported by NTCA Technical Trainers Robb Roderick, Scott Carothers and Luis Bautista, presented more than 20 NTCA Regional Training programs. These events were day-long training sessions, offered to NTCA members and their employees, as a response to years of requests for this type of educational content. As the year progressed, our program improved, so much so that at the end of 2018, our members were not only singing the praises of the content of the education, they were calling for more. More programs, more opportunity to network and share ideas and techniques together, more hands-on experience, etc. 
NTCA Assistant Executive Director Jim Olson is responsible for the scheduling and overall management of the process related to workshops, and regional training. Workshops – as a reminder – are what the NTCA became known for the past 40 or so years. These were evening educational events offered as an overview of installation best practices, product standards awareness, and introduction of new technology to the trade. Last year, NTCA trainers offered both the traditional workshop sessions, and we also introduced the NTCA Regional Training program. In 2019, although we will continue down this path (in fact there will still be more than 100 traditional NTCA Workshops offered in 2019), we will expand and combine these two programs into a one-week long experience in many cities across the nation.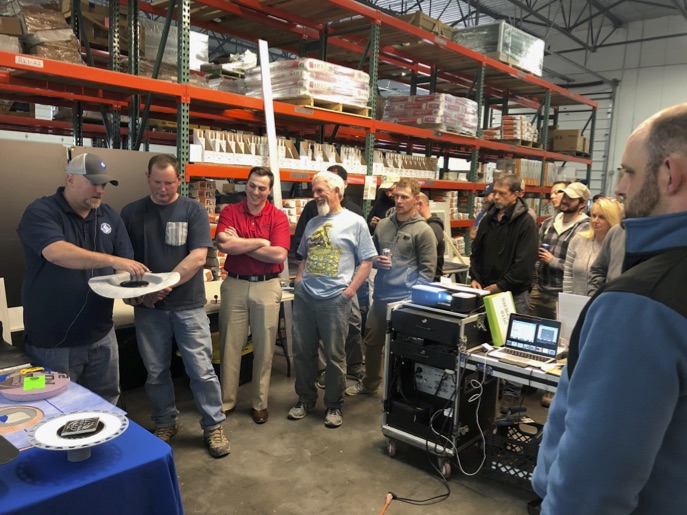 Titled the "NTCA Training Xperience," our trainers will work with a local regional host to offer a threefold week-long program. This will include a traditional Workshop that will be open and free to all interested industry professionals. This will be followed by a free regional training event available to NTCA members and their employees, and will close with a free open round table discussion for NTCA members to allow sharing of ideas, challenges, business tips, problem solving tips and more. Did I mention all these offerings are free? (NTCA Regional Training programs require a nominal fee to hold the space, which is refunded upon attendance). Offering education without charge is one more way NTCA is making training and professional excellence available to the industry at large, and to its members. 
Here is a little more information on the content you can expect from The NTCA Training Experience in 2019.  
Regional Training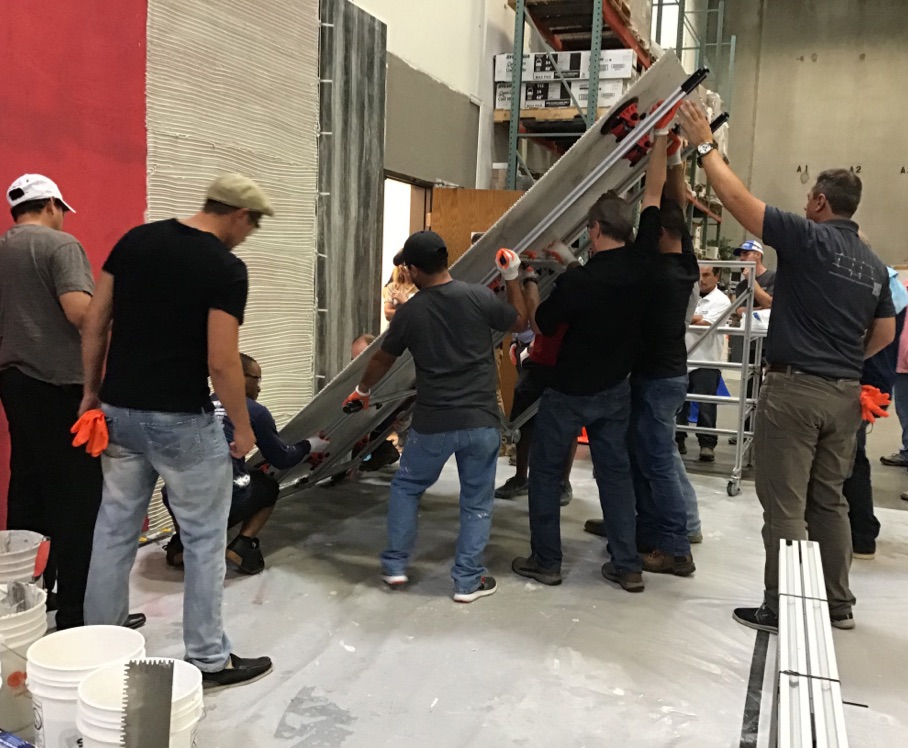 GPTP Training programs will be based on ANSI A108.19. Programs will be held at Crossville and Daltile locations and will focus on all aspects of standards-based installation and best practices for installing gauged porcelain tile panels (GPTP) on floors and walls in interior applications. These programs will be supported by material and system experts from the GPTP, setting material and specialty tool manufacturers. The training day begins promptly at 8 am with a 90-minute classroom session followed by six hours of hands on training. This training meets the requirements of ANSI A108.19. Participating attendees will receive a certificate of course completion.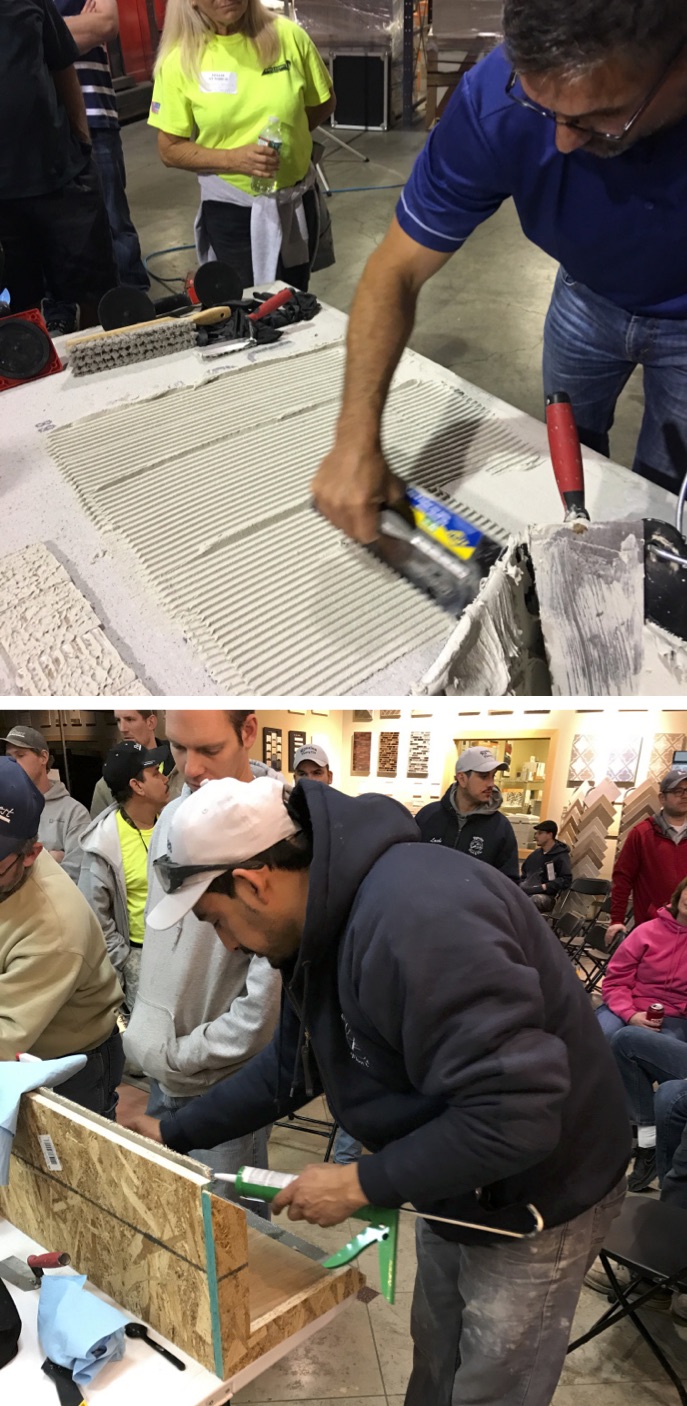 Substrate Prep/Large-Format Tile programs are based on installation standards, methods and best practices from ANSI A108, TCNA Handbook and the NTCA Reference Manual. Proper substrate installation, analysis and preparation is absolutely critical to every tile installation. This program focuses on a variety of substrate preparation techniques for floors and walls to meet the industry standard requirements for large-format tiles (LFT). After substrates have been properly prepared, attendees will focus on proper selection and mixing of mortar for LFT and correct trowel selection and usage to achieve industry-required rates of coverage to support tile installations on floors and walls in dry and wet areas. 
These may sound like common day-to-day tasks for any tile setter, and they are. This course is recommended for anyone involved in the tile industry. Seasoned experts may learn new techniques while those new to the trade will receive a solid grounding in best practices to achieve industry standards and long-lasting, beautiful installations. These programs are a benefit to NTCA Members.
NTCA Workshops
In 2019, NTCA Trainers are returning to the highways and byways and heading to the heartland and all corners of the United States. This year, we have broadened the programming in our free workshops to include:
Backerboard for Tile Installations
Shower Environment/Water Management
Membranes
Movement Joints
We will also be bringing our classic programs "Tile Matters – Best Practices for Pros" and "Failures – Could It Be Me?" to select locations that may not yet be familiar with these exceptional hands-on based presentations.
Many of our programs in 2019 are AIA and IDCEC accredited. Professionals from all walks of the tile industry are welcome and encouraged to attend. Our attendees always have a good time. Many tell us they learn something new every time they attend. It is also a great place to make new professional acquaintances, be exposed to new products from manufacturers, learn how NTCA membership can contribute to one's professional growth – and maybe even take a door prize home at the end of the evening.
NTCA Round Tables
At select locations, NTCA members are invited to join a round table discussion hosted by their regional director and ambassadors and facilitated by NTCA staff. Topics will vary by location and may include: taking advantage of member benefits; networking with other members and peers; current issues affecting methods, standards, best practices, safety, training, finding and retaining employees; discussion of local and regional issues of concern. Dates and locations for NTCA roundtables will be announced soon.
We are very excited about the NTCA Training Xperience. We feel that there is no replacement to the benefits offered by presenting physical skills training in as many areas of the country as possible. It is our hope that the synergy created in these events will result in a trickle-down positive effect: installers who are present at the training will share this knowledge with their peers who were not able to be there, resulting in improved installation performance and reduction of installation error.  
For a complete schedule for 2019, visit the NTCA website. If you would like even more information about the NTCA Training Xperience, contact Jim Olson or Mark Heinlein.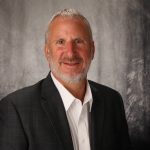 Bart Bettiga is the Executive Director of the National Tile Contractors Association and Publisher of TileLetter. Bettiga is a member of the Board of Governors of Coverings, one the largest tradeshows in North America. He has over 30 years of experience in the tile and stone industry and has served as the NTCA Executive Director since 2002. He is a well known speaker and author on ceramic tile and natural stone distribution and installation. He oversees the financial operations of the NTCA, TileLetter and the Ceramic Tile Education Foundation.