QUESTION
I wanted to ask you about what you used to clean the 100% silicone caulking when you did the caulking demonstration at a recent workshop? Thanks!
ANSWER
I used water with a few drops of dishwashing liquid in a spray bottle. Install sealant, spray the bead of sealant, then strike off excess and wipe on paper towels. If you want to strike again to dress it up just spray the area again. This will keep it from sticking. Denatured alcohol, window cleaner, and a variety of other things are often used in the same way. Whatever you use make sure it is approved by the manufacturer of the sealant. Using non approved chemicals or methods can lead to issues like incomplete curing of the sealant joint. 
– Robb Roderick, NTCA Technical Trainer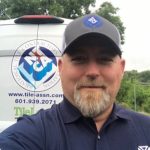 Robb Roderick has been in the tile industry for nearly 25 years. He has worked with homeowners, builders, architects, and interior design professionals on projects in both residential and commercial settings. Prior to coming onboard with NTCA, Roderick was a member of the association for several years and is a CTEF Certified Tile Installer. He graduated from Missouri State university in 2000 and has also served in the United States Army as a medic. Roderick tours the country bringing NTCA Workshops and CTEF Educational Programs to local audiences nationwide.