Crossville's porcelain tile panels and an innovative cladding system satisfy Miami Beach's building codes and historic preservation standards
Built in the late 1950s, Bhojwani Tower was designed by Albert Anis, known for his Art Deco architecture throughout Miami. Originally a bank, the Bhojwani, located on the corner of one of Miami Beach's busiest pedestrian intersections, operates as a mixed-use building with residential and retail areas. When beginning the renovation process, Kobi Karp Architecture and Interior Design not only had to consider updating the building's exterior to stringent building codes but also meeting the requirements of the Miami Beach Historic Preservation Board.
Due to hurricanes, South Florida's coastal areas fall into the High Velocity Hurricane Zone. Miami-Dade identified that it isn't wind and rain that causes the most damage in strong storms; its exterior building pieces that come loose and turn into projectiles during extreme conditions. The International Building Code doesn't allow anything larger than 3 square feet to be attached to the outside of a building because the adhesives used would cure before the cladding pieces are properly placed – especially in the area's warm climate. This would make cladding more prone to fly off during storms.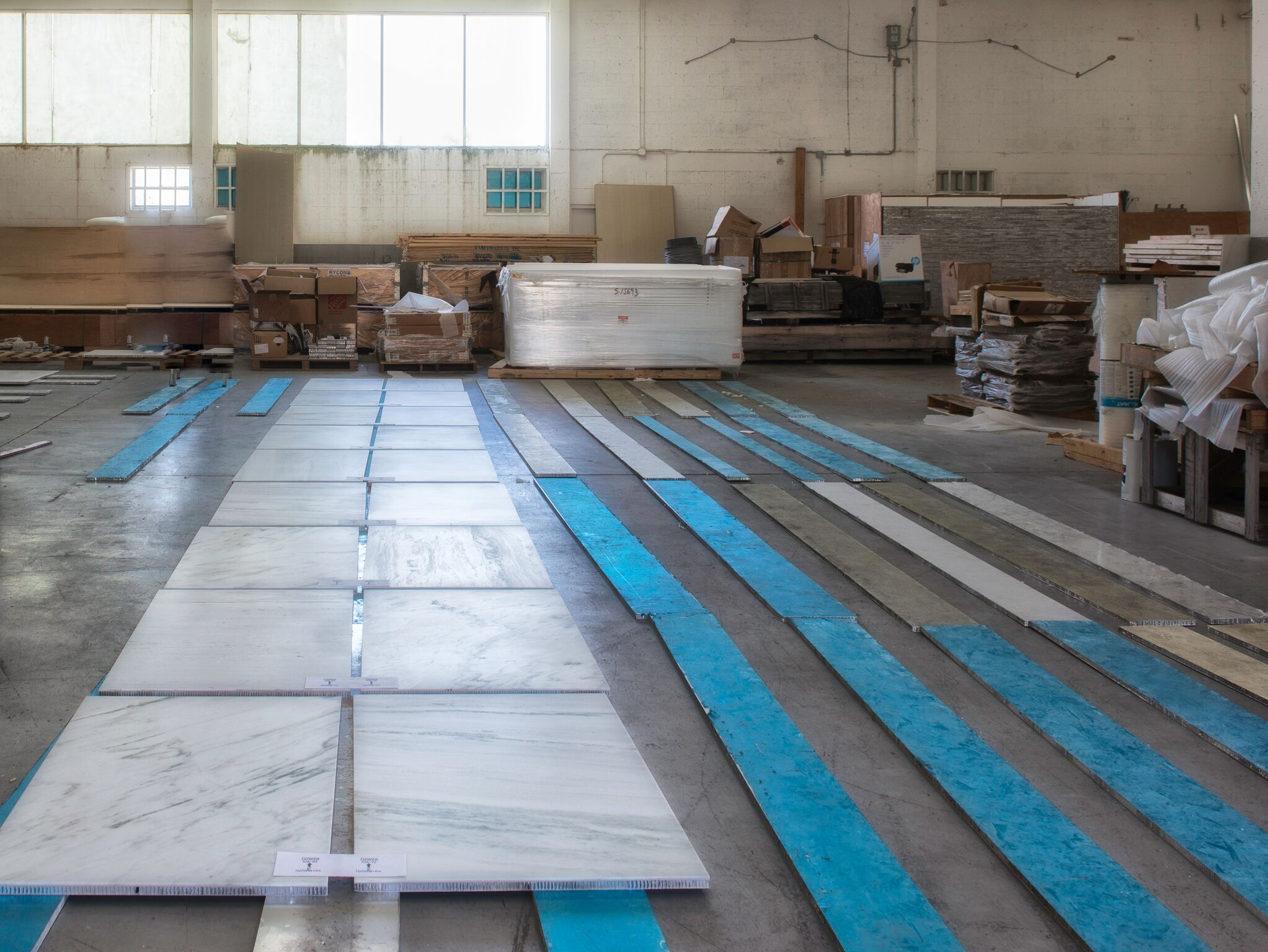 To meet all code and preservation requirements, the Kobi Karp design team specified Crossville's I Naturali collection of gauged porcelain tile panels to cover the exterior walls of the Bhojwani Tower. The team also advised Miami-Dade County officials that the Crossville material would meet stringent building codes and come in on budget if mounted with HyCOMB USA's innovative cladding system.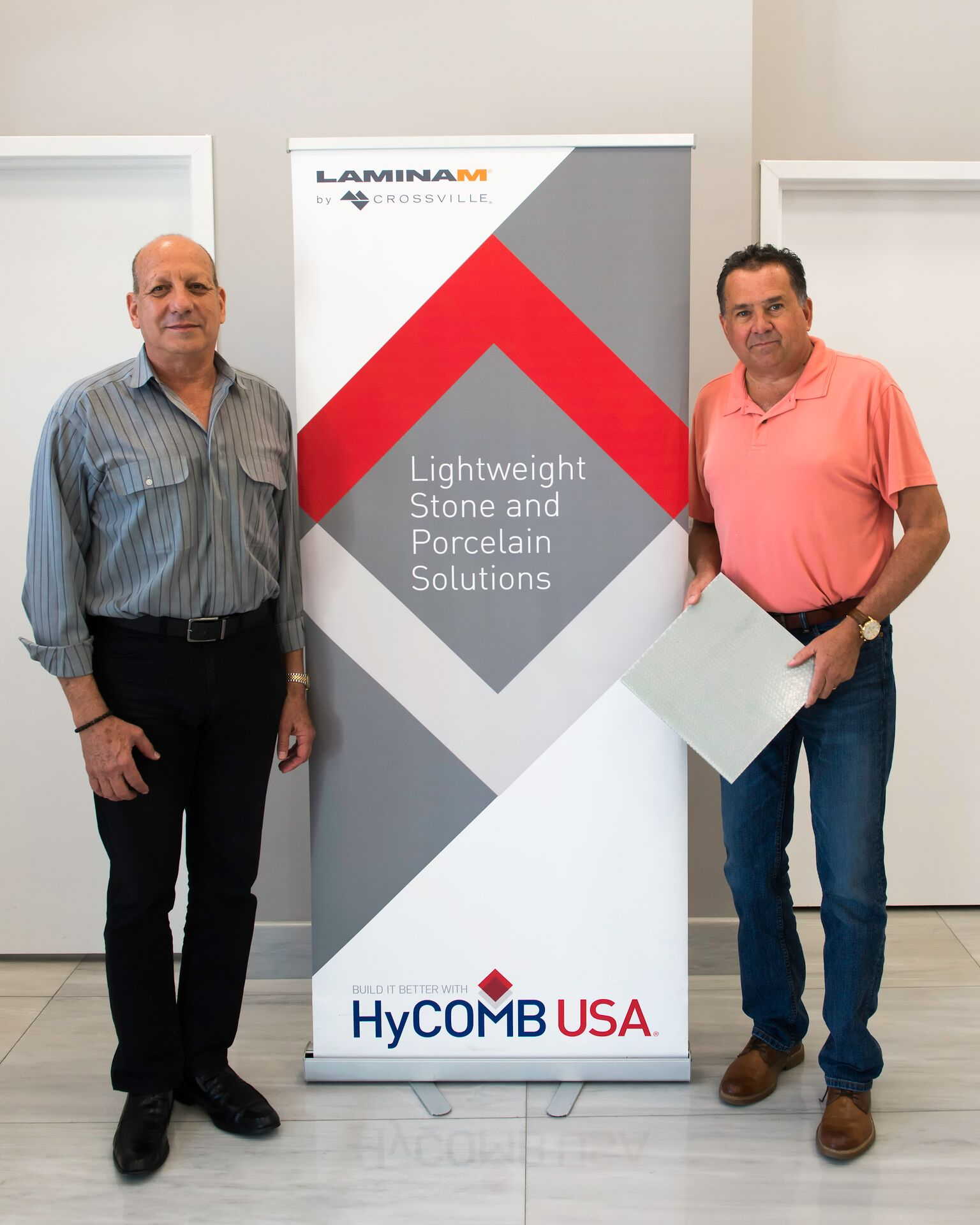 The HyCOMB USA team worked with D&B Tile Distributors – a frequent host of CTEF's Tile and Stone Workshops – to deliver the solution for installation of Crossville's gauged porcelain tile panels for this project. Daniel Slain of HyCOMB USA explained that the company's system works with Crossville's surfacing solution because of the unique backing configuration and proven performance during testing for extreme conditions. 
During testing, a standard piece of  2" x 4" lumber is shot out of an air cannon at a rate of 50 feet per second (fps). That's over 34 miles per hour. This exercise shows simulated impact from airborne objects in hurricane situations.
"We have a honeycomb backer that is .75" thick," Slain said. "We bond the gauged porcelain tile panels to our core." After testing, the HyCOMB panels sustained minimal damage from the projectile 2" x 4"s, and remained intact, he said.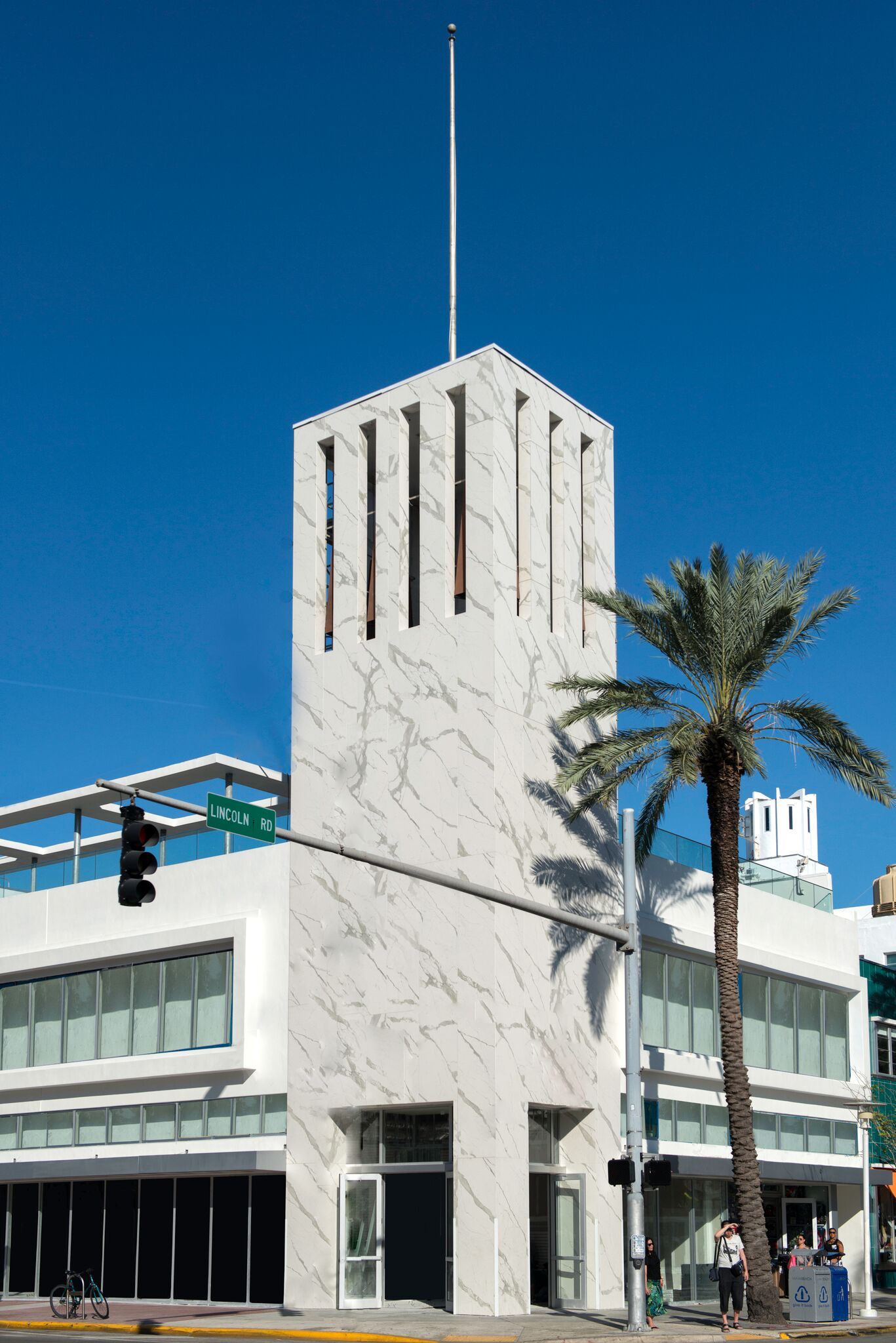 Crossville's panels are 1M x 3M and relatively simple to work with for experienced installers who have received training with the material. The bonding of the tile panels to the HyCOMB USA core offers distinct efficiencies unparalleled by other surfacing options.
Slain said, "To direct bond, it would require more time because each row would have to set for a day. Our panels are independent of each other and held in place by mechanical fasteners. They do not rest on the layer below. On normal-size stone panels we would need a five-man crew. With the Crossville porcelain tile panels, we use three people and produce twice the square footage each day."
Lightweight, heavy duty
Another major advantage of using the Crossville tile panels is the weight compared to other cladding options. These panels are lightweight enough to be handled by fewer workers. This is important to note for the Bhojwani project because of its location on a busy street corner in the heart of the tourist district. If the architects had specified natural stone, the project team would have faced more time-consuming challenges and safety issues. With the porcelain panels, the three-man crew was able to lift the tiles through the scaffolding and put them in place using HyCOMB's fastening system – reducing both time and risk factors for the project during installation.
Beyond the benefits of installation efficiencies, the tile panels' classic, timeless look answers aesthetic demands and is actually more consistent in appearance than other materials such as natural stone.
The panels not only offer a beautiful appearance for the building, but they will also be able to withstand the harsh South Florida elements. They're innately resistant to UV rays and are highly scratch-proof and resistant to deep abrasion. Also, the panels are eco-friendly, as the body of the tiles is comprised of natural raw materials, and the tile does not release toxins into the environment.
Right style, right performance, right for the environment – Crossville's porcelain tile panels are ideal for Miami Beach's preservation standards and the seasonless appeal of this iconic destination.