New, Novel and Noteworthy: Neoterra

Neoterra 8″ Cement Tiles, available exclusively from Tesselle, are designed to take your surfaces to the next level with patterning options, ranging from small scale to large, that are virtually limitless.

Neoterra Icicle in a large-scale design covering surface that is 160″x96″, shown above.  Scroll down to see more options.
Pictured is Tesselle designer Karin Jeske. The Tesselle pop-up shop will be at The Design Quarter in Fashion Island in Newport Beach, CA, across from Urban Outfitters until 12/31/18. For more information, call 951-781-3000 or email [email protected].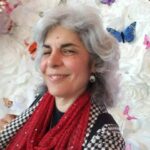 Editorial Director and Senior Writer for TileLetter and TileLetter ARTISAN
Lesley Goddin has been writing and journaling since her first diary at age 11. Her journey has taken her through a career in publishing and publicity, landing her the editor position of TileLetter and its special publications in 2006. Her goal is to educate, inspire, recognize and encourage those in the tile industry -- especially the tile and stone contractor. Other interests include the soft, purring marvels known as cats, labyrinth walking, drumming and percussion, and a range of spiritual, musical and artistic pursuits.