As part of its focus on the world of Italian and international contract furnishing, Cersaie 2021 will be unveiling a new exhibition space with innovative content called the Contract Hall. Occupying the whole of Hall 18, this space will be entirely devoted to this segment of the construction market and will have a specially designed layout serving as a meeting point between supply and demand. In response to requests made by visitors and exhibitors at previous editions of the show, the organizers of Cersaie decided to create this space to expand the exhibition's role as a model of excellence for all aspects of the world of design, materials, interior design, outdoor design in the broadest sense, and the culture of building and living in Italy and throughout the world.

Kitchens, interior and exterior finishes, lighting technology and home automation, outdoor and wellness are the new exhibition sectors that will be hosted in this new space at Cersaie 2021, which aims to expand the range of products of interest to designers, architects and the building profession in general, as well as retailers and other commercial players operating in the contract sector. Special attention will be devoted to the exhibition layout, which will combine style and elegance with practicality to ensure that these new product areas provide a truly unique and informative visitor experience.
The central hub of the Contract Hall will be Archincont(r)act, the more than 2,200 square meter (23,680.6 square foot) exhibition space inaugurated in 2019 that hosts internationally-renowned architectural firms operating in the various areas of the real estate market. The architectural firms themselves become key players at Cersaie, further expanding the exhibition content, the range of stakeholders involved and the fields of interest, which in turn will benefit from the presence of highly qualified investors and contractors. Archincont(r)act 2021 will be a high-traffic area where a lounge will be set up to host events and presentations. The new feature of this year's event is that each participating architecture firm will have its own 64 square meter (688.89 square foot) exhibition space where it will install a mock-up exploring the common theme of the OUTDOOR SPA.
The Contract Hall in Hall 18 aims to create a virtuous circle interconnecting products, projects and investors, thereby cementing Cersaie's status as the largest temporary showroom in the world. The event will be a privileged venue where visitors will find selected leading companies and high-end products capable of meeting the increasingly complex requirements of design, marketing and use of ceramic materials and bathroom furnishings. As a result, it will be able to respond to the numerous requests from the more than 110,000 Italian and foreign visitors who attend each year and are keen to meet leading companies in these sectors.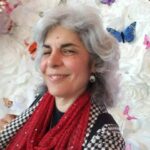 Editorial Director and Senior Writer for TileLetter and TileLetter ARTISAN
Lesley Goddin has been writing and journaling since her first diary at age 11. Her journey has taken her through a career in publishing and publicity, landing her the editor position of TileLetter and its special publications in 2006. Her goal is to educate, inspire, recognize and encourage those in the tile industry -- especially the tile and stone contractor. Other interests include the soft, purring marvels known as cats, labyrinth walking, drumming and percussion, and a range of spiritual, musical and artistic pursuits.