"Life moves pretty fast. If you don't stop and look around once in a while, you could miss it." 

– FERRIS BUELLER
Ceramic tile is one of the most sustainable and healthy products for the planet and for humans, with the lowest 75-year environmental impact per square meter of any flooring product. Made of fired dirt, with pigments and glazes, tile floors truly allow you to walk on the earth – and respect it at the same time! Of course, there are some chemicals involved in the manufacturing of tiles and setting it, but the tile industry is leading the way in transparency and sustainability.
Want evidence? Take a look at the Business story this month, affectionately known in our Green issue of TileLetter as the "Green Tip," for a comprehensive story by TCNA's Director of Standards Development and Sustainability issues Bill Griese LEED AP about all the measures the tile industry is taking to ensure conformance with green standards in a range of programs, not the least of these being Green Squared®. It also includes an exploration of industry-wide EPDs for ceramic tile products and the new Material Ingredient Guide. This is a must read for health-consciousness and sustainability knowledge when using industry products.
Take a look also at our A&D Corner, which explores several things percolating in the industry concerning sustainability and wellness. For instance, Daltile recently provided members of the National Association of the Remodeling Industry (NARI) with a Green Building CEU to further their knowledge regarding tile and sustainability/green building. Not only that, MAPEI Sustainability Manager Brittany Storm and members of her team recently completed the Healthier Materials and Sustainable Buildings course at the Healthy Materials Lab at Parsons School of Design. This lab's mission is placing people's health at the center of all design decisions, raising awareness about toxic building materials and providing resources for A&D professionals to change practices and make places healthier for all people. And Jamie Gold, CKD, CAPS, MCCWC, Wellness Design Consultant and author
(jamiegold.net), reported on sought-after features in homes emerging after our journey through the pandemic in an article she penned for Forbes.com. Get a synopsis of her findings here.
Robb Roderick offered a talk recently on the key critical aspects of creating a successful shower installation, focusing on preparing to do the job properly, industry-recognized shower methods, drain types, building successful curbs and flood testing, and we dig into that talk in our Technical feature. It might not seem health-related, but a badly prepped and installed shower can set the stage for leaks and mold that will definitely impact the health of the users and homeowners.
And how do homeowners know their installers are proficient in proper installations? Well, the Certified Tile Installer test is one measure of this, and in our Training and Education section, we talk to Kris Kemp and Jimmy Orozco, two CTIs who recently passed their written and hands-on exams to earn their credentials. Learn about why they pursued their CTIs and a little about what the process is like.
A third CTI is our featured member, Jeff Occhipinti, owner of Columbia River Tile and Stone, Inc. He passed the CTI test back in 2017, and has his sights set on the Advanced Certifications for Tile Installers (ACT) exams next. Find out how he got involved with tile and how he gives back to the industry. And enjoy the work his company did for Portland's White House, a project that won the contractor a 2020 Coverings Installation & Design Award.
And just to tie in with the human health and celebration of our earth, I encourage you, as summer slouches towards fall, to take a little time to kick back and relax. This summer, I discovered the joy of hammocks, and revel in the connection with the earth by taking a few minutes to rock in the cool shade beneath the trees and blue New Mexico skies, apart from phones or computers, the only sounds the call of birds or rustle of the wind in the leaves. Make time for your happy place. As Ferris Bueller said, "Life moves pretty fast. If you don't stop and look around once in a while, you could miss it."
God bless,
Lesley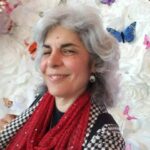 Editorial Director and Senior Writer for TileLetter and TileLetter ARTISAN
Lesley Goddin has been writing and journaling since her first diary at age 11. Her journey has taken her through a career in publishing and publicity, landing her the editor position of TileLetter and its special publications in 2006. Her goal is to educate, inspire, recognize and encourage those in the tile industry -- especially the tile and stone contractor. Other interests include the soft, purring marvels known as cats, labyrinth walking, drumming and percussion, and a range of spiritual, musical and artistic pursuits.