–sponsored content–
New options for cleaner surfaces
From walls and worktops in kitchens to flooring and sinks in bathrooms, frequently-utilized tile surfaces are often subjected to moist and humid conditions. This makes them prone to the growth of degrading microbes such as bacteria, mold, and mildew. Scrubbing with disinfectant cleaners is an essential way to temporarily reduce the presence of microbes on ceramic surfaces. However, research has shown that cleaning products have a limited residual effect, meaning bacteria begin to double in number every 20 minutes soon after a surface has been cleaned.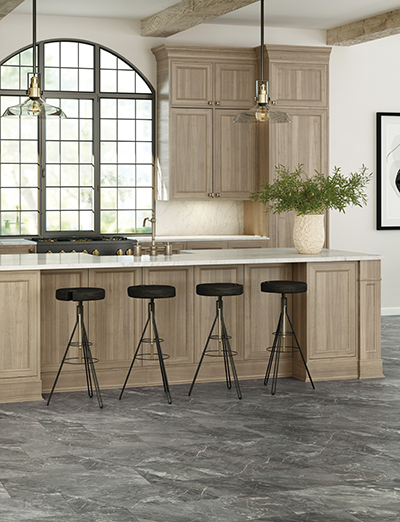 Unlike disinfectant sprays, built-in antimicrobial ceramic technologies will actively control microbial growth on ceramic surfaces and will work to extend the effectiveness of regular cleaning routines by reducing the background bioburden.
There is increasing awareness of the global attention and demand for products with surface protection and enhancement opportunities. Choices need to be made on a day-to-day basis and special attention paid to those having to do with the spaces where people live and work.
"It is widely-known that tile is foundationally the best product solution for today's 'germ-aware' world," said Paij Thorn-Brooks, Vice President of Marketing for Dal-Tile Corporation. "Unlike other surfaces, tile is hard and impervious, so it is innately resistant to the growth of bacteria, mold, and mildew. Tile is also a hypoallergenic surface that harbors no odor or bacteria, which is now elevated to superior protection with antimicrobial technology built in."
Bacteria are invisible to the human eye; however that doesn't mean they aren't there. With surfaces featuring antimicrobial technology, the growth of bacteria is significantly reduced on floor, wall and mosaic tiles.
The presence of bacteria can also cause odors. Reducing bacteria counts diminish odor. While having a product with built-in antimicrobial protection is not a substitute for routine maintenance, it allows continuous and complete sanitizing of your surfaces with an even better level of hygiene between scheduled cleanings. DEFEND™ tile with built-in antimicrobial protection benefits from:
24/7 active technology at work
Effectiveness against broad spectrum bacteria
Enhanced cleanliness and durability
Extended product lifetime
Safe for everyday use
Food contact approved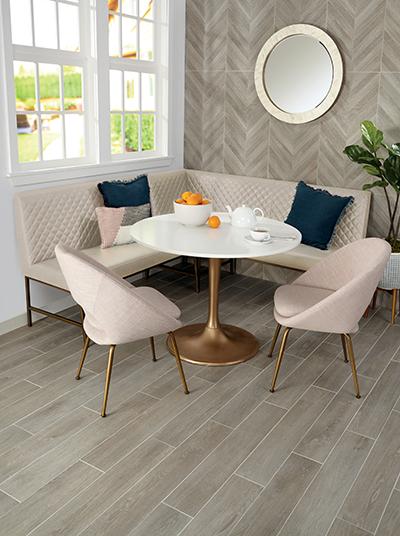 Microban® product protection works at a cellular level to continually disrupt the growth and reproduction of microorganisms that contaminate a treated surface. The technology operates a multi-modal attack by damaging the protein, cell membrane, DNA, and internal systems of a microbe, preventing it from being able to take in nutrients or reproduce. Once infused into a product, antimicrobial technology will start to work as soon as a microorganism comes into contact with the treated surface.
"These products are an excellent solution for residential spaces such as kitchens (interior and exterior), bathrooms, nurseries, game rooms, and playrooms as well as commercial spaces such as restaurants, bars, gyms, spas, airports, train stations, shopping centers, schools, theaters, corporate offices, sports centers, and healthcare environments." added Thorn-Brooks.
Think about adding an antimicrobial product into your next project, for that extra peace of mind.