CEVISAMA, the International Fair for Ceramic Tiles and Bathroom Furnishings, held its record breaking 37th edition from January 28th to February 1st, 2019 at the Feria Valencia center in Valencia, Spain. 542 Spanish exhibitors showcased their latest products and innovations to over 94,000 industry professionals from more than 65 countries.
STATE OF THE INDUSTRY
During his introduction at CEVISAMA, Vicente Nomdedeu, the president of The Spanish Ceramic Tile Manufacturers' Association (ASCER), outlined the 2018 production, sales and exports figures that reflect the strength of Spain's industrial sector.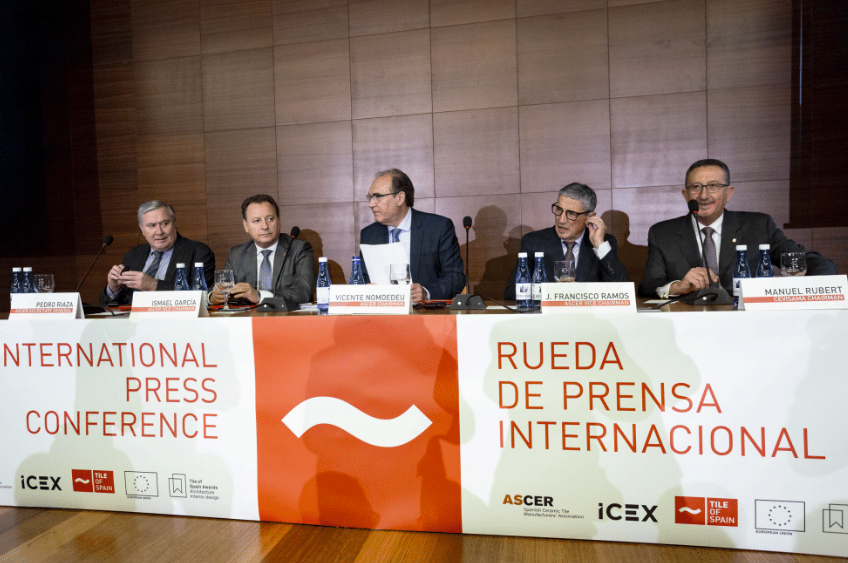 The Spanish tile industry reached similar levels of success of those obtained in 2017 with overall sales increasing by 2%. With almost 75% of all sales made abroad, Spain currently exports to 187 countries worldwide with a total export growth of 1% since 2017. Particularly noteworthy is the sharp hike in US sales (+11.8%), which ranks second on the list of Tile of Spain's export markets. The American continent accounts for 18.3% of total exports.
TRANS-HITOS EXHIBIT
The Trans-Hitos Exhibition of Ceramics for Architecture celebrated its 15th anniversary at CEVISAMA in a series of ground-breaking, transgressive projects proudly termed "Agora." The annual Trans-Hitos exhibit, sponsored by Spanish Ceramic Tile Manufacturers' Association (ASCER) and coordinated by the Habitat Area of the Instituto de Tecnología Cerámica (ITC), was made up of 5 unique, yet connected, spaces that spanned across 6,000 square feet of the main entrance of the show.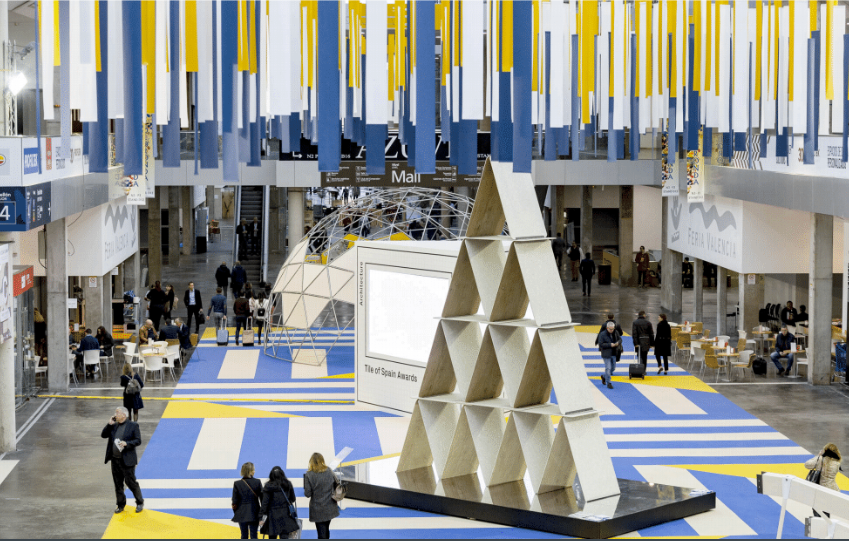 The Greek word "Agora", or open space meeting ground, is reminiscent of the central public places in Greek city-states where citizens gathered to meet, learn and grow in the same way attendees gather year after year at CEVISAMA. A precursor of urban development, Agora allows for the analysis, study and conclusion of ceramics as a great technical and aesthetic ally. More information on the 2019 Trans-Hitos exhibit is available here: http://bit.ly/TransHitos2019
For more about tile produced in Spain, contact Tile of Spain Center at the Trade Commission of Spain, 2655 Le Jeune Road, Suite 1114, Coral Gables, FL 33134. Call 305-446-4387 or visit http://www.tileofspainusa.com.