The National Tile Contractors Association (NTCA), the world's largest tile contractor association, recognized industry leaders at its Annual Awards Ceremony, during Coverings 2018 on May 10, 2018. Over 200 guests were present to see the NTCA honor two exceptional individuals for their unsurpassed dedication and leadership with​in the tile industry.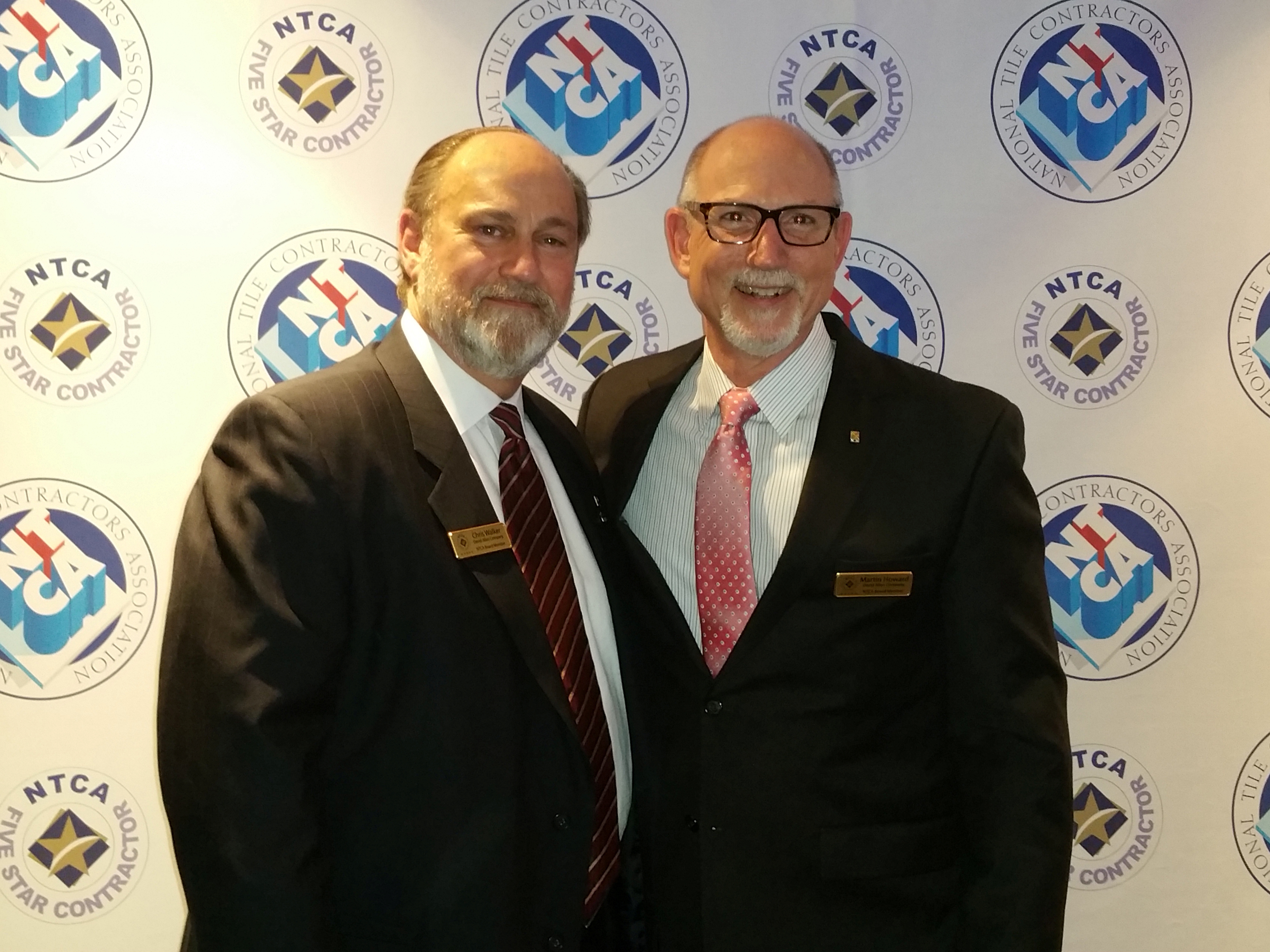 The NTCA'S 2017 ​​Tile Person of the Year​ ​award was presented to Christopher Walker, Vice President of the David Allen Company (DAC). ​To date, Chris has logged more than 32 years as ​both a manager and installer within the tile industry. ​In addition to his time spent at DAC, he concurrently serves as 1st Vice President of the National Tile Contractors Association, Chairman of the American National Standards Institute A-108 Committee, Chairman of the US Technical Advisory Group for ISO T-189​ and is on the Board of Directors – Associated Builders &​ ​Contractor (ABC) of Virginia​. ​Chris has also been a voting member of the NTCA Methods and Standards and Technical Committee and TCNA Handbook Committee for many years.
"Chris is a recognized industry leader and expert; serving our industry and the NTCA for his entire career," stated NTCA's President, Martin Howard. "A true professional, he is most definitely deserving of this distinguish​ed recognition."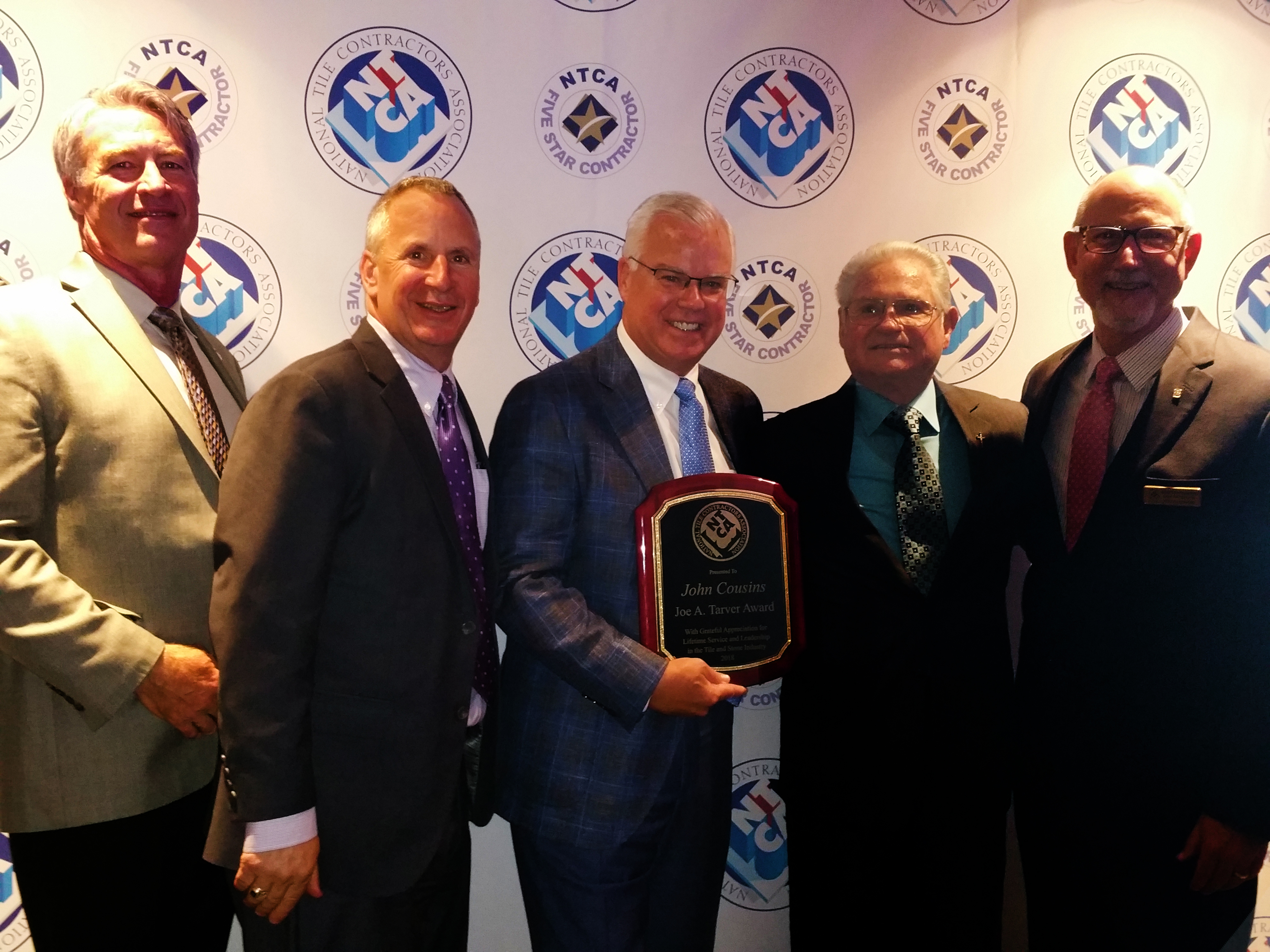 John Cousins, Vice President of Daltile, received the Joe A. Tarver Lifetime Achievement Award, offered to a leader in the tile and stone industry who dedicates his/her career to advancing ​the trade. John joined Dal-Tile in 1979 after a brief time as an accountant with Ernst & Ernst. ​He spent several years managing the Chicago area Daltile Sales Service Centers. When Daltile merged with American Olean, he assumed the role of Regional Manager of the​ firm's​ Home Center business. In 1997, John was named Daltile's Midwest Region General Manager and in 2004, John accepted the additional responsibility of​becoming General Manager for Canada. ​He assumed his current role, Vice President of Sales, in September 2008. ​John Cousins believes strongly in listening to customers and building a company team to exceed customer expectations.
​"Throughout his distinguished career, John has dedicated himself to moving our industry forward," ​declared Bart Bettiga, Executive Director of the NTCA. "He is known for his tireless efforts and contributions to the tile industry and our association."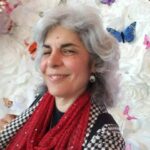 Editorial Director and Senior Writer for TileLetter and TileLetter ARTISAN
Lesley Goddin has been writing and journaling since her first diary at age 11. Her journey has taken her through a career in publishing and publicity, landing her the editor position of TileLetter and its special publications in 2006. Her goal is to educate, inspire, recognize and encourage those in the tile industry -- especially the tile and stone contractor. Other interests include the soft, purring marvels known as cats, labyrinth walking, drumming and percussion, and a range of spiritual, musical and artistic pursuits.