A contemporary concrete tile collection that combines breakthrough engineering and art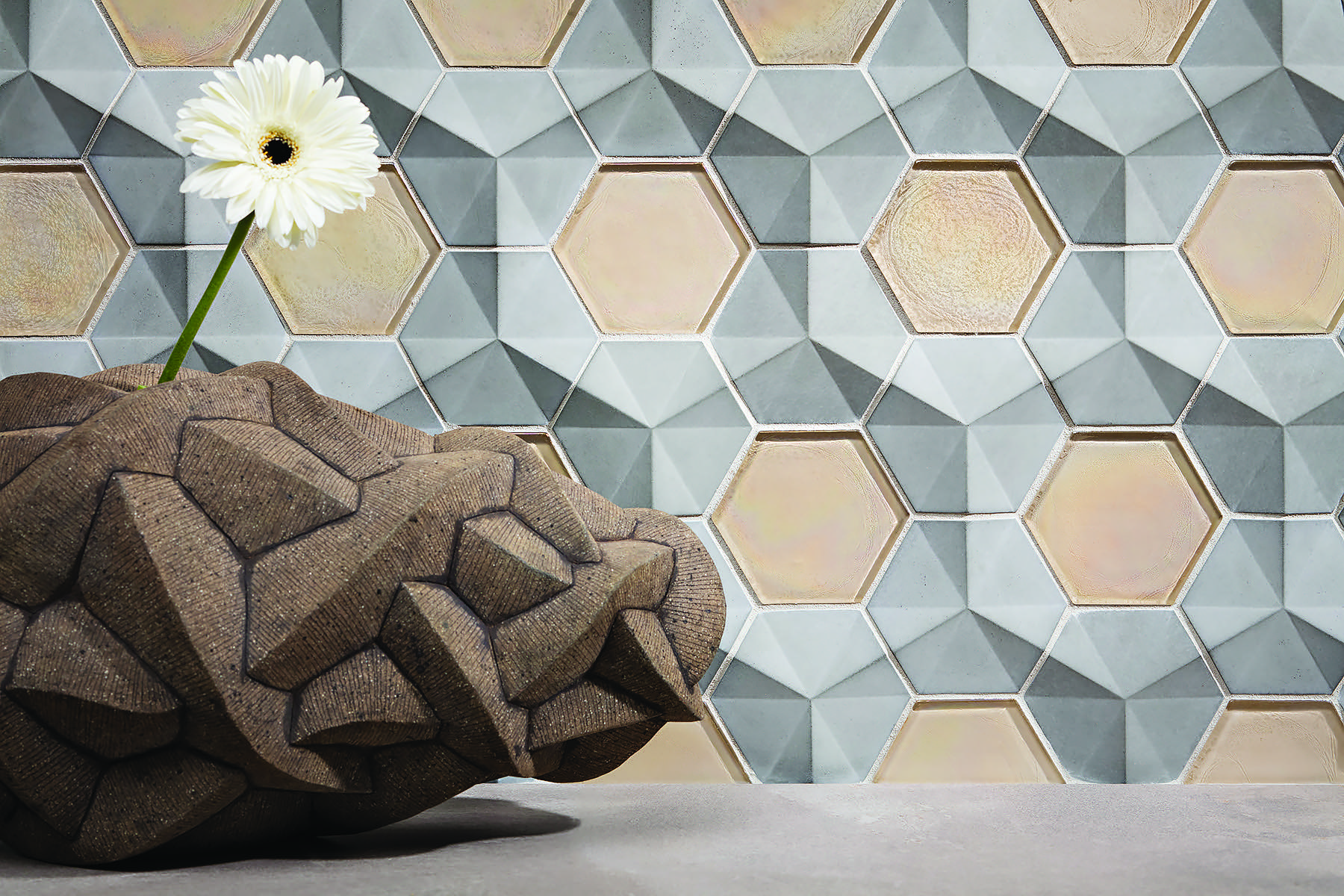 You've seen concrete tiles on the floor, used as exterior cladding, and on the occasional feature wall. Now, Lunada Bay Tile is breaking design boundaries with Contourz, a tactile collection of concrete tiles that elevates the beauty of vertical and horizontal planes.
Modern shapes and colors, together with unparalleled artistry and engineering, construct dynamic surfaces for a variety of spaces. Contourz three-dimensional tiles transform walls into sculpture, while flat field tiles create an atmosphere that ranges from quiet elegance to industrial.
"Concrete is a beautiful, sustainable medium," says Feras Irikat, Director of Design and Marketing at Lunada Bay Tile. "The Contourz collection's architectural nature, soft color palette and satin matte tactile surface allows it to play well with many other materials."
Irikat worked on the collection's design in collaboration with Lunada Bay Tile President and CEO Carl Steadly and Mike Taylor, an engineer with 11 years of experience in the concrete tile industry. Together, theydesigned and engineered the collection to the highest specifications for residential and commercial installations. The tiles measure just 8 millimeters thick—a similar thickness to standard ceramic and glass tiles—extending design opportunities with the ability to combine easily with other tile collections within the Lunada Bay Tile portfolio.
"Imagine that you can now use concrete on a kitchen backsplash or a shower wall without taking up any more thickness or design real estate than standard tile choices," Irikat proposes. "It makes it easy to incorporate these tiles into residential or commercial applications, indoors or outdoors, and blend them with other elements to create the look you desire. The collection creates the ultimate toolbox of creativity for designers and architects."
Designed and manufactured in Lunada Bay Tile's new facility in Southern California, the collection consists of nine shapes:
3 x 9-inch — rectangular flat field tile
6 x 9-inch — rectangular flat field tile
4-inch Hex — hexagonal flat field tile
Fanfare Hex — three-dimensional 4-inch hexagonal tile with raised linear peaks
Trifecta — three-dimensional triangular tile with intertwining patterns of slopes and curved lines
Zen Break A and Zen Break B — three-dimensional 3 x 9-inch rectangular tiles with angled inclines that can be coordinated to create striped, diamond and chevron patterns
Retro Curve — liner featuring soft bullnose edges
In & Out — liner featuring a bullnose edge on one side and a cove edge on the other
Contourz is available in 18 modern hues, including warm and cool grays and shades of taupe and brown. The collection can be specified for interior and exterior walls, including wet/dry walls, light traffic floors, and has similar characteristics and care requirements as natural stone.