We've been publishing this TRENDS issue of Tileletter for half a decade now, with the intent of giving you a leg up on the new year in terms of trends, style, sales patterns and new products that you will see at Coverings this year in Orlando, Fla., April 9-12, and beyond.
This year we add a bit of a twist – this issue focuses solely on the aesthetics of surfaces and colors and how designers benefit from working with qualified labor in challenging tile installations (See our TECH issue in the fall for the latest and greatest in setting materials, accessories, equipment and sundries). Take a look at our A&D story to learn why Glenda Wright of HHCP – one of the vignette designers in Coverings' Installation & Design Experience this year – chooses to work with skilled labor and how that benefits her clients and projects. And Chris Walker has some important perspectives about qualified labor in this issue's President Letter.
We delve into the broad cultural and historic influences on style and color with product designers Shelly Halbert and Laura Grilli of Dal-Tile Corporation, and take a journey through the world of tile trends with Joe Lundgren, who travels the country – and the globe – to stay abreast of cutting-edge technologies and fresh new aesthetics when it comes to tile. Natural Stone Institute has provided us with an overview of stone designs, trends and uses for baths and kitchens. And we present the hottest new looks in tile from Italy, Spain and Turkey to bring an international flair to our offerings.
Contributing editor Lou Iannoco has culled together data from suppliers and distributors to bring you a report of what looks are selling in different regions of the country. He's also compiled a product listing of new tile and stone offerings, many of which will be on display at Coverings.
Kicking the whole thing off is a welcome from industry Ambassador Alena Capra, who walks you through a few of the changes you'll see in the Installation & Design Experience and highlighted features you won't want to miss on the show floor.
We hope this issue whets your appetite for seeing the real deal in person on the show floor come early April in Orlando. There's nothing quite like strolling through miles of stunning tile and stone exhibits (wear your comfy shoes!) and partaking of the many educational opportunities the show offers. A few inspiring days at Coverings will fire up your creativity and expand your palette of color and design options for upcoming projects. Don't miss it. Find out more at coverings.com.
God bless,
Lesley
[email protected]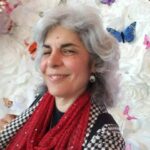 Editorial Director and Senior Writer for TileLetter and TileLetter ARTISAN
Lesley Goddin has been writing and journaling since her first diary at age 11. Her journey has taken her through a career in publishing and publicity, landing her the editor position of TileLetter and its special publications in 2006. Her goal is to educate, inspire, recognize and encourage those in the tile industry -- especially the tile and stone contractor. Other interests include the soft, purring marvels known as cats, labyrinth walking, drumming and percussion, and a range of spiritual, musical and artistic pursuits.