San Antonio, TX ⎯ Vitromex USA is proud to announce its newest addition to a wide selection of high quality ceramic lines: Pueblo. This animated collection derives its name from "Pueblo Mágico" or "Magical Town", a title given to towns in Mexico with historically significant and traditionally rich characteristics. Similarly, this series offers a captivating experience. Pueblo's Cantera Stone design has an enthralling specked effect along with dynamic hand scrapped trowel markings creating a variety of faces. Pueblo is truly the magical element one needs to complete their ideal space.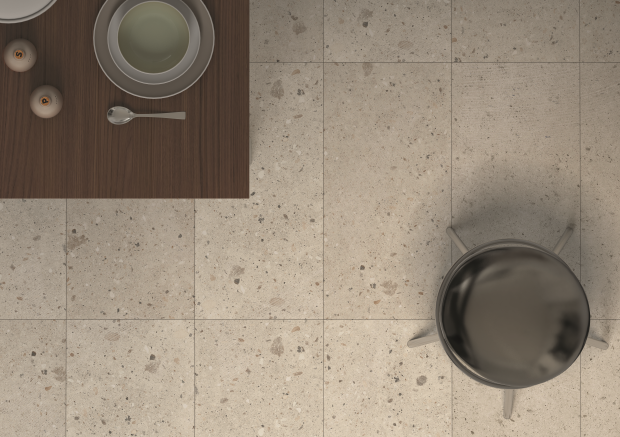 Pueblo's unique look cement surface, a mix of light and dark coarse aggregate and sand, is complete with a grip matte finish, is offered in a ceramic pressed 12" x 24" field tile format and is designed in three everyday inspired cement colors such as Taos (a classic basalt brown), Laguna (a white cobblestone – pictured), and Acoma (an old world red clay).
Pueblo ceramic floor and wall tile is appropriate for all residential and commercial wall, countertop and backsplash applications as well as all residential and light commercial floor applications. Vitromex USA continues to be a participating member of the TCNA (Tile Council of North America). http://vitromex.com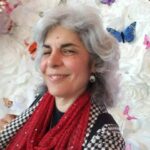 Editorial Director and Senior Writer for TileLetter and TileLetter ARTISAN
Lesley Goddin has been writing and journaling since her first diary at age 11. Her journey has taken her through a career in publishing and publicity, landing her the editor position of TileLetter and its special publications in 2006. Her goal is to educate, inspire, recognize and encourage those in the tile industry -- especially the tile and stone contractor. Other interests include the soft, purring marvels known as cats, labyrinth walking, drumming and percussion, and a range of spiritual, musical and artistic pursuits.