QUESTION
I'm writing with a question that I hope you can either answer or point me to the best resource that would be able to provide some insight.
We're doing architectural work for a national chain restaurant and I'd like to confirm that we're using the appropriate backer board for tile walls. The question is: moisture-resistant gyp-board or cement board?
We use wall tile in food prep areas and restrooms. The walls get wiped down and might get splashed with water, but they don't get hosed down or soaked.
Let me know if there's a simple rule when cement board should be used, as opposed to moisture-resistant gyp, or if there's a reference standard that would shed some light on this question (I already tried the TCNA Handbook).
ANSWER
Thank you for contacting the National Tile Contractors Association. Industry-recognized wall tile installations are found in the TCNA Handbook.
Two methods that use gypsum board are method W242 and W243. In the Environmental Exposure Classification section of each method it notes that they are appropriately used in Residential 1 or Commercial 1 type installations. Commercial 1 areas are described in the Environmental Exposure Classification of the TCNA Handbook as tile surfaces that will not be exposed to moisture except for cleaning and gives examples such as: floors in areas with no direct access to the outdoors and no wet utility functions; hallways; dry area ceilings; soffits, decorative/accent walls; and corridor walls.
Commercial 2 is described as surfaces that are subject to moisture but do not get soaked or saturated due to system design or time exposure. Examples of Commercial 2 installations are: floors in bathrooms and locker rooms; some backsplashes and other walls such as bathroom walls and wainscot where water exposure is limited and or water is removed. Commercial 3 is described as areas that are soaked, saturated, or regularly and frequently subjected to moisture or liquids. It also lists some commercial kitchen walls.
Method W244 uses cement backer board in the installation and is suitable for Commercial 1,2, and 5 installation.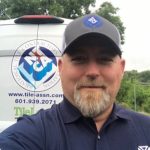 Robb Roderick has been in the tile industry for nearly 25 years. He has worked with homeowners, builders, architects, and interior design professionals on projects in both residential and commercial settings. Prior to coming onboard with NTCA, Roderick was a member of the association for several years and is a CTEF Certified Tile Installer. He graduated from Missouri State university in 2000 and has also served in the United States Army as a medic. Roderick tours the country bringing NTCA Workshops and CTEF Educational Programs to local audiences nationwide.