Embracing challenge, creativity, and change while wielding empathy and experience – women's recipe for success

---
In our world, there is always the opportunity to embrace diversity. One of the ways to do that is to recognize the strong contributions women make within our very own tile industry.
According to a Bureau of Labor Statistics report on women in the workforce, referenced on the National Association of Women in Construction site, in 2018, approximately 1,106,919 women were employed in various occupation sectors of the construction industry and comprise 9.9% of the construction industry in the
United States.
Women's contributions encompass a range of roles, from marketing to design, to installation to management, to showroom staff, and much more. And the good news for women in construction is that while women in the U.S. generally earn 81.1% of what men earn, in construction occupations, women earn 99.1% of what men make. Only .9% to go to close the gender pay gap entirely!
As Katie Michael-Battaglia, Design Director for Nemo Tile+ Stone said in her profile below, "Any career that a woman can do is a great career for a woman to do." In this, the 10th anniversary of the Women in Tile feature in TileLetter, we meet three women from various walks of our industry, and hone our appreciation of what women bring to the tile industry. This year's lineup includes Katie Michael-Battaglia, Dawn Marie Suiter, co-owner of Strong Work Renovations, LLC, and NTCA's own Michelle Chapman, who is celebrating her 20th year with NTCA in 2020.
Dawn Marie Suiter
Strong Work Renovations, LLC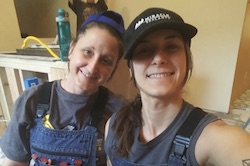 The resulting remodeling boom after the 1994 Northridge earthquake set a series of events in motion for Dawn Marie Suiter to embark on a new career. Her path began with woodworking and finish carpentry and brought her to her current position as a remodeler who focuses on tilework, in business with her daughter.
Suiter fell in love with the physical and mental challenge of remodeling, the creativity it demanded and the freedom for her to be her own boss. Her daughter Lexington (Lex) was a toddler and practically cut her teeth on this work, and grew in skill level as she got older. When Suiter and Lex moved to a new Smoky Mountain fixer-upper, Lex continued to learn, and helped to build a tiny backyard farm.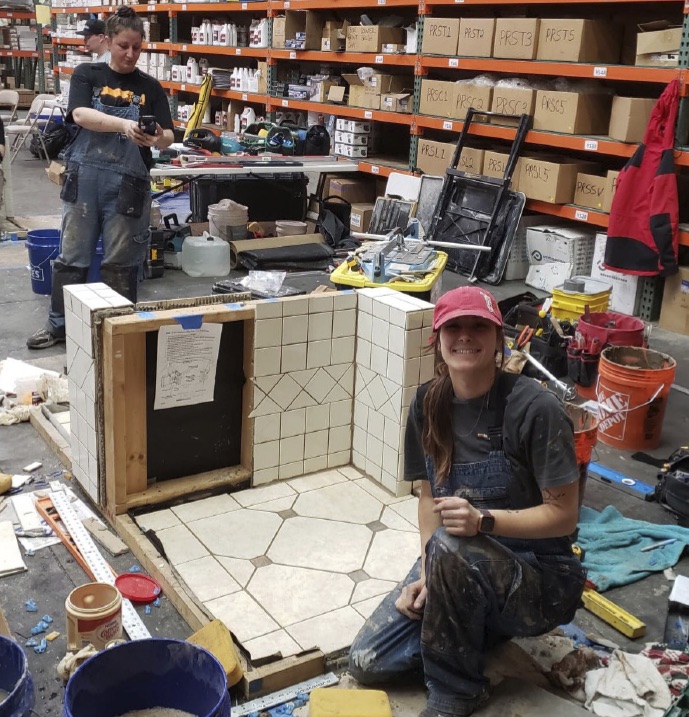 "I taught her like my dad did, one project at a time, how to use all the tools," Suiter said. "Some people would be horrified to have their 9-year old using a chop saw to cut board lengths for our new chicken coop, from measurements shouted across the yard, but it was just natural working alongside each other."
Then, in Boulder, Colo., Suiter was doing tile work for a shoddy local remodeling contractor. She researched each job, read bags of mortar and grout, watched Sal DiBlasi videos, and learned that her boss was doing it wrong, every time.
"One day he asked me to be his business manager, and instead, I quit working for him and formed Strong Work Renovations, LLC with Lex and Jake, my significant other," Suiter said. "We got our contracting license and continued doing bathrooms using large-format tile, but this time with the right products," and the rewards were instant.
Today, Strong Work Renovations specializes in large-format tile work and continues to grow, seeking out educational opportunities through NTCA, Schluter and other events. The company's goal is "to keep getting better," she said.
Getting better, indeed – instead of cutting back business during COVID, Suiter decided to expand the business, preparing to build her first spec house on the way to becoming builders. "This adjustment to the flow of daily life has allowed us the time and space needed to make that happen," she said.
Katie Michael-Battaglia
Nemo Tile + Stone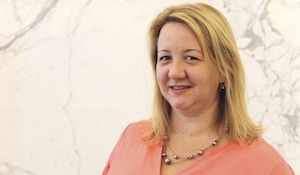 Katie Michael-Battaglia, Design Director for Nemo Tile + Stone, credits her success with the East Coast distributor to her solid background of 27 years as an interior designer. "As a professional interior designer, I have been specifying tile and stone for many years," she said.
Michael-Battaglia's association with Nemo Tile + Stone began in New York City in 2002 when she worked on projects for Equinox Fitness, interacting with the Karlin family, specifically, Matt Karlin, A&D rep for Nemo Tile + Stone at the time. While designing commercial interiors for leading design firms, she helped design showrooms and products for Nemo Tile + Stone on her own time. In 2015, she became full time Design Director for the distributor.
"I have always had an appreciation for tile and would design tile into many projects, so this was a natural and exciting transition for my career," she said. Her design background allows her to "see how a product will be used, and have the vision to see it fully designed. This gives me the insight to know if a product of ours will be successful."
In addition to her design background, empathy and good listening skills empower her – and other women – with "a better sense of what customers are looking for," she said. "She offers a "sense of empathy, as well as a greater degree of openness and intuition."
She's used this chaotic COVID time to change marketing strategies and get product in front of customers in a new way. "I stepped in and thought about what I would want to see as a designer," she said, developing product and informative videos that allow "the user/designer to actually see what the product would look like with scale and texture. This is our way of bringing the product to the buyer without physically being there. This is exactly where my female empathetic nature comes in. I put myself in somebody else's shoes and thought about what would make my life easier as a designer, without having access to a materials library or getting to a showroom."
Michelle Chapman
National Tile Contractors Association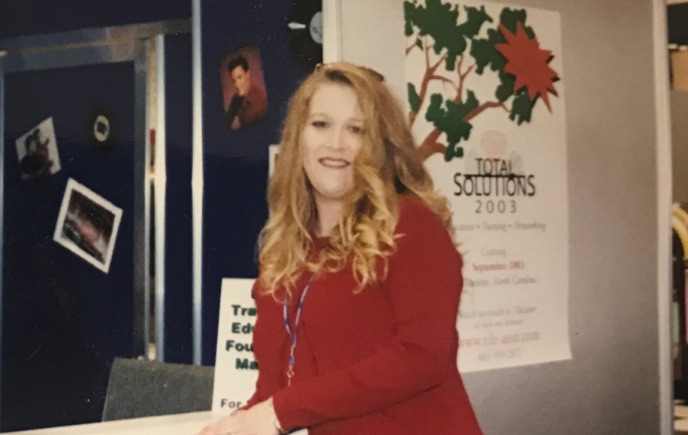 If you've seen ANYTHING NTCA has produced, most likely Michelle Chapman has had a hand in it. She is the longest-employed member of the NTCA staff still actively on the payroll, and has a unique and comprehensive overview of how the association has grown in her 20 years at NTCA – which she celebrates on November 7th of this year!
While working at an insurance company, Chapman honed her skills when the company sought to produce its own marketing materials in house, and she learned Quark Xpress, a graphic design program. In 1995, a typesetter position opened up at Hederman Brothers Printing – Mississippi's largest commercial printer – for someone with graphic design knowledge. Chapman clinched the job, continuing to add to her knowledge. NTCA – and its TileLetter magazine – became one of her projects, starting in 1996.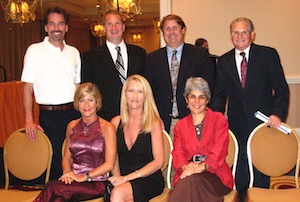 In February 2000, then-NTCA Executive Director Joe Tarver asked Chapman to freelance several issues of TileLetter due to ongoing health challenges of editor Myra Cardwell. In September of that year, Tarver asked Chapman to join NTCA full time as Production Manager/Assistant Editor and designer of TileLetter. "It was the best career decision I ever made," she said. Chapman wore many hats – producing the magazine and collateral material, handling membership billing, as well as advertising sales and billing.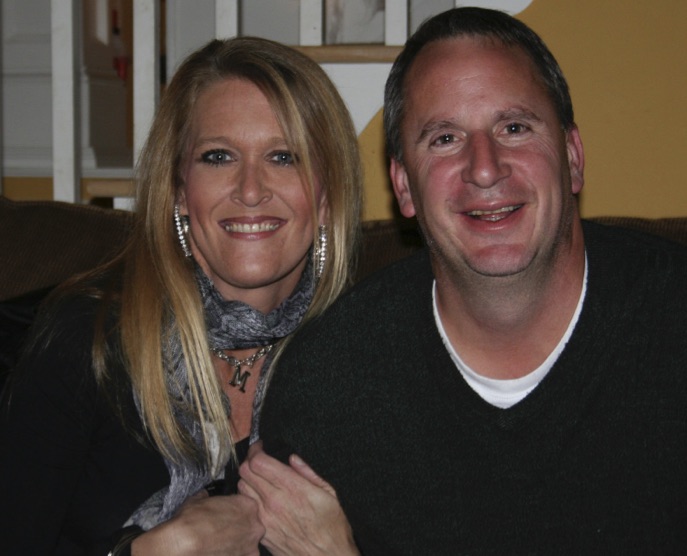 Eighteen months after Chapman joined NTCA, Bart Bettiga was hired to take over for Joe Tarver. Since then, she's watched the staff grow from four people to 16, and the magazine grow from 68 pages to over 100 plus pages, including special issues – at one point, publishing 17 issues a year.
When the workshop program got a revamp, there was a need for more direct mail pieces, and a new trailer design that sported sponsor logos. NTCA's presence at trade shows and conventions blossomed – requiring a new booth design – and the NTCA Reference Manual morphed from a black and white publication in a three-ring binder to a 300+ page bound book full of color photos. All of this – and more – has fallen into Chapman's purview. "Creatively, I've been a part of every single piece of all of this, and that's pretty overwhelming to think about now."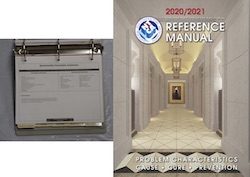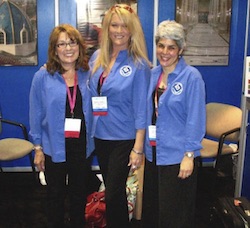 In addition to her curiosity, work ethic, eye for design and quick-study skills, Chapman said, "I believe women, in general, bring value to any workplace because of their natural ability to value relationships. We create an atmosphere of teamwork and that contributes to cranking out a lot of work and getting the job done, no matter what that job is. I'm persuasive in sales but I'm also an empathetic and encouraging listener to my advertisers and colleagues. And I've created true, lifelong friendships with some of the most amazing people of this industry. When I was hired, Myra said to me, 'The people of this industry are the best of the best and you'll never meet more genuine and down-to-earth people than people in the tile business.' How right she was."
The future is bright for women in tile
Suiter said that tile is a good career choice for those graduating high school or even as a mid-life career choice. "Creativity, multi-tasking, organizational skills – all while managing stress – have become the toolkit many modern American women rely on to get through a day," she said. "Tile work specifically is a great career because of the time flexibility – you can have a family, or explore other interests while keeping a flexible daily or monthly schedule. The money is good, the risks are not major ones and you'll definitely stay in shape physically and mentally."
"Any career that a woman can do is a great career for a woman to do," Michael-Battaglia added. "All I demand is that I am treated with the same respect as everyone else… there are powerful women in the industry, and I think that more women can be a part of it in terms of leadership and technical roles."
"If you possess a good mix of creative, artistic and technical skills, then the tile industry is definitely an option," Chapman said. "NTCA provides close to 100 courses that you can use to understand all the products, methods and standards that can be used in a successful tile installation and they can be accessed online 24/7. The tile industry can provide a good living for anyone, but as a woman pursuing a career in this industry, it also clears the path for other young girls and women to break from the traditional and show them they can truly be and do whatever fuels their passion."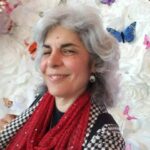 Editorial Director and Senior Writer for TileLetter and TileLetter ARTISAN
Lesley Goddin has been writing and journaling since her first diary at age 11. Her journey has taken her through a career in publishing and publicity, landing her the editor position of TileLetter and its special publications in 2006. Her goal is to educate, inspire, recognize and encourage those in the tile industry -- especially the tile and stone contractor. Other interests include the soft, purring marvels known as cats, labyrinth walking, drumming and percussion, and a range of spiritual, musical and artistic pursuits.