Back in May, I had the distinct pleasure of visiting two abodes that are magical, masterful, amazing – and full of tile and mosaics. I say "and mosaics" because some of the creative wall and floor coverings in these dwellings are not traditional tile, but employ mosaic setting principles using everyday objects to create patterns and designs.
---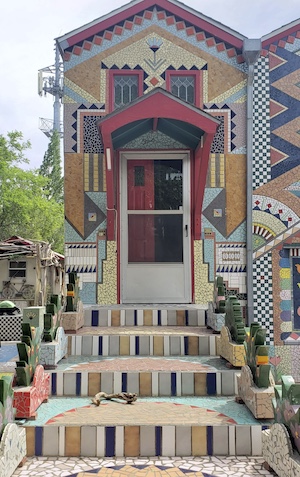 The Tile House
Albuquerque, N.M.
First up was The Tile House (https://www.abqartglass.com/the-tile-house) in my town, Albuquerque, N.M. Beverly Magennis bought the circa 1945 home in 1983. Part of Roswell, N.M,'s Artist-in-Residence program in the '70s, Beverly taught art in Chama, N.M., worked in Los Angeles and throughout New Mexico as a tile maker, ceramic sculptor and mosaicist. She is famous for many works of public art, such as the Tree of Life at 4th and Montano in Albuquerque, mosaic pillars at the University of New Mexico, the Garden Ladies mosaic sculptures, and Mosaic Chair with Black Cat at the Albuquerque Museum of Art and History. Her work also adorns the exterior of a favorite local eatery, Church Street Café, in Albuquerque's Old Town sector.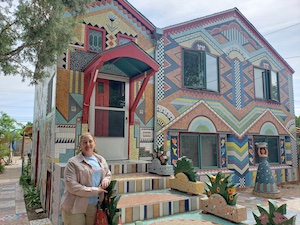 Beverly started tiling her house, beginning with the border around the entrance – and kept going for 11 years, creating colorful geometric patterns and designs, adding ceramic sculptures of figures, vibrantly colored birds and stylized plants in the yard, and creating a broken tile mosaic patio, complete with a gecko and other Southwestern motifs.
Daughter Erin Magennis – also a mosaic artist and owner of ABQ Art Glass – owns the house now with her husband Kyle Ray, who is a stained glass artist. Erin, originally a licensed tile contractor, has embraced mosaic artistry and is continuing the tradition her mother started, with many public and private mosaic works of her own around town. She's currently crafting an impressive and large-scale flowing mosaic mural on the exterior of the house. She favors Daltile porcelain tile as her main medium, mounting her mosaics on mesh and then adhering them to exterior with mortar, always careful to engineer space for more pieces of the mural to be added.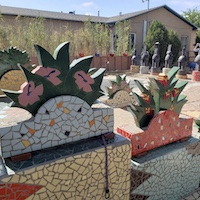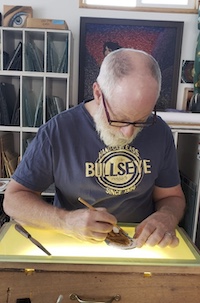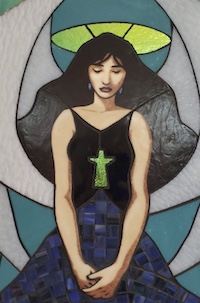 The dwelling houses Erin's studio, with mosaic pieces in the works, and Kyle's studio where he creates stained glass projects. The house is tiled top to bottom, from the downstairs tiled bathroom with a collection of cultural items from Mexico, to the upstairs office completely covered in bottle caps. Erin said her mom used to work at a local barbeque restaurant – Quarters – and the staff would save bottle caps for her projects.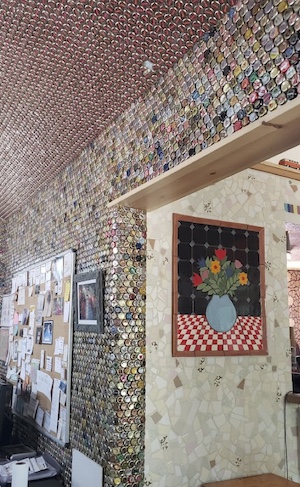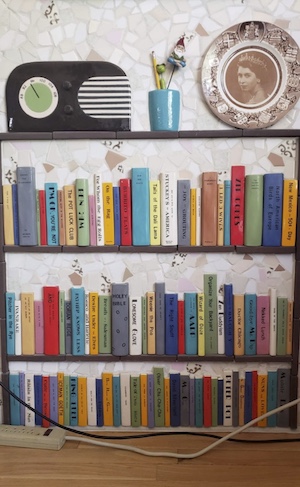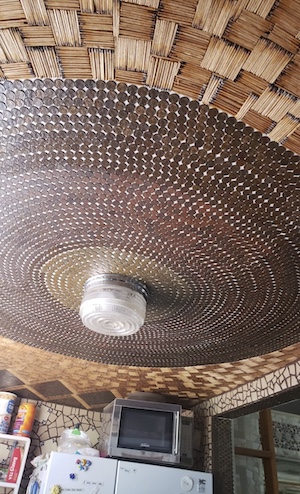 Traditional mosaic works – like a vase of flowers on a red checkered table – join a "bookshelf" complete with handmade tile books with humorous titles, or the "shelf" with handmade tile toiletry items on the bathroom wall. A retro mosaic sink is a bathroom focal point. A border of colorful cigarette lighters surrounds the bedroom mirror, and a pattern of "do not disturb" doorknob hangers and paint stirrers covers the ceiling.
Moving awestruck into the kitchen, one encounters a ceiling roundel mosaic of pennies accented with a basket weave of matchsticks, and coordinating mosaics that decorate the cabinet doors.
The Tile House is truly a testament to one woman's artistry, preserved and expanded upon by her daughter in a family tradition that helps give Albuquerque its character.
---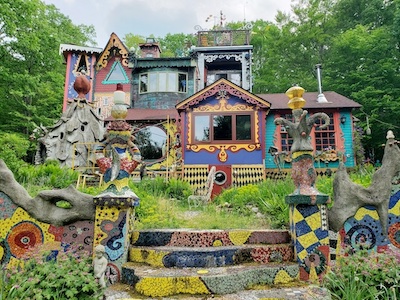 Luna Parc
Sandyston, N.J.
About 2,000 miles away, amidst the lush, rolling green hills of Sandyston, N.J., is the sprawling 8.5 acre complex known as Luna Parc (www.lunaparc.com), the home and studio of self-described "madcap artist" Ricky Boscarino, who I met while at TileFest at The TileWorks in Doylestown, Pa., in 2022 and 2023 (https://tinyurl.com/TileFest2023). Ricky graciously led me on a two-hour tour of his house and the grounds.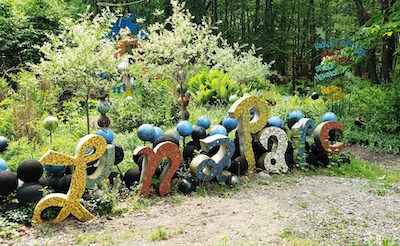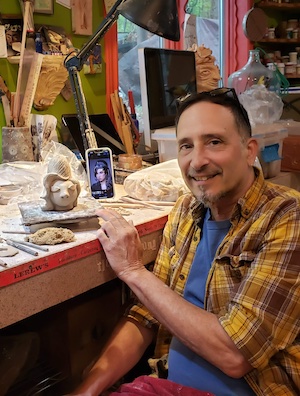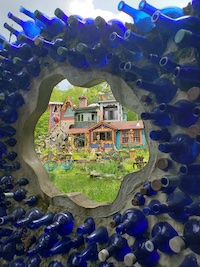 Ricky comes from a long lineage of craftspeople: his mom, who was a seamstress, cook, and crafter, and his woodworker and carpenter father. "He could build anything," Ricky said. In school, Ricky loved entomology and biology, passions he parlayed into stunning jewelry by making segmented brooches of insects. Influences include his studies at the Rhode Island School of Design, and mosaicist, painter and architect Hundert Wasser (they share the same birthday: December 15). Luna Parc itself was inspired by a small, sentimental amusement park Ricky visited while in Rome, and the original Luna Park in Coney Island – named after the founder's special-needs sister Luna – with 100,000 light bulbs sparkling across the harbor.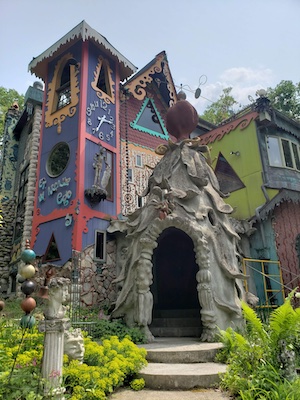 In 1989, when Ricky was 28 years old, he had an instant cosmic connection with the 600 sq.ft., three-room cabin that would eventually become the heart of Luna Parc, and purchased it.
"I knew it was where I would spend the rest of my life," he said.
He gutted the structure, and used an outhouse (it is still on the property as a memento) for two years, while he constructed a cavernous bathroom with stained glass windows that depict the four stages of life, tile throughout, and a deep tub. His successful jewelry business funded the endeavor – until 2020, when that business flatlined and his ceramic business exploded, including his Face Pots – whimsical creatures from Ricky's imagination, ceramic vessels using different firing techniques – plus Plein Air landscapes in oil! Ricky is nothing if not prolific.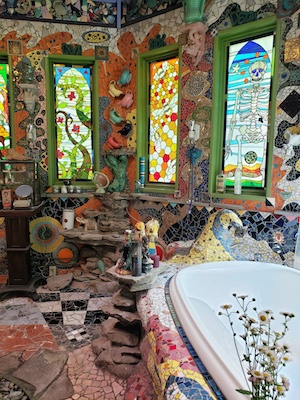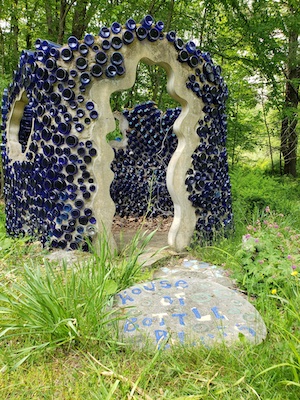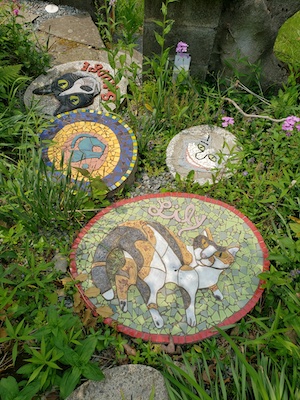 Outside is the Bottle House, sculptures, the Twigloo – a dwelling made of sticks and twigs – and mosaics, mobiles, and memorial mosaics to Ricky's cats. There's also a Chapel of the Saints, which commemorates the miracle of the healing of a young, crippled boy Ricky's grandfather Guiseppe Boscarino witnessed in Sicily, Italy before he emigrated to the U.S. in the early 1920s.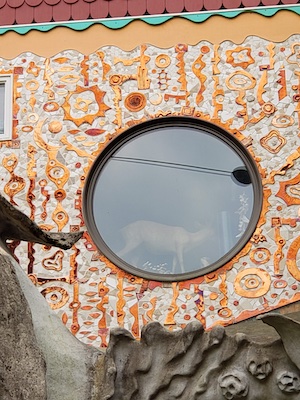 Ricky built the house mostly himself; neighbor kids helped build the foundation of the bottle house (and fed his cats). Some of the exterior mosaics sport "copper" tiles with a "luster" glaze that Ricky invented that uses copper sulfate and a heavy reduction process that results in a deposit of copper on the ceramic that stays bright and never develops a patina. 
Beyond the house, the property has a sculpture garden, using a variety of materials and organic forms, an outdoor kitchen, studio in which he creates his work and holds Clay Day every Wednesday, during which clay artists come and create.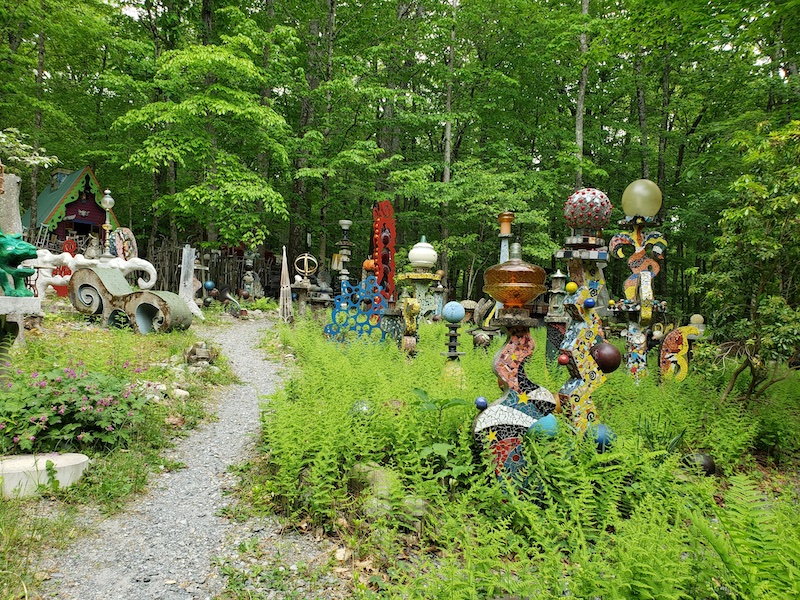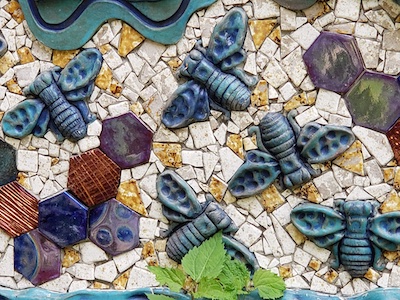 Beyond Ricky's own creations are the classes in mosaics and sculpture he offers and a Foundation where students learn about creating 3D art in concrete, metal and ceramic. Local students visit for classes as well as Foundation students from far and wide that hail from such schools as The Art Institute of Chicago, and Kutztown. A neighbor's house that was abandoned in 2015 is the residence for visiting artists, and interns to the Luna Parc Atelier Foundation of Architecture and Sculpture. Plans are in the works to expand this structure into a "beautiful house…with the mission of hosting artists and interns from May to October," Ricky said.
Truly the Luna Parc is "sine limite" – without limits – as ever-new manifestations of Ricky's creativity emerge, with new and unexpected materials as well as broken tile mosaics and handmade tiles and ceramics.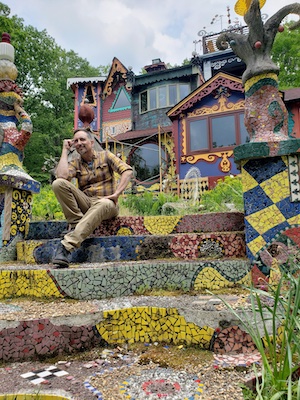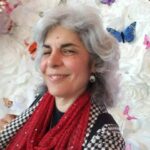 Editorial Director and Senior Writer for TileLetter and TileLetter ARTISAN
Lesley Goddin has been writing and journaling since her first diary at age 11. Her journey has taken her through a career in publishing and publicity, landing her the editor position of TileLetter and its special publications in 2006. Her goal is to educate, inspire, recognize and encourage those in the tile industry -- especially the tile and stone contractor. Other interests include the soft, purring marvels known as cats, labyrinth walking, drumming and percussion, and a range of spiritual, musical and artistic pursuits.