The Oxford Dictionary defines "adhesive" as a substance used for sticking objects or materials together; glue, while the NTCA Reference Manual defines "adhesive" as a substance capable of holding materials together by surface attachment.  These two definitions seem similar, but there are vast differences in the products used to bond ceramic and porcelain tile to various substrates as we will investigate.
The Setting Materials Selection Guide contained in the Tile Council of North America (TCNA) Handbook for Ceramic, Glass and Stone Tile Installation, lists the materials used to adhere ceramic, glass, and stone tile based on the requirements and procedures of the American National Standards Institute (ANSI) and the International Organization for Standardization (ISO). Accordingly, the Handbook provides setting material specifications according to both sets of standards where applicable. These methods are commonly used to install ceramic, glass, and natural stone tiles except as noted. Additionally, these methods work well in wet environments such as tub surrounds and stall showers except as noted.
Neat cement and portland cement mortar
There are two separate methods for setting tile. The method for floors uses one-part portland cement and five parts sand (image #1). The method for walls uses one-part portland cement, five parts sand, plus one-half part lime and up to a ratio of 1:7:1. As per ANSI A108.1A, the tile is beaten into the wet mortar bed while it is still workable. Absorptive ceramic and stone tiles must be soaked before setting on a still-workable mortar bed when using a neat portland cement bond coat. ANSI A108.1B requires the tile to be set on a cured mortar bed with dry-set or modified dry-set cement mortar. These methods are structurally strong, are not affected by prolonged contact with water, and can be used to plumb and square surfaces provided by other trades.
The application of a waterproof membrane — either liquid-applied or sheet product — provides an excellent water barrier that will protect the structure from water intrusion and yield a long-lasting watertight tile installation.  Always consult the membrane manufacturer for specific installation instructions over approved substrates using the following bonding methods and products, except as noted.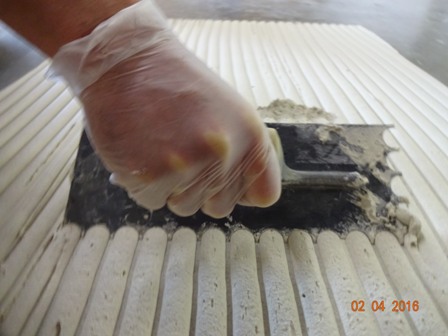 Dry-set cement mortar
Dry-set cement mortar is a factory-blended mortar to which only water is added. It is appropriate for thin-bed installation of ceramic and stone tiles using a bond-coat thickness of between 3/32" and 1/4" after tiles are embeddded, has excellent water and impact resistance, is water-cleanable, nonflammable, good for exterior work, and does not require soaking the tile. Cured dry-set cement mortar is not affected by prolonged contact with water; however it does not form a water barrier. The installation methods are found in ANSI A108.5 with the product designation of A118.1 or ISO C.
Modified dry-set mortar
Modified dry-set mortar is a combination of portland cement, sand, and either a liquid latex or dry polymer additive which is designed to improve adhesion, reduce water absorption, and provide greater bond strength and resistance to shock and impact. Mortars of this type are required for the installation of porcelain tile. When modified dry-set cement mortar is used in areas that may not thoroughly dry out in use such as a gang shower or where initial drying is inhibited between the tile and an impervious surface such as a waterproof membrane, the drying time may range from 14 to 60 days depending on the environment. Narrow grout joints can also slow the cure time of the mortar and require a longer time period. Not all modified dry-set cement mortars are suitable for wet areas, so always check with the manufacturer. The installation methods are found in ANSI A108.5 and A108.12. These mortars are designated as ANSI A118.4, A118.11, and A118.15. The ISO designation is ISO C.
Dry-set mortar for large-and-heavy tile (LHT)
LHT mortar (formerly known as medium-bed mortar) is formulated by the manufacturer to minimize slump with the nominal bond-coat thickness of between 3/32" to 1/2" after the tile is embedded. These mortars assist in setting tiles 5 lbs./sq.ft., and heavier, ungauged thickness tiles — such as slate — and large-format tiles (LFT) which have at least one side 15" or longer. In order to achieve a thicker bond coat, trowels with deeper and differently-configured notches may be required (images #2 and #3). However, LHT mortars are not designed for truing or leveling the work of other trades. The installation method is found in ANSI A108.5. These products may be identified with the letter H as in A118.1H, A118.4H, A118.15H. There are no ISO standards for this type of mortar.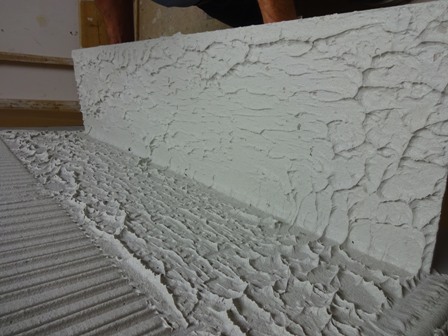 Epoxy mortar
A118.3 epoxy mortars use an epoxy resin and hardener to provide high bond strength and high impact resistance as well as good chemical resistance. They are applied with a notched trowel similar to cement-based mortars in a thin layer. Installation methods are found in ANSI A108.6 while the product standard is found in ANSI A118.3 or ISO R.
Organic adhesive
Organic adhesive is a ready-to-use product that requires no additives or mixing which cures by evaporation. It is suitable for the installation of ceramic tile over appropriate surfaces which are properly prepared. Organic adhesive is provided in the following classifications:
Type I – Organic adhesives for installation of ceramic tile in interior areas.
Residential or light commercial walls in dry areas, areas adjacent to wet areas, and areas of intermittent water exposure where tile surfaces may become wet, but not saturated or soaked for any period of time.
Residential floors and countertops in dry area including areas adjacent to wet areas.
Type II – Organic adhesives for installation of ceramic tile in interior dry or limited water exposure areas on walls.
Organic adhesives shall not be applied over nonporous surfaces or that have been treated with a waterproof membrane. The installation method may be found in ANSI A108.4. The product specification is found in ANSI A136.1.
The products and methods listed in this article are not exhaustive. Always contact the mortar manufacturer to determine the specific conditions and requirements for a proper installation.