There is no doubt that the electric angle grinder is the most popular portable power tool in stone fabrication. It is normal to see such grinders being used in almost all stone fabrication shops, whether creating dust or blowing dust into a vacuum system.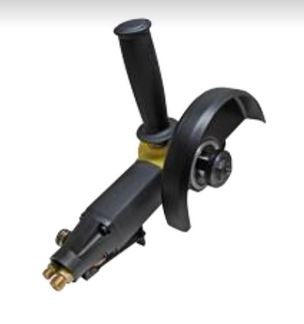 The new Alpha PSC-600 is a high-performance wet pneumatic stone cutter that will set a new "normal" in stone fabrication shops. It is common knowledge that electric power tools don't last very long due to the stone dust or the water splash which damages them easily. This is why most of the polishers nowadays are pneumatic-driven polishers. The PSC-600 comes with a very unique center water-feed system to deliver ample water on the both sides of the diamond blade, which will keep the dust down on the floor and also enhance the performance and life of the diamond blade.
In addition, the end case is made with a composite material to prevent freezing by the rear exhaust system, which is a common issue for hands, for greater operator comfort.
The Alpha PSC-600 is smaller and lighter than electric angle grinders and offers better maneuverability along with all the safety features. This turn-key operation stone cutter comes with 15 ft. all–weather hoses and a convenient water quick coupler with shut off valve.
Although the Alpha PSC-600 is primarily designed for stone cutting applications, it can also be used as a grinding or sanding tool with a 7/8" arbor. For grinding applications, a second inner flange is included as a standard accessory. This second inner flange will direct the water to come out of the water channels on the outer flange, which optimizes the water distribution necessary for heavy material removal.
Visit http://www.alpha-tools.com or phone 800-648-7229 for more information.