QUESTION
We are currently looking for work, as the one project we had that was supposed to start this week or next has been delayed until August. I stopped by a local commercial builder that does a fair amount of work in the local food manufacturing plants. In these plants they use a type of brick/tile called acid or dairy brick.
We see this as an opportunity to expand our business here in the Valley.
Reading in the TCNA Handbook, it looks like these tiles are also known as "packing house" tile. If I am reading correctly, F-134 is the TCNA method, and A108.6 is the ANSI method that we would be using to do installations of this type.
Would it be advised to talk to manufacturers about specific products to set and grout these tiles? We are wondering if there are any classes offered for epoxy mortars and grouts of which you all know. Any advice/information would be appreciated.
ANSWER
It is very advisable to discuss this type of installation with your setting materials and the tile manufacturers. I strongly encourage asking for advice or mentoring from a fellow NTCA contractor member that has experience with this type of installation. Dan Welch of Welch Tile may be able to speak with you.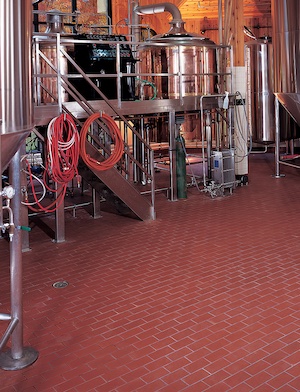 DAN WELCH RESPONSE
The food industry has changed a lot over the past few years.
Dairy brick may be an old term depending on the use. Welch Tile's team installs a lot of work in this environment. Some of the new products are called "fully vitrified tile" (FVT) and are set with an epoxy thin-set mortar directly over concrete, using a vibratory roller to increase the flatness of the floor. They are grouted with many types of products, starting with epoxy installed with a power grout machine. Grout has many versions based on use, ending with a non-water washable vinyl ester grout that will require a steam removal of protective wax. If you plan to get into this market, the product manufacturers provide training along with specialty tools you may need to install it correctly. Each manufacturer has a sales team selling their specific product along with a list of certified installers.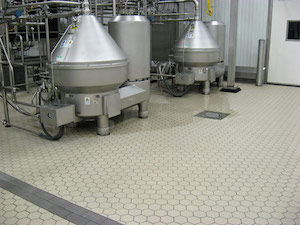 Summitville (this is the old dairy brick and setting materials manufacturer) 
Atlas Chemicals
Ergon (this is an FVT setting materials manufacturer) 
BLOME (FVT setting materials manufacturer) 
Call me to discuss the particular market segment you are looking at.